We feel that six key aspects of our program are what sets UPAP apart. This includes:
Our Mission Focus
Faculty and Staff Engagement
Friday Clinics
Tutorials
The Master's Project
Community Engagement
We consider ourselves to be a mission-based program. We work hard to be sure that every decision and all aspects of our program are guided by our mission. We are proud of our track record of educating PAs to both provide care and upon graduation, work and/or volunteer in medically underserved areas.
Our faculty and staff have been drawn to UPAP because of the program mission. Our UPAP faculty possess decades of clinical experience and have dedicated extensive effort to develop and hone classroom and small group teaching skills. Our staff have received national awards for excellence and provide help to facilitate an excellent student experience. Our faculty and staff serve internationally, nationally, and locally in PA leadership and are actively involved in shaping our profession.
During the 3rd semester of the didactic year, students begin Friday clinic. Conceived and implemented in 1987, Friday Clinics pair a first-year student with a practicing community PA or physician on Fridays. Students, in conjunction with their mentors, see patients, developing and sharpening their skills in taking patient history, and conducting physical examination, differential diagnosis, presentation, and therapy before embarking on their second-year clinical preceptorships.
Friday clinics during the first year allows UPAP students to apply classroom-based scientific and medical facts to the nuances of actual clinical practice. Friday Clinics are consistently identified by students as one of the most valuable aspects of UPAP's curriculum.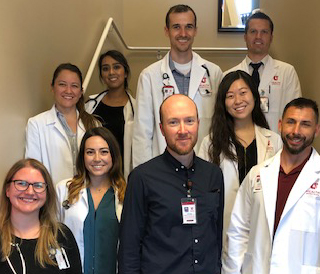 Tutorial groups: During these sessions, 15 community PAs (known as a Clinical Associates [CAs]) meet each Wednesday morning with groups of four students to facilitate a focus on clinical skills through integrated and focused physical examination, SOAP notes and patient presenting, and case-based problem solving. The tutorial groups begin in the 2nd semester of the didactic year. During the 3rd semester, they are linked with Friday Clinics as students begin practicing writing clinical SOAP notes.
Master's Project: The Master's Project integrates our program mission by completing a Community-Based Project. During the didactic year, students work in small groups with a faculty mentor and community partner to complete a community assessment, develop a research question, and answer that question through completion of a paper and presentation of their findings in a poster session. Examples of communities we work with include: The Maliheh Free Clinic, Huntsman Cancer Institute, University Neuropsychiatric Institute, South Main Clinic and the Doctor's Free Clinic.
The concept of service through community engagement is integral to our mission and values at UPAP. Students participate in community engagement activities throughout the 27-month curriculum that fosters a greater understanding of underserved populations, social determinants of health, and the role that service plays in the practice of medicine. These activities underline our students' obligation to society as caregivers. Examples of activities include: Farmworker Health Screenings and immunization clinics performed in the fields, the Salt Lake Community Action Program's Care Fair, and diabetes screenings at the Urban Indian Center. We are proud of our student-run free clinics at Maliheh (established 2012) and Doctor's Free Clinic (established 2018). These clinics have been created and administered exclusively by our students and provide another avenue for our students to care for uninsured patients within the Salt Lake and St. George communities. These clinics provide opportunities for near peer teaching and the co-training of first- and second-year students; they also develop interprofessional team work as our students work with nurse practitioner, medical, and pharmacy students.