Head Start and Early Head Start provide educational activities, medical and dental referral services, nutritious meals and holistic support for the entire family, especially those whose income is below the federal poverty guidelines. Throughout the didactic and clinical year curriculum, students are able to participate in well-child examinations for children enrolled in specific Head Start programs across the state thanks to our long-standing partnerships with these organizations:
Centro de la Familia Migrant Head Start and Early Head Start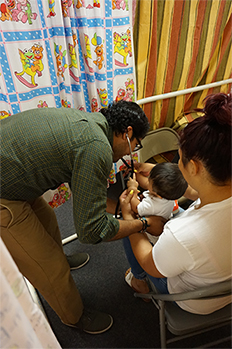 Southern Utah County, Box Elder County, and Cache County have some of the largest populations of migrant and seasonal workers in the state. Health care infrastructure was organized in this area with funding from the Farm Worker Health Grant starting in 1991 in Utah with the Farm Worker Health Clinic, Centro de Buena Salud, and Migrant Head Start Programs through Centro de la Familia de Utah. The University of Utah Physician Assistant Program (UUPAP) has At Head Start facilities across these rural areas, our PA students complete well-child examinations under clinical faculty supervision. After reporting findings to Head Start staff, who connect families to resources and strategies that foster healthy physical and social growth, Community Health Center staff then connect the children and their families to follow-up care as needed. Our partnership has also grown to include the Utah Department of Health Oral Health Program and Community Health Connect.
Root for Kids Early Head Start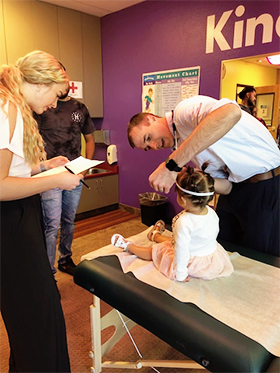 A collaboration between Rook for Kids Head Start, Dixies State University Dental Hygiene program, and UPAP allows for free public health dental clinics for Early Head Start children. At these clinics, PA students are able to:
Review medical histories with patients
Obtain vital signs
Receive instruction in the performance of thorough head and neck exams and dental hygiene procedures
Review dental radiographs
Help coordinate care for patients with complex medical or dental issues requiring follow up
While serving this predominantly Spanish-speaking population, Spanish-fluent students help interpret and for other students to learn and practice medical Spanish.
Ute Indian Tribe Head Start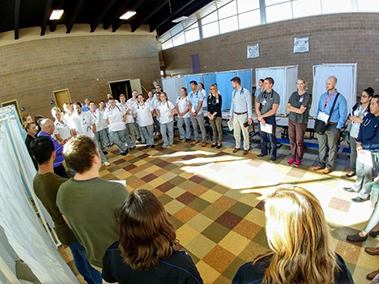 UPAP has created a partnership with Ute Indian Tribe Head Start, the Uintah Basin Nursing Program, the Utah Department of Health Oral Health Program, Indian Health Services, Tri-County Health Department and the University of Utah Physician Assistant Program to provide well-child examinations for Head Start children on or near the Uintah & Ouray Reservation. This collaborative allows for culturally sensitive care, connections to follow-up care in the local community, and an interdisciplinary and public health orientation.
Utah Community Action Head Start and Early Head Start
Every summer and fall, PA students and faculty participate with a variety of partners in the Utah Community Action Program Head Start physicals to provide a free comprehensive program of services. This includes immunizations, physical exams, vision and hearing screenings, and oral health services.
The Head Start program is one of a collection of strategic poverty-reduction programs of the Utah Community Action Program. Utah Community Action Head Start has been nationally recognized by the National Head Start Association and designated as a Quality Initiative Program of Achievement.
To learn about our other community engagement activities and partnerships within the UPAP curriculum.