The St. George extension of The University of Utah Physician Assistant Program is made possible through collaboration between the University of Utah School of Medicine and St. George Campus at Utah Tech University. The St. George classrooms are located at the Russell C. Taylor Health Science Building. The Taylor Building is adjacent to the St. George Regional Hospital a level II trauma center that serves Southeast Nevada, Northwest Arizona, and Southern Utah and which hosts several clinical rotations for our St. George students.
ARC-PA, the Accreditation Review Commission for Education of the Physician Assistant, granted accreditation for the remote campus in St. George in 2018. Candidates interested in the St. George campus may identify campus preference when applying through CASPA; there is no separate admissions process for the remote campus. Students attending the St. George campus attend classes during the didactic phase of their education in St. George. Clinical rotation sites for St. George students may be assigned throughout Utah and occasionally out of state due to the rural and remote nature of the region. Emphasis at this campus will include a focus on populations serviced and who live within the geography of central and southern Utah.
Application requirements are the same as those for the Salt Lake City campus. For details on how to apply.
Lectures throughout the didactic year occur synchronously between campuses via Interactive Video Conferencing (IVC) technology. Students attend lectures in-person, with faculty and guest lectures originating from both St. George and Salt Lake City classrooms. All of the components of training are equivalent and provided at both sites.
St. George campus students may be required to travel to Salt Lake City for the following two events:
Orientation week, 1st semester
Board Prep Review and Graduation week, 7th semester
Students carpooling with at least 4 students per vehicle may be reimbursed for fuel charges. St. George students may make arrangements to stay with classmates or stay elsewhere at one's own expense while attending events in Salt Lake City.
In addition to the required events in Salt Lake City described above, St. George students may choose to attend community engagement events in the Wasatch Front region, such as Care Fair and PA Day on the Hill, throughout their time at UPAP.
St. George students enjoy full access to University of Utah resources, including physical and mental health resources, in addition to select resources through St. George Campus at Utah Tech University including: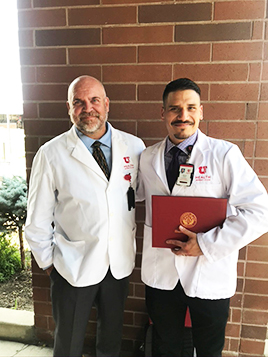 At the University of Utah Physician Assistant Program, we take pride in our consistent dedication to fulfill our mission. Expanding PA education to southern Utah and its surrounding regions allows us to better provide primary care services to rural and underserved communities.