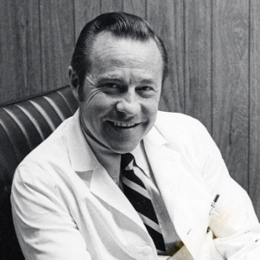 The C. Hilman Castle, MD
Endowed Founders Fund
C. Hilmon Castle, MD was a co-founder of the Utah Physician Assistant Program. His pioneering spirit and dedication to his patients and community have contributed so much to the health and well-being of the people of Utah and the Intermountain West. He was known for his incredible bedside manner.
Nominees must meet the following requirements
Must be a Physician Assistant Student enrolled in the Utah Physician Assistant Studies Program, in any year of study and be in good standing.
Must be recommended by UPAP faculty.
Must be able to demonstrate financial need.

You must have a current FAFSA on file with the Financial Aid Office.
Award Distribution:
The dollar amount of the award will be determined by the number of qualified applicants and the interest-bearing account the scholarship is held in. Awardee will be determined by the Physician Assistant Studies Scholarship Committee. Awardee will be announced by March 15 and recognized at either Sendoff Breakfast, if recipient is a first-year, or Graduation, if recipient is a second-year student.
Disclaimer: Please note that a check will not be issued. This award will offset tuition costs for Summer Semester and will reduce financial aid eligibility by the amount of the scholarship.
Application
There is no application process for this award. Students are recognized and nominated by UPAP faculty through their interactions with staff, faculty, patients, and affiliate organizations.
---
To obtain further information and application please contact:
Kevin Ostler | Contracts and Finance Manager | kevin.ostler@hsc.utah.edu