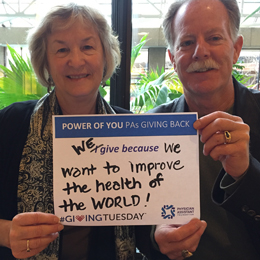 Kathy Pedersen Equal Access to Higher Education Scholarship
Kathy Pedersen, PA-C has dedicated her career to improving Global Health and increasing awareness of the PA profession. Kathy's life work has been to "raise visibility of the physician assistant profession, and to innovate with academia and other audiences to identify and consider PA-like providers in settings around the world with the goal of reducing inequity and improving health access." She has taken part in national presentations and PA organization committee volunteerism, international outreach activities, and board service with the Global Health Education Consortium (GHEC)/Consortium of Universities for Global Health (CUGH). Kathy believes that higher education is a key for many to pursue their chosen profession and serve their communities. However, more significant barriers exist for some students in their ability to fund an education. It is Kathy's hope that this scholarship might be able to alleviate some of the barriers that would otherwise prevent a "future" PA from receiving their education.
Applicants must meet the following requirements:
The applicant must be a Physician Assistant Student enrolled in the Utah Physician Assistant Studies Program, in any year of study.
The applicant must be able to demonstrate financial need.

You must have a current FAFSA on file with the Financial Aid Office.
Preference will be given to students who demonstrate any of the following characteristics:
Highly motivated for career in primary health care/public health; in particular with underserved, immigrant, or refugee populations
History of significant commitment to community service in areas of service, advocacy, or leadership
Academic excellence; Bachelor of Science prior to PA school
Evidence of unmet financial need with significant barriers to funding education*.

Demonstrated attempts or success in overcoming these barriers and challenges.

Barred from applying for most types of financial assistance for PA professional education
Have legal status to work
Award Distribution:
One Scholarship in the amount of $500 will be awarded Summer Semester to a qualified applicant determined by the Physician Assistant Studies Scholarship Committee. The awardee will be announced by March 15 and recognized at either Sendoff Breakfast, if recipient is a first-year student, or Graduation, if recipient is a second-year student.
Disclaimer: Please note that a check will not be issued. This award will offset tuition costs for Summer Semester and will reduce financial aid eligibility by the amount of the scholarship.
Application
Please submit application and essay by December 31 to:
*By submitting the application, you agree that all information is correct to the best of your knowledge.
---
For further information please contact
Kevin Ostler | Contracts and Finance Manager | kevin.ostler@hsc.utah.edu