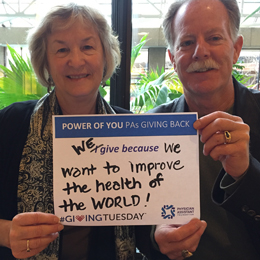 The Pedersen Endowed Scholarship
Fund for International Electives
Don and Kathy Pedersen have been a staple in the Physician Assistant Program. For more than thirty years, they have tireless cared for underserved patients in their community and around the world. Their lifelong dedication to improve the health of the world has been an example to our students and faculty. Don and Kathy led the first PA student international rotation to Nepal and have been participating in international travel ever since. This scholarship is to help offset the costs of the rotation in the hope that more students can participate.
Applicants must meet the following requirements:
The applicant must be a second year Physician Assistant Student enrolled in the Utah Physician Assistant Program (UPAP) in good standing.
The applicant must be enrolled in an international rotation to either Nepal, Thailand, or Guatemala and have submitted an application through Learning Abroad.
The applicant must be able to demonstrate financial need.

You must have a current FAFSA on file with the Financial Aid Office.

Award Distribution:

The dollar amount of the awards available will be determined by the number of qualified applicants and the interest-bearing account the scholarship is held in. Awardee will be determined by the Physician Assistant Studies Scholarship Committee. Awardee(s) will be announced by December 1 and funds will be available for Spring or Summer Semester.

Disclaimer: Please note that a check will not be issued. This award will offset tuition costs for Summer Semester and will reduce financial aid eligibility by the amount of the scholarship.

Application

Please submit nominations electronically through Learning Abroad by November 1.

*By submitting the application, you agree that all information is correct to the best of your knowledge.

---

For further information please contact:

Kevin Ostler | Contracts and Finance Manager | kevin.ostler@hsc.utah.edu