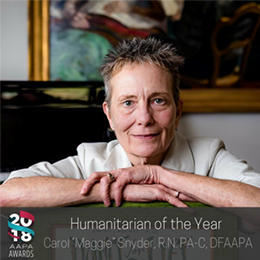 The Maggie Snyder, RN, PA-C
Endowed Scholarship in Physician Assistant Studies
Since the mid-1980s to 2017 Maggie Snyder, RN, PA-C, DFAAPA cared exclusively for patients with HIV/AIDs along with her physician colleague Dr. Kristen Ries. They cared for these marginalized individuals when no other medical providers were willing to serve their needs. Maggie taught the human aspect of caring for people who were afraid, alone, and struggling with the stigma of a poorly understood and devastating disease. Patients in Maggie's practice were listened to, touched, loved, and hugged.
Applicants must meet the following requirements:
The applicant must be a Physician Assistant Student enrolled in the Utah Physician Assistant Studies Program, in any year of study.
The applicant must be able to demonstrate financial need.

You must have a current FAFSA on file with the Financial Aid Office.
Award Distribution:
One Scholarship in the amount of $500 will be awarded Summer Semester to a qualified applicant determined by the Physician Assistant Studies Scholarship Committee. The awardee will be announced by March 15 and recognized at either Sendoff Breakfast, if recipient is a first-year student, or Graduation, if recipient is a second-year student.
Disclaimer: Please note that a check will not be issued. This award will offset tuition costs for Summer Semester and will reduce financial aid eligibility by the amount of the scholarship
Application
Please submit application and essay by December 31.
*By submitting the application, you agree that all information is correct to the best of your knowledge.
---
For further information please contact:
Kevin Ostler | Contracts and Finance Manager | kevin.ostler@hsc.utah.edu