About
U-POWER holds seminars 1-2 times monthly that are accessible virtually via Zoom to build relationships among U-POWER investigators, partners, and stakeholders, engage new people with U-POWER activities, provide professional development related to team science, transdisciplinary research, community-based participatory research, and grant writing and reviewing and exchange new knowledge related to TWH and work equity. To suggest a seminar topic, please leave a note in our U-POWER suggestion box or email camie.schaefer@utah.edu. 
A variety of activities are included in the seminar series to appeal to individuals across our community of practice, including journal clubs, oral presentations, peer review of work under development, and workshops. To RSVP or request additional information, please contact camie.schaefer@utah.edu.
Upcoming
January 2023: Work as a Social Determinant of Health. Join us on January 19th at 4:00 pm MST as we explore both how work functions as a determinant of health and what researchers, health practitioners, and policymakers can do about it. While most definitions of the social determinants of health don't explicitly include work, work influences health through the conditions of employment (full-time, part-time, precarious), working conditions (physical, biological, and psychosocial hazards) as well as where a person fits within a society in terms of status and connectedness. However, work as a measure of health and inequality primarily remains in the domain of occupational health researchers rather than public health as a whole. What can we do to change that?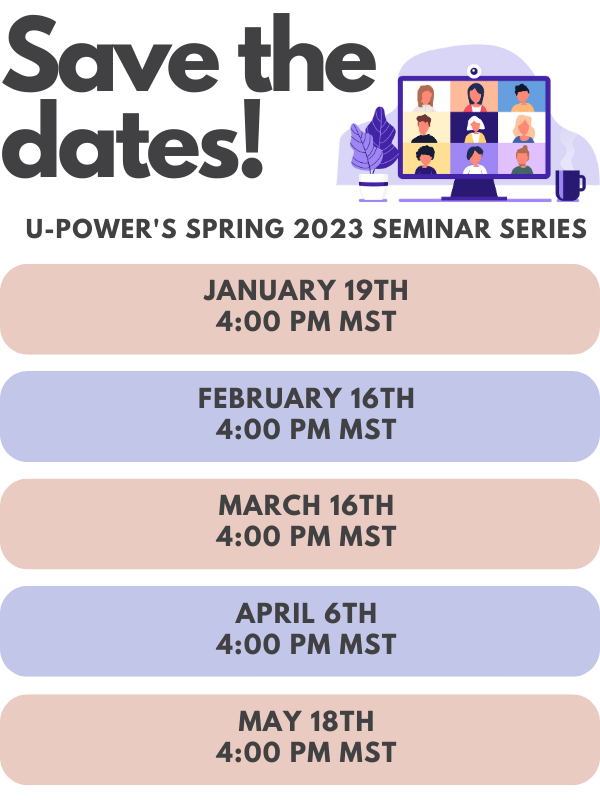 Past
December 2022: Occupational Segregation in America. We closed 2022's Seminar Series on December 8 (4:00 pm MST) with a discussion of occupational segregation. Occupational segregation helps us understand why most aircraft pilots are men and most flight attendants are women, and why nearly one-third of all home health providers in the United States are Black women. Occupational segregation is a concept that explains how, within occupations, demographic groups tend to be over- and underrepresented in startling ways. We discussed the historical and cultural roots of occupational segregation, how educational attainment does and does not change occupational segregation, and some of the consequences on worker well-being and the health and safety of work. 
November 2022: Sexism, Structures, and Systems at Work (Pt II). On November 17 at 4:00 pm MST, we took a closer look at how sexism affects both men and women in the workplace. Our discussion focused on Factors affecting workforce participation and healthy worker biases in U.S. women and men by Johnson et al. (2017) and explored the cultural and societal forces that keep women out of the workplace and affect men's health.
October 2022: Sexism, Structures, and Systems at Work (Pt I). October and November's Seminar Series was a two-part exploration of health inequity, worker health, and gender. On October 27 at 4:00 pm MST, we hosted an overview and discussion of Patricia Homan's article Structural Sexism and Health in the United States: A New Perspective on Health Inequality and the Gender System. Homan's article explores how sexism exists at multiple levels within society, the links between sexism and health disparities, and how we can apply this perspective to future research and advocacy. 
September 2022: Public and Occupational Health. Our September Seminar Series focused on The Role of Labor Unions in Creating Working Conditions that Promote Public Health by Hagedorn et al. (2016) and an exploration of how researchers and practitioners both can promote public health through worker advocacy and collective bargaining. We also discussed the state of unionization in America and Utah today, contemporary unionization movements at companies such as Apple, Starbucks, and Google, and what steps we can all take to promote worker, family, and community health. 
August 2022: Solutions for a Changing World: Reduction of Hazardous Exposures in Small Businesses through a Community Health Worker Intervention. Join us on August 18 at 4:00 pm MST for a presentation from Dr. Paloma Beamer on her work with community health workers (promotoras) to help relieve the burden of occupational disease among small businesses.
June 2022: Vagueness, Power, and Public Health.We tend to use the word 'vulnerable' to mean that someone can be easily harmed and should be protected. In public health, vulnerable refers to populations who are "at a greater risk for poor health status and healthcare access, experience significant disparities in life expectancy, access to and use of healthcare services, morbidity, and mortality." Join us on June 23 at 4:00 pm MST for discussion of Katz et al.'s paper Vagueness, power, and public health: use of 'vulnerable' in public health literature. We will also discuss how different populations have been characterized as vulnerable, the impact that naming has on research and care, and what next steps we should take.