Highlight: Doctor Charles Nabors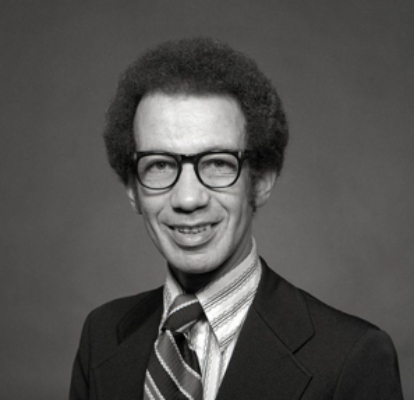 We are pleased to highlight the University of Utah's first black faculty member, Dr. Charles Nabors (1934 – 1986). Dr. Nabors was first appointed as a faculty member in our department, then called the Department of Anatomy, in 1958. In addition to being an accomplished scientist, he was a dedicated advocate for civil rights at the U and beyond.
Dr. Nabors was born in Cleveland, Ohio and attended Wabash College, before coming to the U. of Utah as a Ph.D student. As a faculty member, his research interests included the role of corticosteroid signaling in wound healing, and the endocrine correlates of cancer development. Dr. Nabors was very active in the University community, and worked to improve diversity and inclusion as the Assistant Dean for Minority Affairs for the School of Medicine, where he was widely admired by students and faculty alike.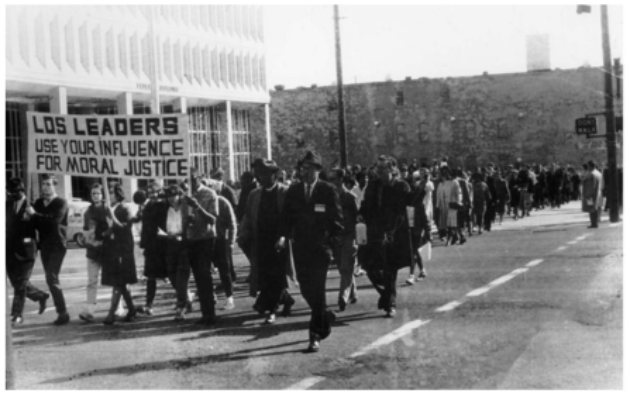 Outside the U, Dr. Nabors was a well-respected political and civil rights activist, serving as a leader of the Utah chapter of the NAACP, a member of the Utah Advisory Committee to the U.S. Commission on Civil Rights (1965-1972), and as a delegate to the Democratic National Convention and member of the Credentials Committee in 1968. He was a powerful force in the Utah civil rights movement, organizing some of the first anti-discrimination protests in state history. he was personally thanked for this work via a telegram directly from Senator Robert F Kennedy (3 weeks before he was assassinated) and a letter from Vice President Hubert H. Humphry. He then went on to assist George McGovern's 1968 and 1972 presidential campaigns, where he clearly made a significant impact as George McGovern wrote a supporting letter for Dr. Nabors when applying for the position of Assistant Dean for Minority Affairs, saying "I had an opportunity to witness at first hand his organizational talent and his deep commitment to human rights.". This nomination was also supported by Georgia state senator, Julian Bond who said "His ability to resolve conflicting views without stepping on the rights—or the pride—of conflicting groups or individuals makes him an excellent choice for this post.".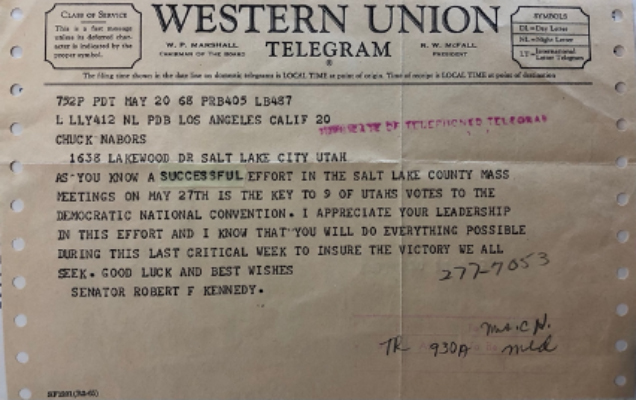 Dr. Nabors was survived by his wife and 3 children. His legacy has been celebrated over the years, particularly during the ongoing Dr. Charles James Nabors, Ph.D. Conference Series hosted by the U's Office for Equity, Diversity and Inclusion. His work to promote equality in the sciences and beyond set a high standard for the department to live up to.
Links:
University of Utah Health Equity, Diversity & Inclusion - Patient Voice Conference Series : Dr. Charles Nabors
Mountain West Digital Library - Charles Nabors, Salt Lake City, Utah : an interview by Leslie Kelen
The Daily Utah Chronicle - Remembering Charles Nabors, the First Black Faculty Member at the U
Events 2023
DIAC Seminar Series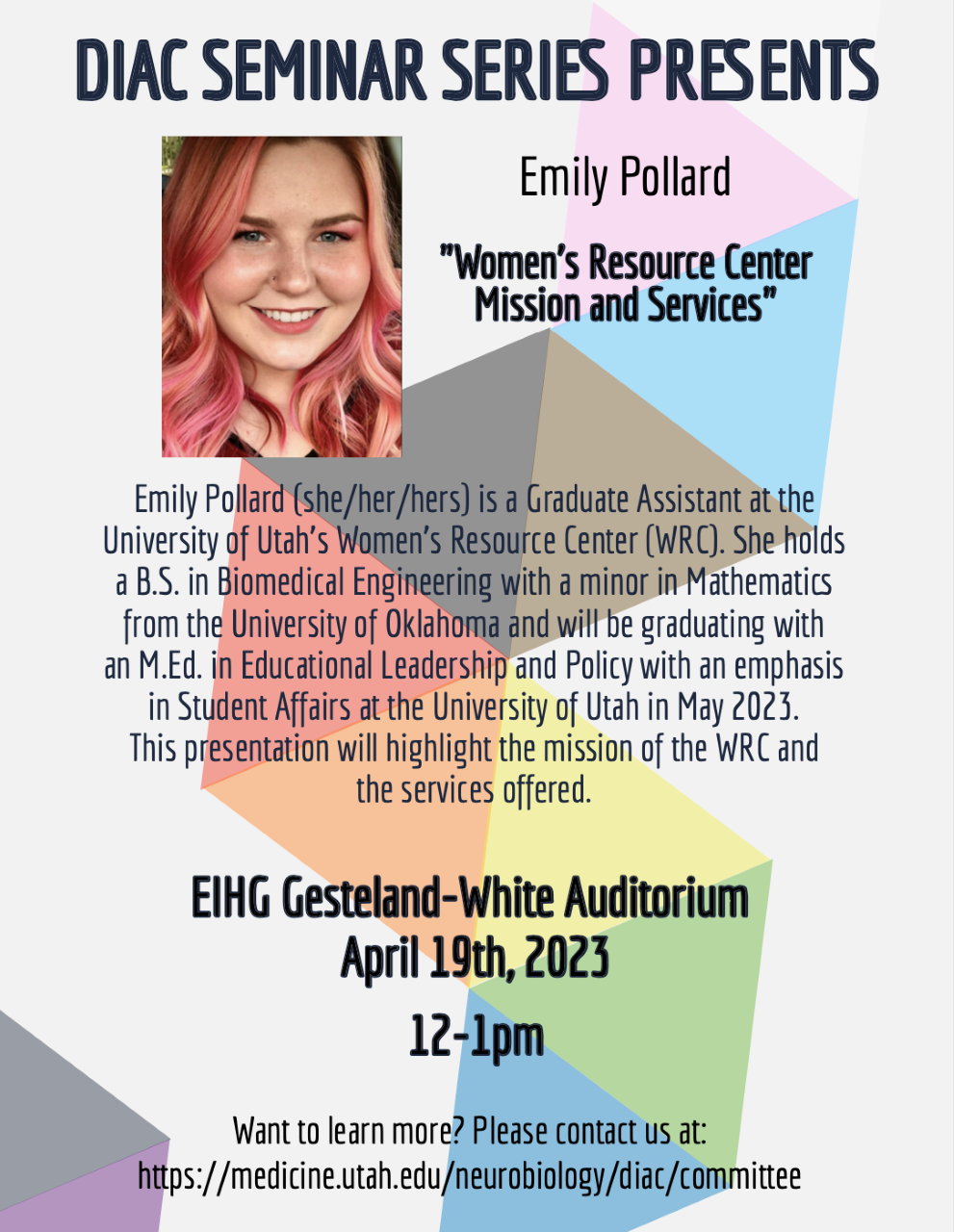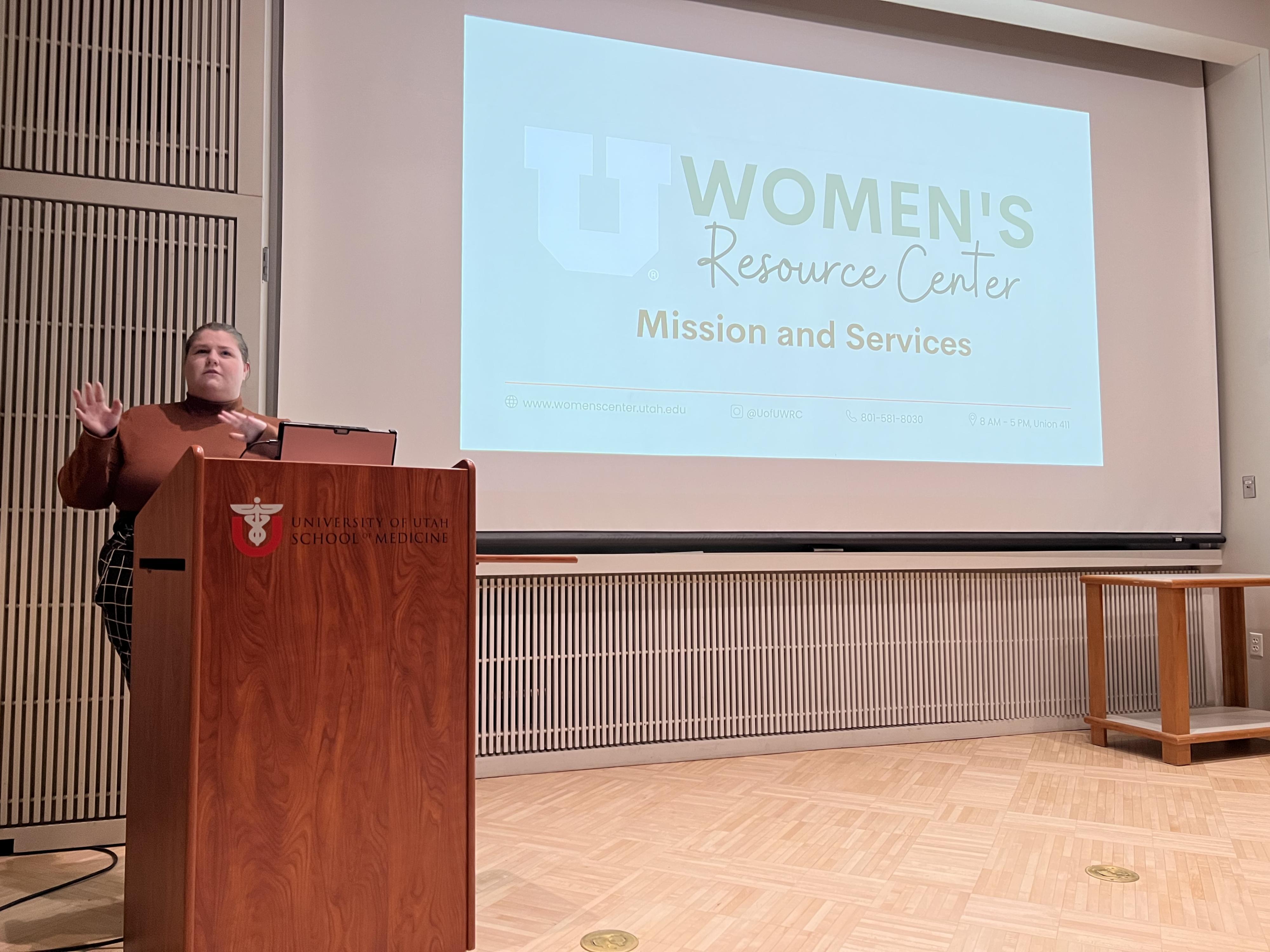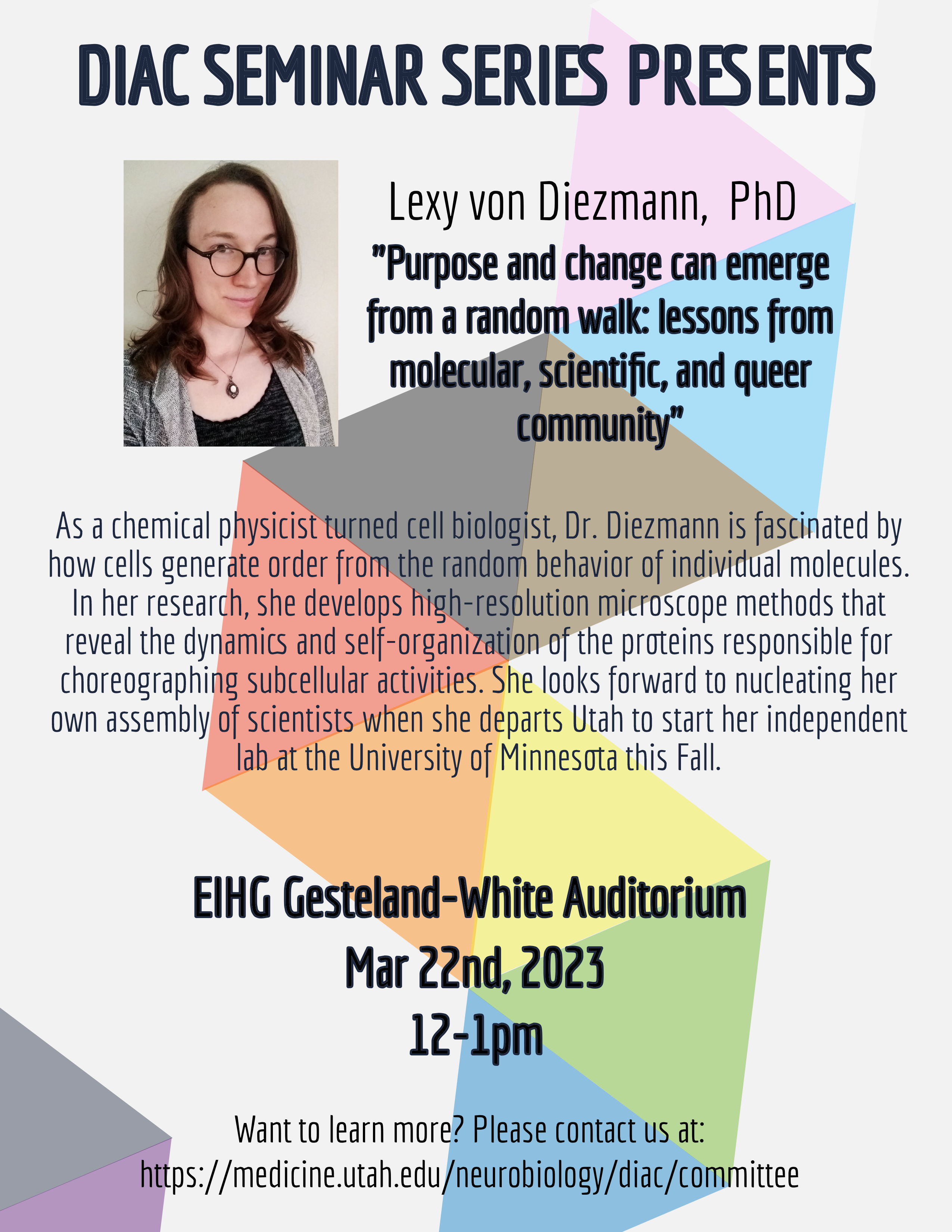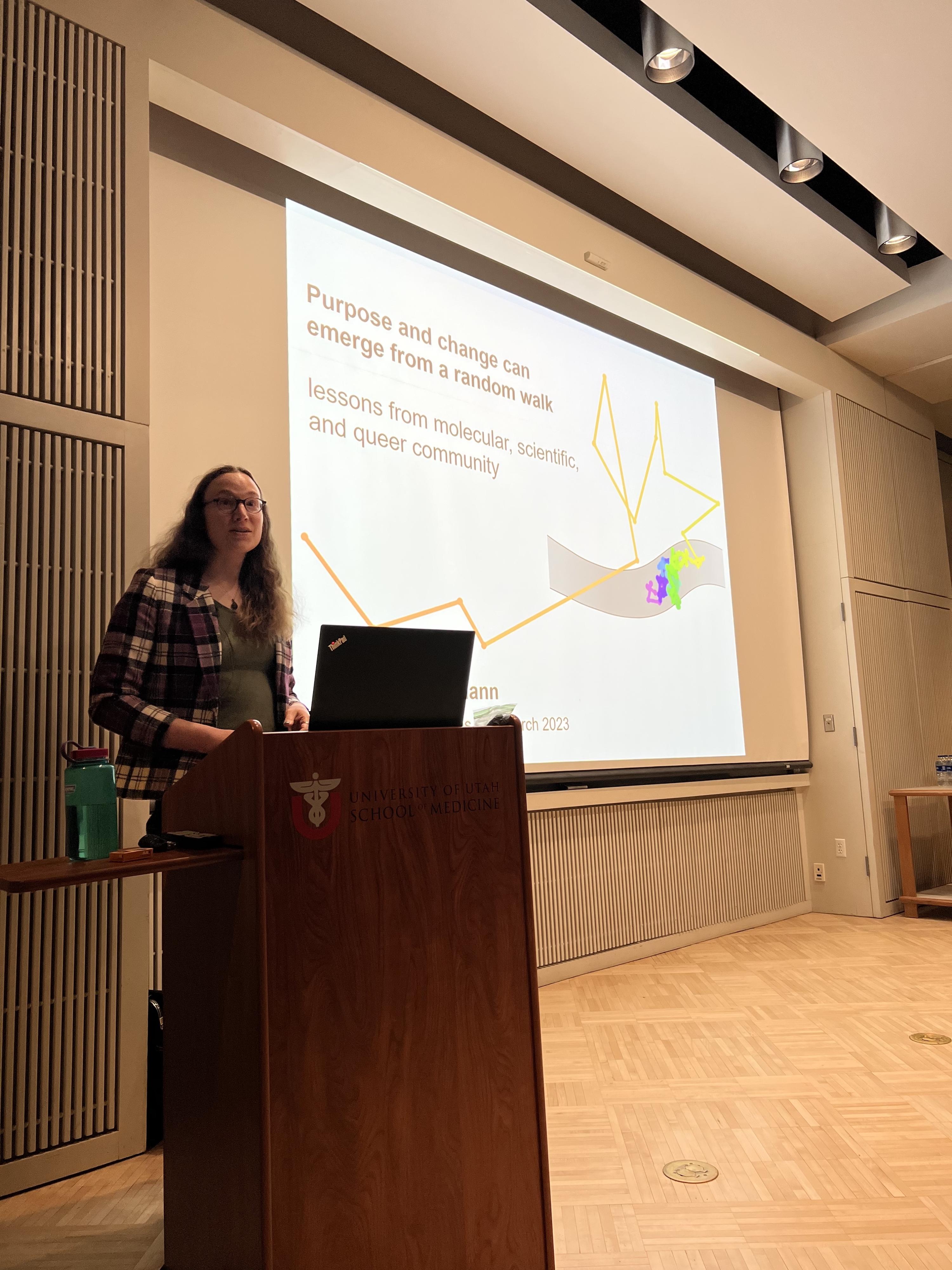 Previous Events
2021
The Rising Stars in Neuroscience Symposium.  More information can be found here.
The primary mission of this symposium is to provide career development and mentorship for graduate-level neuroscience trainees, with a strong focus on spotlighting and supporting scientists from under-represented groups. 
This competitive symposium will provide senior graduate students the opportunity to present their research to a large, engaged audience and spend a day meeting one-on-one with faculty to discuss their work. We're also very excited that this symposium will provide a multi-stage science-communication workshop, led by renowned sci-comms expert Dr. Brett Mensh of Optimize Science. In this workshop students will attend a didactic lecture on sci-comms principles. Following the lecture, students will then participate in focused, small group modules where they will present and receive individual feedback on crafting the overall structure and the high-level intros to their research talks. Dr. Mensh has given over 35 science communication workshops at top universities across the US, he serves as academic consultant for many notable scientists across the life sciences disciplines and serves as Scientific Advisor at Janelia Research Campus. The Rising Stars in Neuroscience symposium will also provide long-term mentorship by developing partnerships between invited speakers and specific University of Utah Neurobiology Department faculty. Finally, invited speakers will be eligible to apply for the Univ. of Utah, Department of Neurobiology – Rising Stars in Neuroscience – Postdoctoral Award ($5000), which will be awarded to top ranked invited speakers that commit to doing postdoctoral training within a department lab.
2020
NBA department annual OEO training session – 11 Dec