Body
Program: 
The Kalispell Regional Medical Center Montana Rural Surgical Resident Year
Description:
The University of Utah General Surgery Residency Program currently offers the opportunity for one resident a year to participate in a non-accredited 12-month rural surgery rotation in collaboration with Kalispell Regional Medical Center in Kalispell, MT. Eligible residents participate after their clinical PGY3 year in lieu of a traditional research year. Residents will work at both a regional medical center as well as multiple critical access hospitals across the state of Montana. Salary, benefits, and housing provided.
The goal of the program is to provide current general surgery residents who show an interest in rural surgery a focused year of exposure to procedures and issues unique to rural surgical practice. The program permits residents to gain exposure to and procedural experience with issues unique to rural, solo-surgical, isolated environment. This unique experience provides surgical trainees the opportunity to gain experience in subspecialties necessary for rural surgery practice including ENT, OB/GYN, urology, plastic surgery, orthopedics, neurosurgery, interventional radiology, and endoscopy in addition to traditional general surgery exposure. Additional exposure available in pediatric surgery, orthopedics, vascular, and rural trauma can be included based on the resident's interests.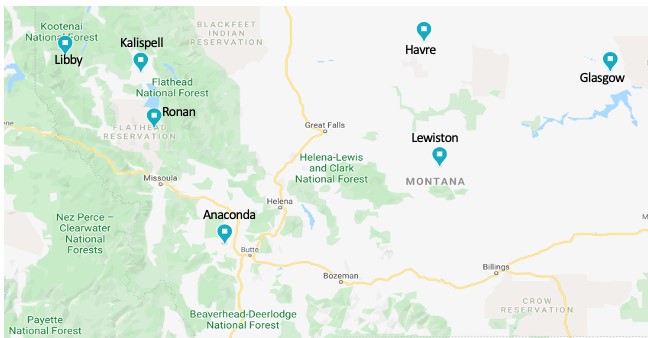 Sample Rotation Schedule:
6 months in Kalispell, MT between Kalispell Regional Medical Center and North Valley Hospital:

2 month in general surgery
2 weeks OBGYN
2 weeks ENT
2 weeks Urology
2 weeks Interventional Radiology
2 weeks Neurosurgery
2 weeks Plastic Surgery
1 month Gastroenterology

6 months at multiple critical access hospitals across the state of MT:
 Sample Case Exposure:
IR

 

Thoracentesis
Paracentesis
CT guided biopsy
Angiography
Angiography access
Ultrasound guided biopsy
Bone marrow biopsy
Ultrasound technique and principles
Port insertion and removal
Percutaneous gastrostomy tube

ENT

 

Tonsillectomy
Adenoidectomy
Tympanostomy tubes
Tracheostomy
Thyroidectomy
Parathyroidectomy
Neck dissection
Nasal hemorrhage control

Urology

Vasectomy
Orchiopexy
Cystoscopy
Suprapubic tube insertionUrethral dilation
Management of testicular torsion
HydrocelectomyManagement of spermatic cord lesions
Circumcision
Ureteral repair

OB/GYN

C section
Ectopic pregnancy management
Ovarian torsion management
Post-partum hemorrhage management
Salpingo-oophorectomy
Dilation and Curettage
Hysterectomy
Endometrial ablation
Tubal ligation 

Plastic Surgery and Orthopedics

Digital anesthesia
Nail bed repair
Revision amputation
Hand tendon repair
Amputations- AKA/BKA, digits
Ganglion cyst excision/injections
Arthrocentesis/bursa management
Carpal tunnel release
Radial fracture repairK wire use

GI/Endoscopy

Endomucosal resection of colonic polyps
Advance techniques in upper and lower endoscopy
Control of upper GI hemorrhage
Percutaneous gastrostomy tube