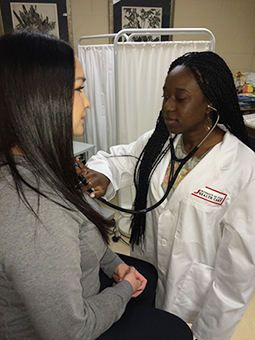 Physician assistants (PAs) are health professionals licensed to practice medicine with physician supervision. Within the physician/physician assistant relationship, PAs make medical decisions and provide a broad range of diagnostic, therapeutic, preventive, and health maintenance services. The clinical role of physician assistants includes primary and specialty care in medical and surgical practice settings. Practice is centered on patient care and may include educational, research, and administrative activities.
The PA role demands intelligence, sound judgment, intellectual honesty, appropriate interpersonal skills, and the capacity to react to emergencies in a calm and reasoned manner. An attitude of respect for self and others, adherence to the concepts of privilege and confidentiality in communicating with patients, and a commitment to patient welfare are essential attributes.
Specific tasks performed by PAs cannot be delineated precisely because of the variations in practice requirements mandated by geographic, political, economic, and social factors. At a minimum, however, physician assistants are educated in areas of basic medical science, clinical disciplines, and discipline-specific problem solving. PA practice is characterized by clinical knowledge and skills in areas traditionally defined by family medicine, internal medicine, pediatrics, and others, and practice in ambulatory, emergency, inpatient, and long-term care settings. PAs deliver health care services to diverse patient populations of all ages with a range of acute and chronic medical and surgical conditions, requiring the knowledge and skills to allow them to function effectively in a dynamic health care environment.
Services performed by physician assistants included, but, are not limited to the following:
Evaluation: Elicit a detailed and accurate history, perform an appropriate physical examination, order appropriate diagnostic studies, delineate problems, develop management plans, and record and present data.

Diagnostic(s): Order, perform and/or interpret diagnostic studies used to identify pathophysiologic processes.

Monitoring: Implement patient management plans, record progress notes, and participate in the provision of continuity of care.

Therapeutic(s): Perform therapeutic procedures and manage or assist in the management of medical and surgical conditions, which may include assisting surgeons in the conduct of operations and taking initiative in performing evaluations and therapeutic procedures in response to life threatening situations.

Patient education: Counsel patients regarding issues of health care management to include compliance with prescribed therapeutic regimens, normal growth and development, family planning, and emotional problems of daily living.

Referral: Facilitate the referral of patients to other health care providers or agencies.
If you have questions about these standards please contact the Center for Disability & Access.