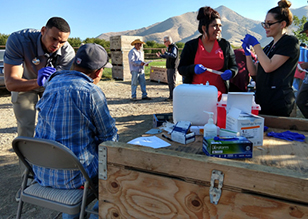 What are the Student-Run Free Clinics? On the first and third Thursdays of every month, PA students see uninsured patients at the Maliheh Free Clinic in Salt Lake City and Doctors Volunteer Clinic in St. George. Under the supervision of faculty, students obtain complete medical histories, perform integrated physical exams, and implement their care plans with the patients they see. Students who volunteer at the Student Run Free Clinics experience:
Increased exposure to patient care through near-peer education.
Opportunities to understand diversity in health care and the social/structural factors that influence health.
Increased collaboration with ancillary health disciplines and non-medical providers.
Increased familiarity with the approach and techniques involved in administrative aspects of health care.
Vision:
The Student-Run Free Clinic strives to provide access to compassionate, comprehensive, high-quality healthcare to the underserved patients in a manner that is culturally respectful and promotes their personal health literacy. Students will gain an understanding of the complexity of caring for the uninsured in culturally complex situations and an appreciation for the barriers, strengths, and needs of the community. The clinic strives to increase inter-disciplinary collaboration and to further the clinical experience of the health professional students.
Mission:
The student-run free clinic seeks to meet its vision by combining the inter-disciplinary skills and passion of health professional students to provide and expand high quality free health care for underserved populations in the Salt Lake and St. George areas. The students seek to gain near-peer educational experience that empowers, utilizes, and strengthens both clinical skills and cultural competence of participants, while learning how to collaborate with other disciplines to provide integrated patient care. Additionally, the clinics aspire to strengthen the health literacy and awareness of community health resources and support services available to patients in a manner that is respectful of cultural differences and barriers.
For additional information about community engagement as part of our Physician Assistant Program curriculum.