We endorse the University's statement of commitment to a compassionate, equitable, and just society. Our fellowship and department are committed to anti-racism, and seeks to foster a culture of diversity, equity, & inclusion.
Fellowship Recruitment Video:
Fellowship Application Process 2021-22
The 2022 application cycle is open, we are accepting through ERAS. On May 17th, 2022, letters indicating invitation, no invitation, or wait-listing were sent out to all candidates who submitted applications through ERAS. If you have any questions about the application cycle, please contact Nikki Dotter, nikki.dotter@hsc.utah.edu.
Utah MFM Fellowship Statement Regarding Dobbs vs. Jackson
Following the U.S. Supreme Court's decision in Dobbs v. Jackson, the University of Utah MFM Fellowship program wishes to confirm its continuing commitment to counsel patients according to national guidelines and inform patients about all health care options, including abortion care.
We appreciate the statements and resources shared by so many influential leaders and societies, including the statement issued by the Society for Maternal Fetal Medicine. We will continue to listen, learn, and leverage our expertise to support the advancement of public policy fully informed by relevant data.
Our commitment to offering current and future fellows opportunities to provide and learn abortion care to enable them to best serve their patients and communities is unwavering.
Fellowship Overview
The Maternal-Fetal Medicine Fellowship Training Program at University of Utah Health offers its trainees a rich mix of hands-on clinical experience and quality investigative exposure.  Our goals are:
To train competent subspecialists to care for and/or provide consultation to individuals with complicated pregnancies and the physicians who care for them
Provide fellows with the tools and background to achieve a successful career in academic medicine, tailored to their needs
Provide the option to pursue advanced degrees (Masters of Science in Clinical Investigation) and other professional development opportunities
Program Description
The fellowship program at the University of Utah was started in 1983 and is designed to give fellows a well-rounded research and clinical experience in maternal-fetal medicine and to position them for success in academic medicine. The fellowship program is integrated, both administratively and clinically, with Intermountain Healthcare, a large vertically integrated healthcare system.
Our primary goal is to provide top-quality MFM training to physicians with academic career goals in research and education. We are a fully accredited three-year fellowship program based in Salt Lake City, Utah. We are a division of 29 faculty and have openings for two fellows per year. Most fellows obtain a Masters of Science in Clinical Investigation and graduate with multiple abstracts and published papers. Up to 18 months are devoted to research time (12 months required by ABOG) which provides ample time for fellows to develop investigative skills and receive the mentorship necessary to embark on a successful academic career. 
Our fellows participate in all clinical activities and receive training in complicated maternal conditions, genetics, ultrasound, critical care, invasive procedures including intrauterine blood transfusion, complicated deliveries, advanced operative obstetrics, complex antepartum care, and patient counseling.
Welcoming our Incoming 2022 Fellows: 
Carly Dahl, MD - Northwestern University
Taylor Lendrum, MD - University of Colorado
Selection Criteria
We seek self-directed learners committed to academic careers who have an enthusiasm for research and the potential for a significant and sustained contribution to MFM through research, education, and/or advocacy.
Our fellows should be prepared to function independently for activities within the scope of a generalist OB/GYN.
Education
A favorable education to service ratio is top priority. Our fellows have protected time for all educational activities. 
We have a highly structured didactic schedule that emphasizes faculty participation and highlights several guest speakers annually. Many of our faculty are international experts on particular topics and are actively involved in fellow education. 
Clinical Exposure
We offer well-rounded clinical and procedural training. Our fellows are trained to perform:
Amniocentesis
Cerclage (including Shirodkar and MacDonald procedures)
Percutaneous umbilical cord sampling / intrauterine transfusion (IUT)
Dilation and evacuation (first and second trimester)
Cesarean hysterectomy for placenta accreta spectrum and obstetric hemorrhage
Because of our unique patient population, we have a high volume of IUTs and cesarean hysterectomies relative to other centers. We have a successful simulation curriculum (see pictures below), led by Drs. Eller and Richards, that facilitates procedural knowledge and competency. Our fellows also gain experience in breech extraction of the second twin and operative vaginal delivery (vacuum and forceps).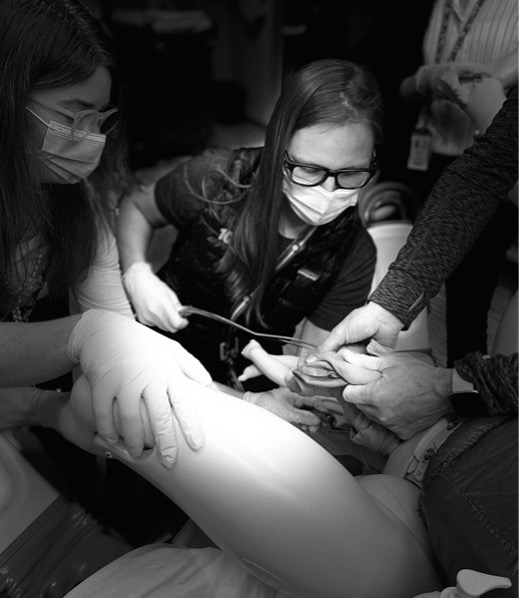 We focus on hands-on ultrasound training and have ultrasound and genetic case conferences moderated by experts. As a referral center for the Intermountain West, our fellows are exposed to a high volume of fetal anomalies and fetal/maternal genetic disorders.  Our fellows are mainly based at two large tertiary-care hospitals, both with large regional NICUs. The University of Utah and Intermountain Medical Center both have busy Labor and Delivery units, active diagnostic centers, and ample opportunities for education.
Fellows jointly staff two high-risk clinics at the University of Utah and South Main Public Health Clinic in their first two years. 
Our fellows function as independent obstetricians for activities that are within the scope of a general OB/GYN. Our fellows are not 'PGY-5' students or super-chief-residents; rather, they enjoy well-deserved autonomy in procedures and patient management that they have already mastered. Fellows have direct supervision for MFM consultations, management, and procedures. 
Critical Care
Fellows complete a one-month rotation in the Shock-Trauma ICU at Intermountain Medical Center during the first year of fellowship. Our fellows are an active part of the ICU team (acting as residents) and take call with the ICU team. 
Fellows have no MFM obligations during this rotation. Our fellows become familiar with the principles of critical care and are able to apply these skills and knowledge to the obstetric population. Fellows will also be involved in caring for critically ill pregnant/post-partum patients during their obstetric rotations.
Genetics
Our fellows have two month-long genetics rotations during their first year. These include participation in pediatric genetics clinic and case conference, neonatal genetic consultations and perinatal autopsies, exposure to genetic counseling, and firsthand observation of relevant laboratory assays. We have a board-certified OB MFM geneticist on our primary MFM faculty (Dr. Byrne). Our fellows enjoy the chance to experience hands-on laboratory techniques in perinatal diagnostics at a major referral lab.
Cardiology: Fetal and Maternal Congenital Cardiac Disease
During the third year of fellowship, our fellows complete a one-month pediatric cardiology rotation at Primary Children's Medical Center. 
This rotation provides additional training in sonographic evaluation of the fetal heart and is designed to improve diagnostic skills for fetal congenital cardiac disorders. Fellows also participate in adult clinics to improve knowledge and competence in the obstetric care of women with congenital heart disease.
Customizing Our Curriculum to Meet Fellows' Needs
We are committed to providing the best educational experience possible for our fellows. This includes protected time and financial support for:
Completion of advanced research degrees (MSCI, MPH)
Educational and career development conferences and workshops
Education stipend to cover computer, textbooks and statistical software.
Attendance at educational sessions at scientific meetings (SMFM, SRI)
Participation in statistics/epidemiology, research administration, and grant writing courses
Opportunity to take the OB/GYN Oral Board Exam
Research
Current fellows are actively involved in education, leadership, and advocacy. Previous fellows have made significant contributions to the field in all these areas with many serving on committees or in leadership roles in national and state originations (e.g. SMFM, ACOG, ABOG, etc.), becoming institutional and national leaders in education and administration, and actively participating in the advancement of the field. Examples from current and recently-past fellows:
SMFM Associate Member Representative
SMFM Fellowship Affairs Committee Member
SMFM Patient Safety & Quality Committee Fellow Member
SMFM Board of Directors Fellow Member
Medical Journal Peer Reviewer (Obstetrics & Gynecology, AJOG, BJOG, AJPH, AJP, AJOG-MFM)
Utah Medical Association Board of Delegates Representative
Utah Medical Association Minority Affairs Committee Member
University of Utah Medical Board House Staff Representative
University of Utah Patient Safety Review Committee Member
State of Utah Maternal Mortality Review Committee Member
University of Utah Diversity, Equity, & Inclusion Task Force Member Co-Chair
Research Opportunities
The University of Utah is one of the top 50 research institutions in the United States. University of Utah Health of which the Department of Obstetrics and Gynecology is a part, promotes research of such quality and quantity as to ensure national recognition as a scientifically excellent institution. 
The U of U Health has consistently been in the top tier of obstetrics and gynecology departments for NIH funding. Grant and contract activity within maternal-fetal medicine over the last decade includes clinical research in: preterm birth, recurrent pregnancy loss, stillbirth, antiphospholipid syndrome, substance use in pregnancy, placenta accreta, maternal congenital heart disease, preeclampsia, long-term cardiovascular health after pregnancy, and venous thromboembolism. The Division is now in its fifth consecutive five-year membership in the NICHD Maternal-Fetal Medicine Units Network (MFMU) and has also been a prominent participant in numerous other federally funded clinical trial networks and programs such as the NICHD Stillbirth Collaborative Research Network (SCRN) and the Nulliparous Pregnancy Outcomes Study: Monitoring Mothers-to-Be (nuMoM2b). The data and biological samples from these large research networks are available for fellowship research projects. 
Summer Curriculum/ MSCI Course
Fellowship begins with a four-week summer research curriculum in epidemiology, data management, bioethics, biostatistics, and genetics. Our curriculum provides the necessary skills to begin your transition into an independent clinical investigator and gives you time to settle into your new home in Salt Lake City. 
These summer credits can be applied to the Master of Science in Clinical Investigation (MSCI) or Master of Public Health (MPH) degrees. If you already have an advanced degree, we encourage and financially support a personalized curriculum that will help you to reach your academic goals
Unless you already have an advanced research degree, we strongly encourage you to complete the MSCI or MPH by the end of fellowship. Over the last 5 years, 86% of graduating fellows have completed an advanced research degree.
Research Support
Further support of fellow research includes:
We are a member of the Maternal-Fetal Medicine Units (MFMU) Network and fellows have the opportunity to perform secondary analyses of network studies
The Utah Population Database is a unique resource for population-based analyses and studies
Fellows attend SMFM and/or SRI meetings each year and other meetings as appropriate
Opportunity to attend the NICHD Young Investigators Conference on Maternal-Fetal-Neonatal-Reproductive Medicine
Intermountain Healthcare is a leader in quality-improvement and maintains numerous databases (to which fellows have access) including fetal heart tracings, maternal variables, and neonatal outcomes
Research nurses and administrative support staff to assist with IRB submissions, data collection, etc.
Full-time Department of OBGYN Biostatistician (Amanda Allshouse)
Collaboration with other investigators outside MFM and Ob/gyn and across the medical and university community
Individualized plans to assist each fellow in achieving their research and career development goals (e.g. one of our recent fellows completed the SMFM Queenan Fellowship for Global Health)
Please visit the Research Opportunities page to learn more.
Mentorship
Fellows are assigned a primary research mentor and clinical/career mentor on arrival. Mentors can change as the fellow evolves, and most fellows leave with a cadre of lifelong mentors. Strong research and career mentorship is one of our greatest programmatic strength