Meet the Faculty: Amir Arain, MD, MPH
Amir Arain, MD, answers questions about his hobbies, bucket list, and childhood career goals. Get to know our faculty on a more personal level as we spotlight someone for each issue of NeurologyNews!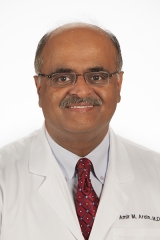 What are your hobbies? Reading history and politics.
What is your favorite meal/dessert? Biryani or chocolate brownies.
What are one or two things you want to learn to do? Learn to speak Spanish and study anthropology.
What is one thing that can instantly make your day better? A friendly attitude and smile.
What song always gets you out on the dance floor? My friends say that any dance music will get me on the dance floor.
What is something people would be surprised to learn about you? I love poetry in Urdu, Persian, and Arabic
Name one thing on your bucket list. Crossing the Drake Passage.
As a kid, what did you want to be when you grew up? A seizure doctor. My aunt was suffering from epilepsy, so I wanted to treat it.
What is the best concert you've ever attended? A Jagjit Singh concert in Atlanta.
What is your favorite thing about your career? Treating and making people seizure free.