Meet the Faculty: Lee Chung, MD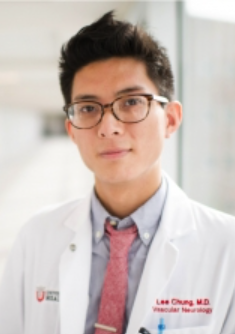 Dr. Chung is a stroke neurologist, having completed a fellowship in vascular neurology after a neurology residency, both at the University of Utah. He has faculty appointments at both the University of Utah Hospital and at the Salt Lake City VA, with clinical, education, and research activities at both facilities.
What are your hobbies?  
I spend a lot of time listening to music, though now with young children, my free time has shifted from playing guitar to exploring the outdoors with them (skiing, hiking, mountain biking, and kayaking).
What is your favorite meal/dessert?  
My mother would make these very fluffy steamed buns filled with sweet red bean from scratch. There is really no place that can make these well in Salt Lake, so I gorge on them whenever visiting Southern California.
What are one or two things you want to learn to do?  
Repair drywall and land an airplane in the dark.
What is one thing that can instantly make your day better?  
A bear hug from my kids.
What song always gets you out on the dance floor?  
"Boot Scootin' Boogie" by Brooks and Dunn
What is something people would be surprised to learn about you?  
I have no idea how to whistle.
Name one thing on your bucket list.  
I can honestly say my bucket list is complete. Every day is just extra blessings.
As a kid, what did you want to be when you grew up?  
A marine corps fighter pilot.
What is the best concert you've ever attended? 
Brad Paisley, San Diego 2008.
What is your favorite thing about your career?  
I love being helpful to others, usually in a small way, sometimes in a profound way, as a means to repair the world.