Kendra Pham, MD, PhD, answers questions about her hobbies, bucket list, and childhood career goals. Get to know our faculty on a more personal level as we spotlight someone for each issue of NeurologyNews!
Meet the Faculty: Kendra Pham, MD, PhD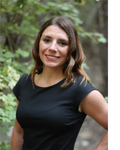 Kendra Pham, MD, PhD, has recently joined the Department of Neurology as part of our Headache & Neuro-Ophthalmology Division. Here are some fact about her!
What are your hobbies? I grew up as a competitive figure skater. My hobbies have now shifted to snowboarding, hiking, and camping.
What is your favorite meal/dessert? I'm a big fan of ice cream.
What are one or two things you want to learn to do? Speak Vietnamese.
What is one thing that can instantly make your day better? Spending time with my daughter when I get home.
What song always gets you out on the dance floor? The "Cha Cha Slide," and most things upbeat.
What is something people would be surprised to learn about you? I enjoy sketching, drawing, and painting.
Name one thing on your bucket list. Go on a camping adventure in Alaska.
As a kid, what did you want to be when you grew up? A professional figure skater.
What is the best concert you've ever attended? Seeing the Trans-Siberian Orchestra perform when I was a teenager was memorable.
What is your favorite thing about your career? Meeting new people and helping them live more fulfilling lives.