Patient Reported Outcomes and Health Care
Patient care is of top priority at University of Utah Health and has consistently been measured and monitored in order to improve the quality of service provided. New technology has furthered this pursuit by providing a standardized, yet still personalized, mode of communication between patients and providers, called Patient Reported Outcomes (PROs).
PROs facilitate a quicker, more reliable, more holistic patient review as patients are allowed to directly report their health experiences in a process understood by both patient and healthcare provider. PROs accommodate healthcare teams with the information and feedback necessary to improve patient approach in achieving a standard of excellence in healthcare.
Patient Reported Outcomes and Science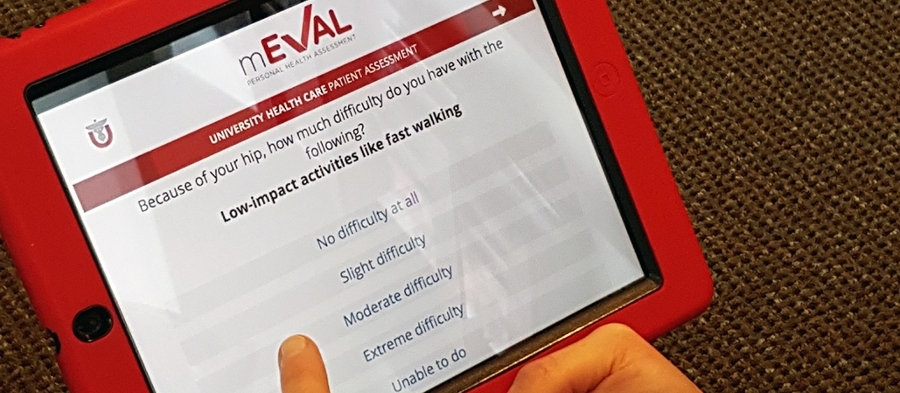 University of Utah Health commonly uses PROMIS questionnaires developed by the National Institutes of Health (NIH). These digital questionnaires are always evolving and striving to provide questions that relate to patients and provide data for health care teams. These questionnaires are delivered and collected through our mEVAL system.
An advantage of using digital questionnaires is the ability to provide patients with a computerized adaptive testing (CAT) environment. This adaptive environment can determine the necessary questions that relate to a patient and lowers the amount of time patients need to spend answering questions. The digital process of questionnaires saves time for patients and health care teams.
Patient Reported Outcomes and Our Research
Over the past seven years, members of our department have worked diligently to transform measuring outcomes of musculoskeletal care.  They have done so by exploring and leveraging item response theory (IRT), computerized adaptive testing (CAT), and a new set of validated questions provided by the NIH-supported PROMIS effort.
When you browse the papers in this collections, we trust you will feel a sense of pride in the accomplishments of our group, elevating the way our discipline measures patients' function, pain, and outcomes of care.
The story that will emerge is remarkably simple: using these CAT-enabled, IRT-based PROMIS item banks, we can measure physical function (and other domains of interest) with equal or greater reliability, with less floor and ceiling effects, and with profoundly less burden than we have in the past.
Our work on this has just begun.  Many ancillary or complementary studies have been submitted for publication or are currently being analyzed, written or performed.  Soon we will integrate these results with other relevant quality data and cost of care data to give us a richer picture of the value of care.  Eventually, we hope to better understand patient preferences, treatment tradeoffs, and predictive outcomes in order to optimally advise individual patients on choosing what is best for them.
This initial work reflects the amazing energy, focus and accomplishments of our department towards our patient care analytic goals.  We hope all clinical faculty will find a way to work with the patient reported health status data of the patients directly in their care, and will be able to use this information to study the outcomes of their care.  The future depends on us improving the care we give today.