Cannon CAN
By Mark Anderson
17-year-old Cannon Cooper has a radiant smile that can light up a room. He has a warm and loving character that welcomes anyone's company—even siblings. He has a passion for computers, technology, and video games; skills in the English language with plans on writing a book; and musical talents with the ability to play the piano and cello. It turns out, Cannon also has the heart of a lion that helps him fight through even the most extreme obstacles.
In June 2019, while on a youth outing, Cameron fell nearly 60 feet in a cave. He sustained a broken leg and femur, seven facial fractures, two spine fractures, bilateral pelvis fractures, and tore his lung and bowels. But the most significant injuries were to his brain, as he suffered skull fractures and hemorrhages. According to Cannon's parents, Lu Ann and Cooper, the doctors weren't hopeful as they explained the number and severity of injuries.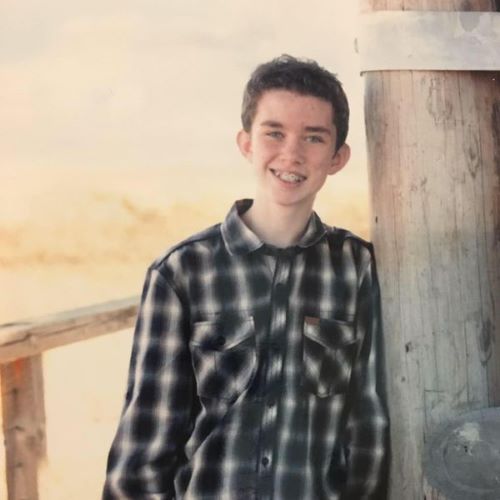 "I'm sure they were just giving us the worst-case scenario to prepare ourselves," Lu Ann recalls. "As I looked at Cannon's eyes and saw how purple and swollen they were and the cuts on his face, I thought this is worse than any other trial we're ever going to face. But I had a sense of calmness and the feeling that he's going to be OK in the end."
Two and a half weeks following the accident, Cannon hadn't woken up on his own. The MRI scans indicated that his brain was bruised all around the outer edge and separated and sheared from his brain's inner part. The doctors explained that his brain injury was severe enough that he probably wouldn't ever wake up, and if he did, he would have severely limiting impairments the rest of his life.
"The whole room was void of any feeling," Lu Ann recalls, "and I was confused as to why they would tell us this and then give us a list of things he would never do again because of that calmness and peace I felt from day one that things would be OK. After the room got quiet and awkward for a minute, Cooper invited them to take their negativity out of Cannon's room."
The next few months were arduous and grueling. Cannon had to lie flat because of the spine fractures, but lying flat put too much pressure on his brain, so they had to keep his bed at a slant, and no one could touch him because that stimulation would make it too hard to keep his vitals stable. Projections of his recovery remained grim, but the Cooper family refused to believe these prognoses. Eventually, Cannon took a turn for the better as he began moving his tongue, nodding his head, and moving his legs. He still spent many months working on his recovery at the inpatient unit at Primary Children's Medical Center but continued showing improvements. When he was discharged, the family searched for outpatient neurological rehabilitation centers to continue his care, and that's when they found the Outpatient Rehabilitation clinic at Sugar House Health Center.
"When we found Sugar House, we knew he would be OK because we found a team who were on our side," Lu Ann says. "I don't think there's a better place for Cannon than Sugar House. They are the best he could get."
Cannon was placed under the care of a team of physical, occupational, and speech therapists. When Cannon started treatment at Sugar House, he needed a lot of support to stand, walk, and deal with cognitive and attention deficits. He still had limited mobility in his right arm, but the team has pushed him to his highest level of function possible. Never satisfied with his current level of recovery, the group continues to urge Cannon on. When he comes to the clinic for therapy, they say, "Let's see if Cannon can do this..." When Cannon's asked to try something new, his initial reaction is to say that he can't, but he will try the next time he goes to therapy.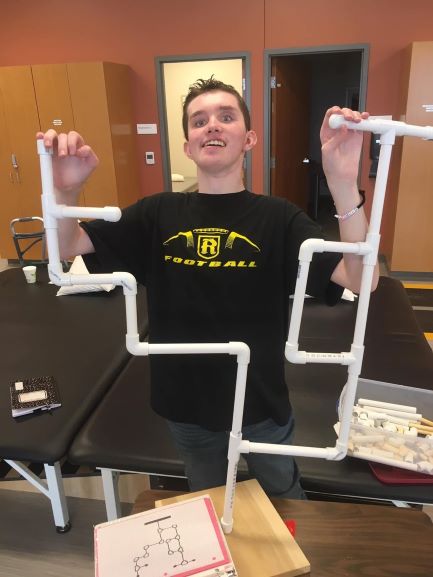 "Cannon hates therapy, but he loves to go into the clinic," Lu Ann says. "Cannon loves superheroes, particularly Marvel, and so they have Superhero Fridays. Spencer Thompson, his physical therapist, will pull his Superman shirt out of his drawer and get Cannon to do things like a superhero would. He's just been able to connect with Cannon in a special way and get him to do things others would think are impossible. They never cease to amaze me."
Dr. Thompson shares similar sentiments about his patient: "Cannon is an absolutely amazing human being. He has never given up in the face of significant challenges, and he has developed such resilience during this entire process. One of his favorite things to do is race me around the track when wearing our superhero shirts. When we do this, he pushes himself to walk as fast as possible and keeps improving. It's very inspiring."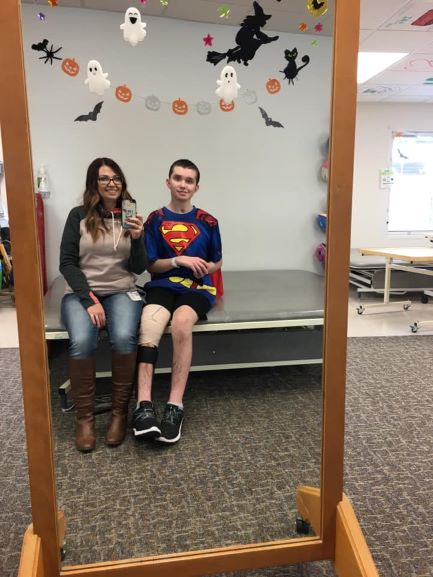 After 20 months of prolonged, hard therapy, Cannon began going back to school. He walks to school without the help of a wheelchair. And he set a personal-best time of running around the track inside the Sugar House clinic in 32 seconds.
"Having a TBI is a major, life-altering injury, and it significantly affects all aspects of life," Dr. Thompson explains. "One of the keys to successful recovery from a TBI is having sufficient family and home support. All of the therapists have been constantly blown away by the amount of support his family has provided for him. Their love, support, and encouragement of Cannon is wonderful to see and has been such a huge part of his recovery."
 "TBI is the worst injury," Lu Ann says. "It's a whole new world learning about TBI and how much it affects the whole family. Cannon's a fighter. He's determined to get better, so he keeps going and keeps trying. He's an amazing young man, and it's hard to count how many miracles we've experienced."
With the help of a committed team and supportive family and friends, Cannon Can.