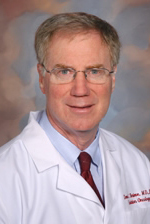 The Department of Radiation Oncology at the University of Utah is dedicated to excellence in patient care, training of the next generation of radiation oncology experts, and advancement of patient care through research.
The physician faculty is made up of highly specialized experts in one or more cancer disease sites. The faculty are nationally recognized experts in their areas and are members of the site-specific multidisciplinary groups and the Huntsman Cancer Institute. Our board-certified physics faculty assure the highest level of quality assurance and provide assistance in the delivery of the most advanced radiotherapy treatments available. Our physicians and department are among the highest–ranked nationally in patient satisfaction.
Our training program in radiation oncology is ranked as one of the best in the country. Resident and medical student education is a major focus of our faculty in keeping with the goals of our medical campus to produce the next generation of medical experts.
Research in the department ranges from basic laboratory-based discovery science to clinical outcomes research and health-care innovation research.  
Welcome to our website. I encourage you to contact our department for further information regarding patient care or our training and research programs.
Sincerely,
Dennis C. Shrieve, MD, PhD
Department Chair