Grace G. Zhu, MD
Oct 27, 2021 8:29 AM
By Michael Mozdy
How many of us have wondered during the day, "There has to be a better way to do this"? Especially with the disruption of the COVID-19 pandemic, we have groped for ways to do our work and still be engaged in real communities. As a fourth-year radiology resident studying for her COVID-delayed board exams in February of 2021, Grace G. Zhu, MD was wondering this exact thing. It was the start of the pandemic, and not only were board exams postponed that year, everything needed to happen virtually, including studying and receiving education from faculty.
Zhu missed the in-person interactions. "The residents could no longer study together in person," she recalls, "everything was done via Zoom or GoToMeeting." While Zoom, Microsoft Teams, GoToMeeting and others jockeyed for the lion's share of workplace videoconferencing, they didn't offer an engaging resident education environment.
One night, Zhu's husband, Alex Xie, suggested that she try the gamer platform Discord. As casual gamers, they used the platform as an online chat space and participated in online communities relating to their hobbies and interests. Zhu immediately saw the potential: this was a proven platform for gamers and social communities who relied on real-time audio and video connections and produced hundreds of interactive, live discussion threads. Zhu did some research but didn't find a Discord community focused on radiology education. She decided to build one with residents at the forefront.
Real Study Sessions, Only Better
In the beginning, her fellow residents recall that Grace was a one-woman creation and marketing team for the platform. "One of Grace's qualities is that she always advocates for the things she believes in and RadDiscord wasn't an exception," states Tessie Pham, MD, a resident two years behind Zhu. She constantly told her fellow residents about the cases and events happening in the RadDiscord community and encouraged them to sign up. "Even if it was just her and a few other people, Grace tirelessly worked to create content and educational events almost daily," Pham notes.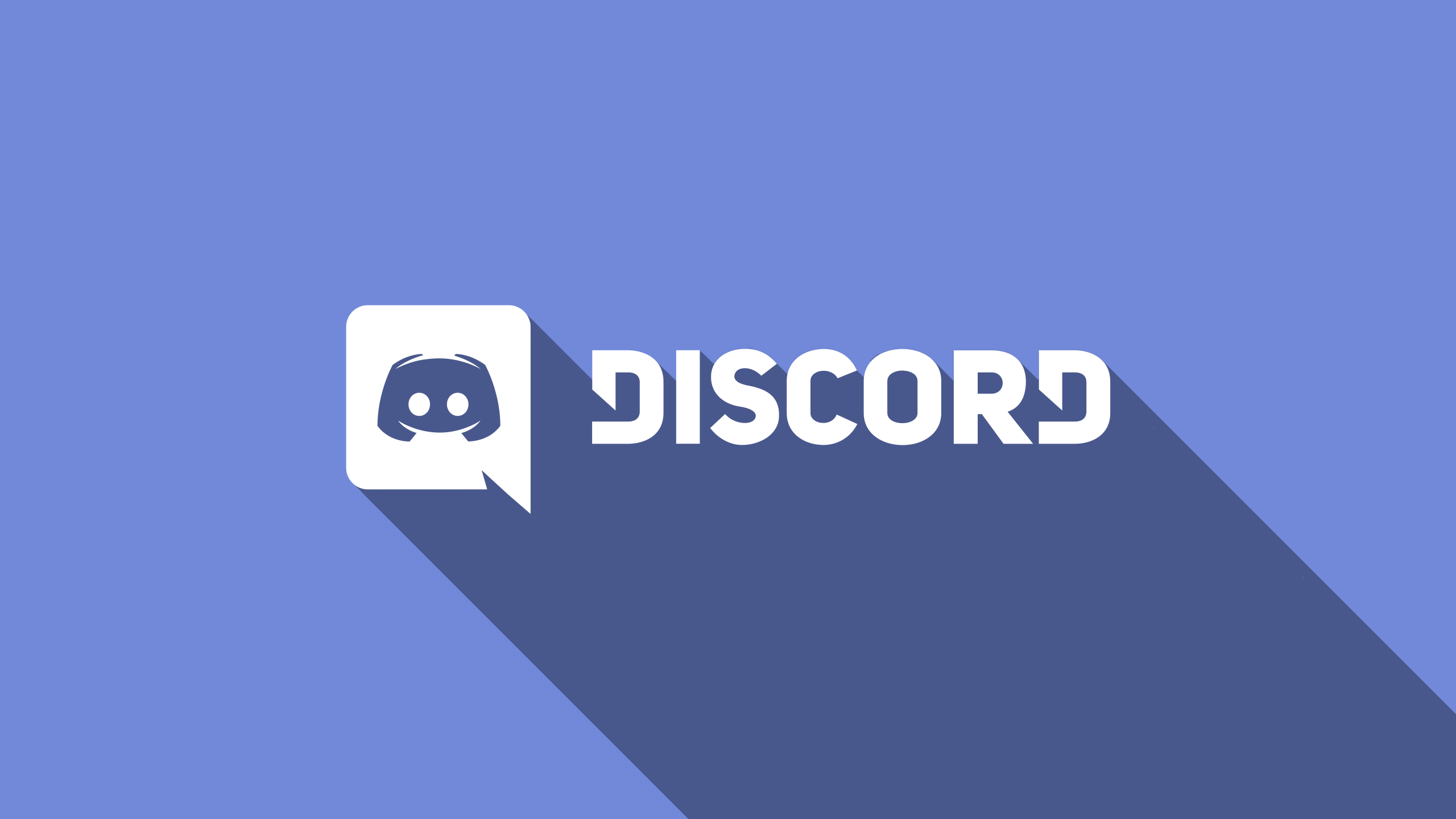 The reasons Zhu chose Discord as a platform are evident in their title in the app store: "Talk, Video Chat & Hang Out with Friends."
Zhu invited many passionate faculty teachers from around the country, including, of course, some of our renowned University of Utah faculty like Rick Wiggins, MD, Nicole Winkler, MD, and Ulrich Rassner, MD. Participation by these educators attracted residents from all over the world to join the platform. Just as important, these educators saw a great opportunity in this new RadDiscord platform to further the educational work they love. By the end of 2020, a few months before her rescheduled board exams, 433 radiologists were members of RadDiscord and each faculty led review session were joined by over 75 residents. 
Zhu was very pleased with how the community was growing and meeting her educational hopes. "Studying alongside others is important because you get to hear how someone else understands a concept and that enhances your own understanding," she states. She recalls a topic that was challenging for her: all of the pathologies associated with various genetic syndromes. During one of the study sessions, a resident from Vanderbilt University explained how she remembers a specific set of associations; Zhu says, "to this day, I remember how her explanation helped solidify for me the pathologies associated with Von Hippel Lindau syndrome."
One of the best things about RadDiscord is that it can be organized to suit the needs of residents. "It formed very organically," Zhu recalls, and it took the form suited to residents because they were the ones building it. A small, more active group of residents from around the country joined Zhu in moderating conversations, contributing cases, and recruiting faculty for review sessions. "They helped to build RadDiscord into what it is today," Zhu states. This group became known as the "Power Rads."
After joining the RadDiscord community, a user experiences a swath of channels on the left-hand side of the page. These are organized under categories: general information, study topics, question/case of the day, and voice channels (virtual study rooms).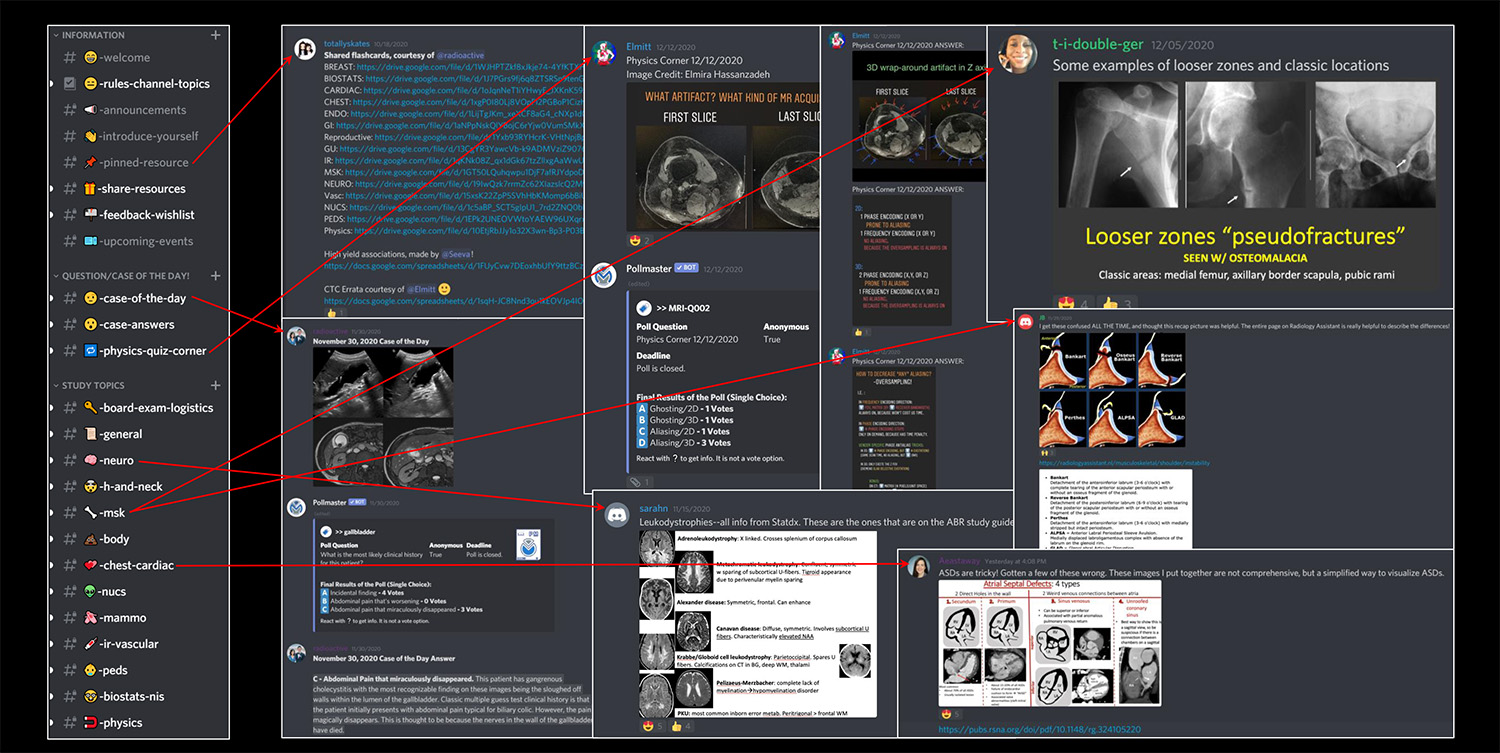 "Faculty-led reviews are probably the biggest claim to fame for RadDiscord," Zhu admits. In these live sessions, renowned faculty educators put residents through their paces on specific topics, choosing challenging cases known to be "high yield" for boards. Residents line up to take cases in these "hot seat" sessions, which simulate the pressure of exam day. In the first 3 months since launching the community, Zhu managed to set up, promote, and execute 16 of these faculty-led reviews. In the following 6 months, the number nearly doubled to 30 faculty-led reviews for the June 2021 exam with attendance regularly topping 110+ residents. Scheduling them at 2pm Mountain time was a good compromise for the 4 main U.S.A. time zones, but Zhu remembers residents from as far away as the Middle East signing up for a live board review session.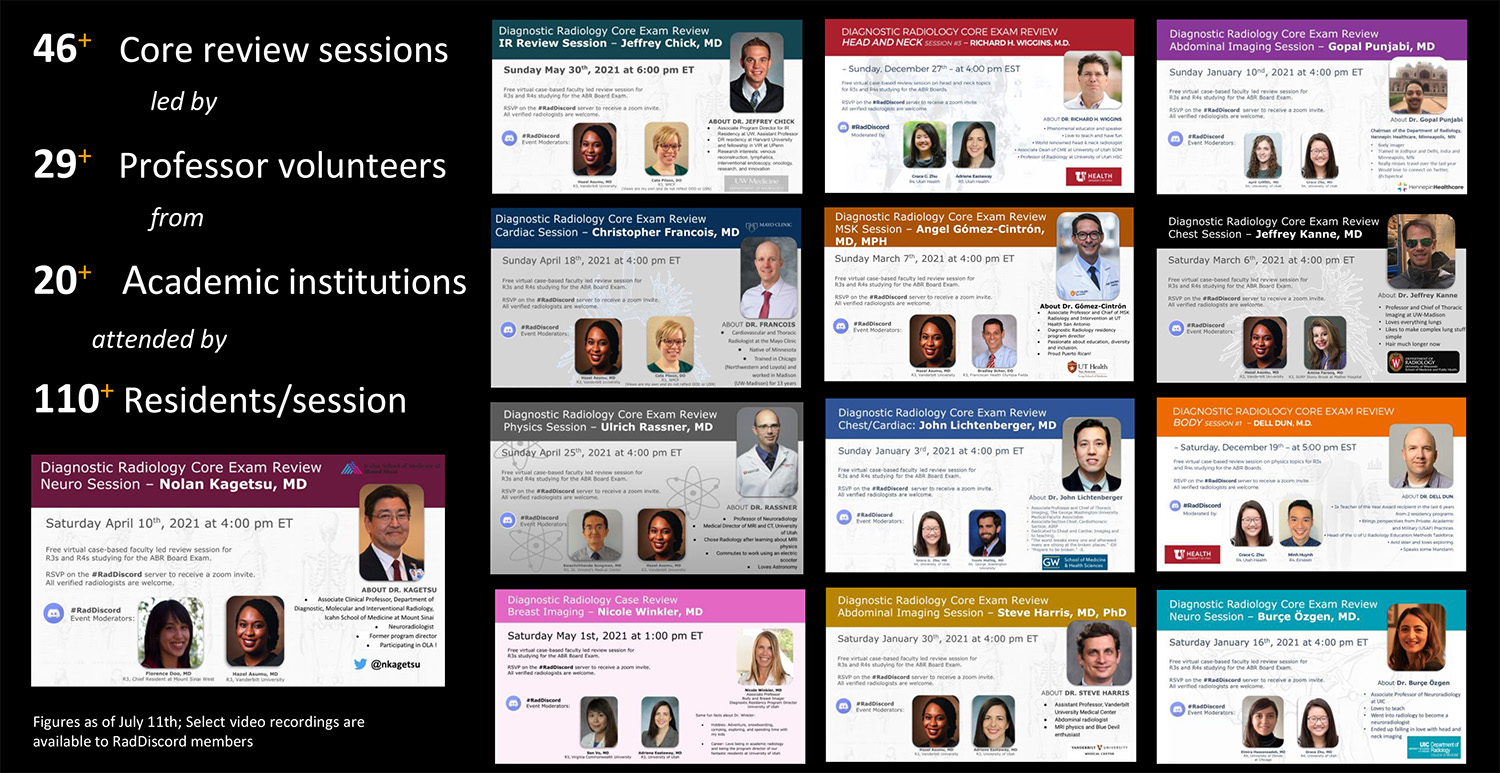 The adoption of the platform by internationally recognized faculty educators has been a great boon for RadDiscord. Every residency program is different – some excel in certain specialties but not others, some have dedicated faculty educators and mentors while others offer much less dedicated education. The online community of RadDiscord levels the playing field for residents. "I see it being a supplement to resident education," Zhu explains, "being able to fill educational gaps." Around 60% of the board reviews are recorded and available to view as a video if a resident wasn't able to make the live event. With live chat rooms and active discussion threads, any resident from around the world can find the resources she needs to learn radiology effectively.
A 4th year resident from Vanderbilt named Hazel Asumu, MD, notes that she quickly outgrew her usual "lurker" online personality with the platform. "I first heard about RadDiscord when one of my neuroradiology attendings shared the link to the server with my residency class," Asumu relates. "The idea of engaging on a forum-style platform and having discussions with others going through the same stress of preparing for the ABR core exam was something that appealed to me." Zhu soon recruited Asumu to the ranks of the Power Rads where she flourished. In fact, Asumu was recently elected President in the inaugural election for the organizational structure that will sustain RadDiscord during 2021-2022 academic year. As the founder, Zhu will continue to serve on the board of governors and in the community as a fellow-level educator, and, eventually, a faculty educator.
Beyond Studying
Zhu insists that RadDiscord is more than just a study aid. This is apparent in the way so many residents and faculty have made the community a home. Truly, anyone who has a specific question can find someone to answer it, and those enthusiastic to learn more about any specialty can spend hours digging through threads and resources.
With her boards successfully behind her, Zhu has been able to expand the offerings on RadDiscord to complement the nose-to-the-grindstone studying aspect. On October 30, 2021, RadDiscord is hosting a Shark Tank" career path event with 6 esteemed practicing radiologists who will "pitch" their specific career paths. From academic radiology to private practice and military practice, residents have a chance to hear about career paths side-by-side and ask questions in real time. Just like the study sessions, this experience allows residents from institutions of varying size and scope to equally access an important guide for their career decisions.
RadDiscord has also recently hosted four fellowship mixers for residents applying to fellowship programs – abdominal, neuroradiology, MSK, and breast. During these live sessions, fellowship directors and current fellows in their programs help residents differentiate between different programs and guide them about what questions to ask when interviewing.
All of this hard work has yielded incredible results. Amazingly, the platform has 1,716 verified radiology members as of October 2021, with around 150 online at any given time – even more when events are scheduled. RadDiscord's popularity and excellence as an educational community has been noticed, too. RadDiscord is one of the finalists of the Aunt Minnie Best Educational App of the Year. It was featured in the ACR resident bulletin and online at RSNA as well. Finally, Zhu is presenting an educational exhibit and scientific poster at the 2021 RSNA Annual Meeting.
The University of Utah is known to be a place that encourages entrepreneurism, but this culture is only a support for the real work that needs to be done by exceptional people. Grace G. Zhu is one of these people, and the great news for us is that she will be joining our Abdominal Radiology section as a faculty member in 2022. We look forward to many years of educational innovation with her!