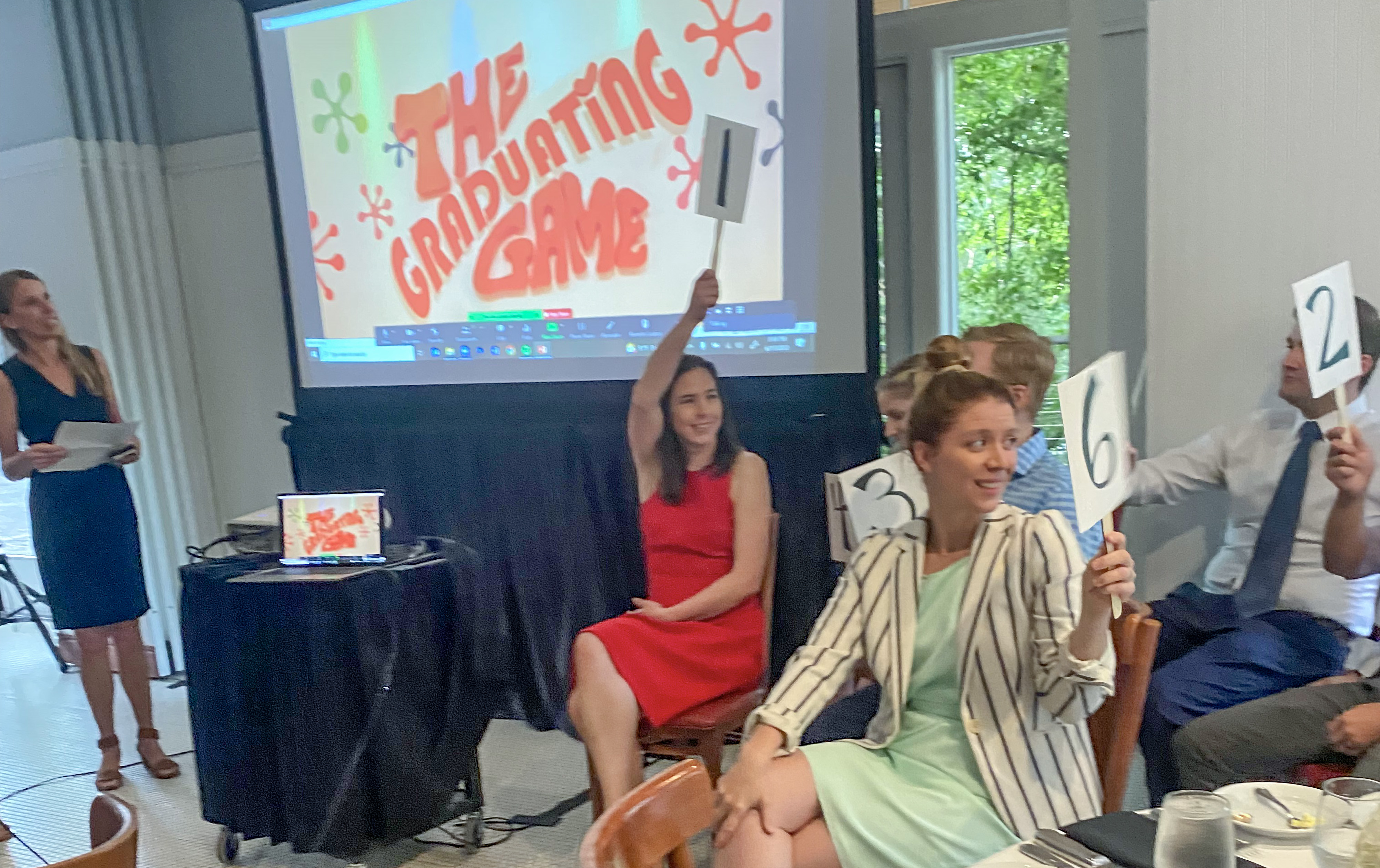 On June 17, 2022, faculty, staff, and trainees gathered at a local restaurant in Cottonwood to celebrate the 6 graduating residents and 17 graduating fellows for the 2021-2022 academic year. Their hard work was highlighted, awards were presented, and a good dose of humor was added to the event. Residency Program Directors Nicole Winkler, MD and Megan Mills, MD hosted the evening and passed the microphone to second-year residents (soon to be third year) Clifton Hartwell, MD, and Rishabh Agarwal, MD, who served as MCs for the evening. Fellowship directors, in turn, celebrated the graduating fellows in their sections, and the evening ended with some kind words from the Chief Residents, Jill Wilson, MD and Justin Costello, MD.
The Graduates
The graduating residents:
Justin Costello, MD
Adriene Eastaway, MD
Nathan Kwok, MD
Brittany Morgan, MD
Samuel Wilhite, MD
Jill Wilson, MD
Graduating Neuroradiology fellows:
Patrick Adams, MD
Jordan Jones, MD
Brett Larsen, MD
Laura Mann, MD
Carrie Norris, MD
Signe Rebolledo, MD
Caleb Sturge, MD
Graduating MSK fellows:
Nirmaan Dayal, MD
Tommy Vu Tran, MD
Mark Winter, MD
Graduating Interventional Radiology fellow:
Graduating Abdominal Imaging fellows:
Adrian Begaye, MD
Chad Christensen, MD
April Griffith, MD
Graduating Breast Imaging fellows:
Huan Chou, MD
Matthew Curtis, MD, PhD
Graduating Nuclear Medicine fellow:
The Awards
Raymond Thornton, MD, Memorial Award: Tyler Smith, MD
RSNA Roentgen Resident Research Award: Ragheed Al-Dulaimi, MBChB
RSNA Roentgen Fellow Research Award: Tyler Smith, MD
Best Faculty Presenter: Megan Mills, MD
Teacher of the Year: Kathryn Morton, MD
Fellow of the Year: Carrie Norris, MD
Resident Team Player of the Year: Steve Winter, MD
Most Highly Rated Noon Resident Conferences: The Abdominal Imaging section
Below are images from the event.