The RealMD Program strives to offer events that bring students, faculty, and staff together to promote connection to oneself and with each other. Participation in these group events is at the heart of the Program's goal to build and promote community. The events offered are in the form of a lunchtime speaker series and small-group discussions called, "kickbacks." All activities are managed by the RealMD student leaders, supported by RealMD staff, and involve the participation of faculty and physicians.  
Lunch Series
Each semester, on a regular basis, the RealMD Program hosts a series of lunch time speakers and workshops. The session topics and speakers are determined by the RealMD student leaders, with their classmates and the RealMD program objectives in mind. The sessions help learners remember why they came to medical school, reflect on what kind of physician they want to become, and understand fundamental elements of professionalism. Examples of past session topics are: "What kind of doctor will I be," "Cultivating your leadership brand," "Handling the hard conversations." Students have had the opportunity to hear from established physicians and experienced staff as well as renowned authors and professionals on these topics. Attendance for the Lunch sessions is typically comprised of first and second year medical students who are present on campus more so than the third and fourth year medical students. Lunch is provided to attendees.
Past Session Topics and Speakers:
Finding Meaning in Medicine - Dr. Robert Quinn (Author, researcher, teacher)
Conflict Management - Christina Tushman (AAMC Leadership)
Why are you in Medical School? - Dr. Sara Lamb (University of Utah Health clinician, educator, administrator)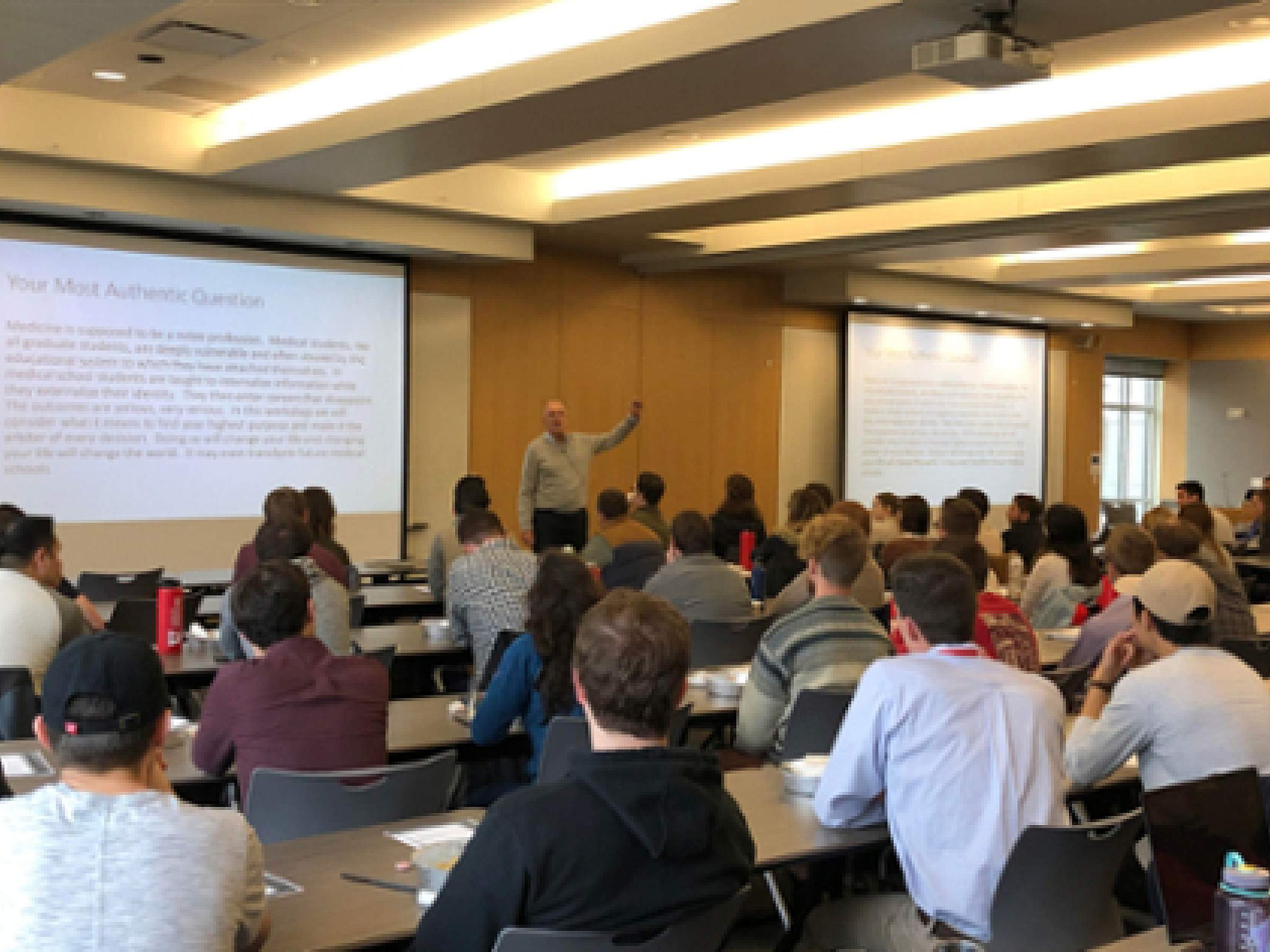 Kickbacks
"Kickbacks" are small group discussions centered around topics pertaining to meaning, community and purpose. They typically occur on a monthly basis and are often hosted in the homes of UHealth physicians, UHealth faculty, or RealMD student leaders. Sometimes, these are more laid back "check-in" style gatherings. Since the kickbacks were designed primarily for our busier/traveling MS3 and MS4 students, they offer an opportunity to regroup and share experiences. The smaller group format lends itself nicely with the goal of fostering connection and reflection. Dinner is provided to attendees.