The breadth and depth of research, education, and service opportunities at The University of Utah is unmatched due to its close relationships with collaborating institutions and with local and state public health agencies, as well as access to the world's finest genealogy database, the Utah Population Database. New cutting edge projects are developing the next generation of research infrastructure, including the training of a diverse biomedical workforce
to engage across the research continuum to transform data into knowledge for improving healthcare systems and the health of individuals and of populations.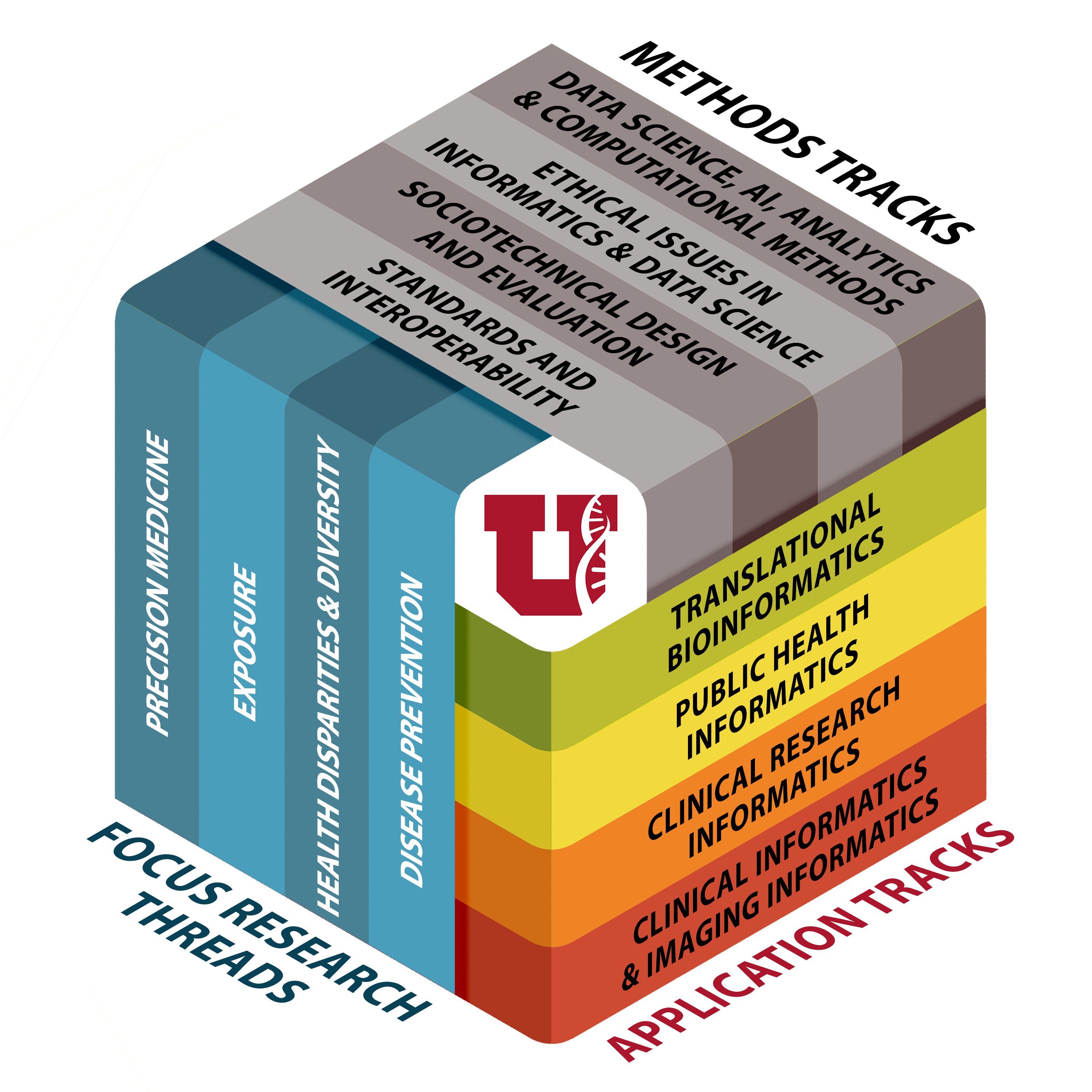 Biomedical informatics and biomedical data science have emerged as vital fields within biomedical research and care.
DBMI's interdisciplinary program is unique for its strength and expertise in each
of the basic informatics and data science training areas
: translational bioinformatics, public health informatics, clinical research informatics, and health care/clinical informatics. In addition, DBMI's program is expanding to the field of consumer health informatics and plans to grow in this emerging field.   
DBMI has over a four-decade long history of conducting innovative translational and clinical informatics research to expand the domain of knowledge, drive change in clinical practice, and lead biomedical informatics initiatives at both national and international levels. DBMI's faculty leads the informatics development internationally in the fields of sociotechnical design and evaluation, scalable decision support, and genomic and precision medicine.
The department and its program has nimbly adapted to change, and its partnerships across and beyond campus positions it to readily embrace new opportunities and challenges. 
Its education and research capabilities extend to healthcare delivery, basic biomedical research, clinical and translational research, precision medicine, health risk communication, health disparities, public health, biosurveillance, and health information management. The methods, theories, knowledge, and skills drawn upon by DBMI faculty members include information science, biostatistics, computer science and engineering, basic biomedical science, social/behavioral sciences, and communication. This level of integration and application in the curriculum greatly enhances the power and rigor of the program, ensuring trainees will be fully equipped with the requisite command of theory, mastery of skills, and deep knowledge base required to drive
interdisciplinary
projects forward.
Abundant research opportunities are supported in conjunction with The University of Utah Center for Translational and Clinical Science, the Center of Excellence for Exposure Health Informatics (CEEHI), the College of Nursing, and two highly competitive National Library of Medicine training grants. Further, DBMI collaborates and partners with a number of institutions - Intermountain Healthcare, home of the renowned HELP electronic medical record, University of Utah Health, Huntsman Cancer Institute, Salt Lake City VA Medical Center, and the Utah Department of Health - to offer its students real-world, hands-on experiences via team science.
Our depth of expertise and breadth of partnerships position us to readily embrace new opportunities and  challenges, as well as train the next generation of informatics leaders.