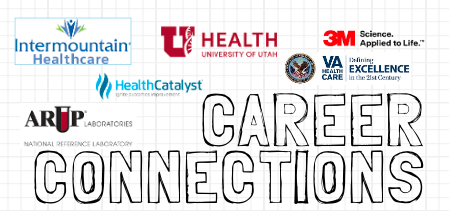 By being physically close to numerous organizations, students are able to have the advantage of getting great exposure and have leaders in the field as their mentors. The department is expanding membership in the Industrial Advisory Board. Our corporate partners have been instrumental in helping graduates have the on-demand skills in the applied biomedical informatics industry. We continue to look for opportunities for students to get industry experience early by doing the following:
Continuing to expand internship opportunities. Local partners such as 3M and Intermountain Healthcare have been offering internship opportunities for many years, and we're excited to include other informatics companies with access to recruit DBMI students.

Incorporating practicum experience. Masters students earn credit towards their degrees by completing a departmental or industry based project.

Partnering with The Crimson Project. A new experiential learning program on campus that facilitates multidisciplinary group projects, overseen by industry mentors.

Engage in networking events. The AMIA alumni dinner will remain a cornerstone of national networking, and we hope to expand into periodic industry-sponsored local events in the near future.
A Variety of Career Paths
We have granted approximately 412 PhD and MS degrees. Our graduates have gone on to key positions in academia, clinical medicine, government, and industry across the world. Students have access to this incredible network of informaticists.