The Departments of Neurology, Neurosurgery, and Anesthesiology at the University of Utah offer a UCNS-accredited fellowship in neurocritical care.
The University of Utah Health Care System
As a level 1 trauma center and the Mountain West's only academic health care system, University of Utah Health combines excellence in patient care, the latest in medical research, and the teaching of the newest generation of medical professionals to provide leading-edge medicine in a caring and personal setting. We provide care for the entire state of Utah and five surrounding states in a referral area encompassing more than 10 percent of the continental United States.
U of U Health relies on more than  1,400 board-certified physicians and more than 5,000 healthcare professionals across five hospitals: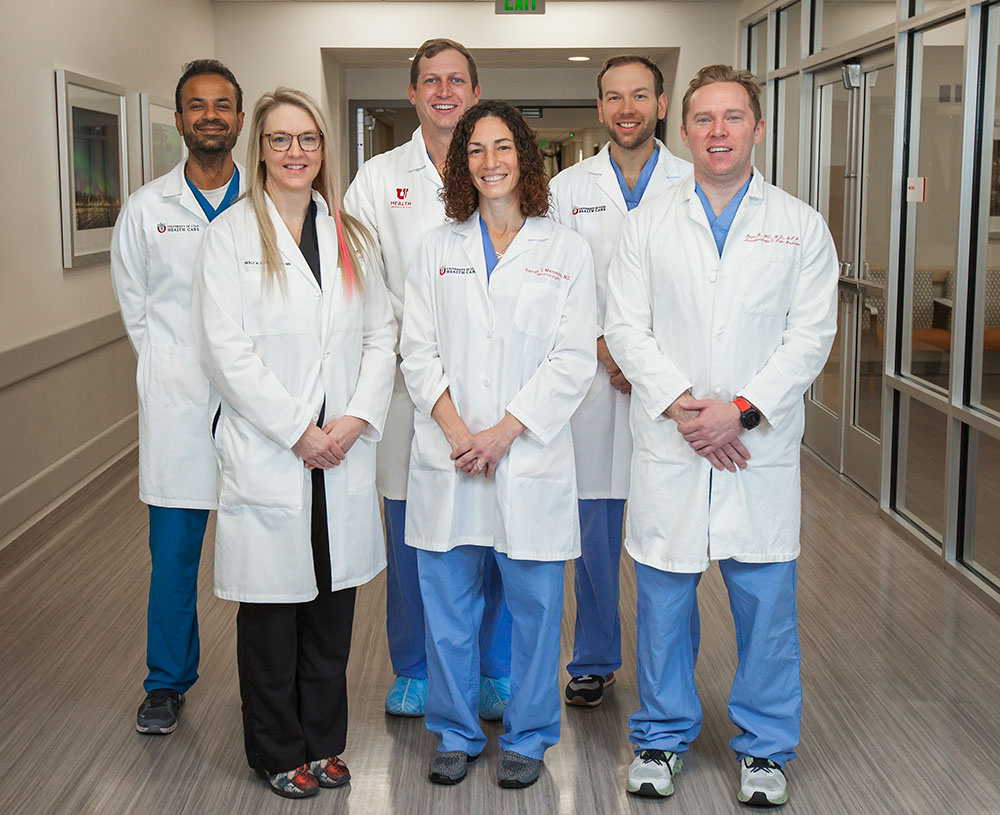 The Neurocritical Care Unit
Our Neurocritical Care Unit (NCCU) at the University of Utah is a 23-bed unit with an average daily census of 18 patients and is the busiest intensive care unit within the U of U Health system.  
The NCCU features state-of-the-art technology, including spacious, well-lit, and well-stocked ICU rooms with in-room patient lifts and movable equipment booms. The NCCU is equipped with advanced equipment such as the OmniTom™ portable CT scanner, bronchoscopy cart (standard and disposable bronchoscopes), GlideScope™ video intubation equipment, SonoSite™ ultrasound, Vigileo™ cardiac output monitors, as well as equipment for percutaneous tracheostomy placement.  
Advanced neuromonitoring tools that are available in the NCCU include the Codman™ ICP monitor, Codman Microsensor™ EVD/ICP combo monitor, Licox™ brain tissue oxygenation monitor, Hemedex™ cerebral blood flow monitor, external ventricular drains (EVDs), lumbar CSF drains, and Moberg™ CNS monitors. The NCCU enjoys access to 16 Cadwell™continuous EEG machines, and the state-of-the-art Ceribell™ rapid EEG device for detection of status epilepticus.
A multidisciplinary medical team of seven neurocritical care physicians from the Departments of Neurology, Neurosurgery, and Anesthesiology staffs the NCCU with 24-hour, in-house coverage. Our Advanced Practice Clinician (APC) team of eight members (both nurse practitioners and physician assistants) has two members present during day shifts and one member on evening/swing shifts three days a week. There are two residents staffing the NCCU at all times (one from neurosurgery and one from neurology), as well as off-service trainees from ear, nose, and throat and surgical critical care. The NCCU has a core team of six pharmacists, and there are two pharmacists present on day shifts and one present on evening/swing shifts during the weekdays. There is also a core team of twelve respiratory therapists (RTs) that are exclusively stationed in the NCCU, enabling the subspecialty expertise in ventilator management of brain-injured patients. The NCCU also hosts learners from various backgrounds, including medical students (neurology, neurosurgery, and critical care rotations) as well as nurse practitioner and physician assistant students.  
The NCCU employs a multidisciplinary model of daily rounds, which are led by the neurocritical care physician. The rounding team includes APCs, resident physicians, bedside nurses, pharmacists, respiratory therapists, a certified nutritionist, and medical students and visiting learners. NCCU rounds employ a novel nurse-led format that enables enhanced cohesion and synchrony across the medical and nursing teams.
The Neurocritical Care Fellowship
We accept one fellow per year for a two-year, UCNS-accredited fellowship, with the intention to transition to ACGME accreditation in the next few years.  
Ample clinical and academic mentoring is available to trainees. Over the course of the program, fellows receive graded autonomy and are well prepared to transition into independent, neurocritical-care practice. Common conditions encountered during the fellowship are traumatic brain injury, spinal cord injury, stroke (ischemic and hemorrhagic), brain tumors, vascular malformations, dural venous sinus thrombosis, neuromuscular emergencies, Guillain-Barré syndrome, and myasthenia gravis. Fellowship trainees are exposed to the following ICU procedures: arterial lines, central lines, lumbar punctures, ICP monitors, EVDs, lumbar drains, airway management, ventilator management, intubations, bronchoscopy, chest tubes, and percutaneous tracheostomies.  
The neurocritical care fellowship is available to physicians trained and board-eligible in the following residencies: 
Neurology 
Neurosurgery 
Emergency Medicine 
Anesthesia
A multi-disciplinary team of critical care–trained neuro-intensivists train and supervise fellows. Seven board-certified neuro-intensivists from a variety of different specialties (neurosurgery, neurology, anesthesia, and emergency medicine) constitute the NCCU team. The neurocritical care fellowship incorporates the following teaching and didactics sessions: 
NCCU protocol review meeting (quarterly meeting led by trainees and APC team to review and update active patient care protocols) 
NCCU morbidity and mortality (monthly meeting to identify areas of improvement, and promote professionalism, ethical integrity and transparency) 
NCCU journal club (bimonthly meeting led by trainees and RT team to discuss active research and publications) 
Neurovascular conference (weekly conference to discuss multi-disciplinary management of current, complex neurovascular cases) 
NCCU fellowship teaching sessions (monthly teaching sessions by NCCU faculty focused on various aspects of general and neurocritical care) 
The neurocritical care fellowship incorporates the following clinical rotations: 
Neurocritical Care Unit (the medical team will spend the majority of their time here). 
Trauma/Surgical Intensive Care Unit (SICU) 
Stroke (including TeleStroke) 
Medical Intensive Care Units 
Cardiovascular Intensive Care Units 
EEG 
Emergency Medicine (ER rotation for critical ultrasound and procedure training) 
Anesthesia (airway skills in a controlled OR setting) 
Echocardiography
Physicians: 
Advanced Practice Clinicians: 
Pharmacists: 
Lisa Robinson, PharmD, BCCCP, BCPS  
Tyler Kenney, PharmD, BCCCP 
Logan Kelly, PharmD, BCPS 
Ryan McTish, PharmD
Our faculty has ongoing research projects in various areas with an opportunity for our trainees to participate and get involved.  
Ongoing clinical trials: 
BOOST 3 (Brain Oxygen Optimization in Severe TBI Phase-3) | PIs: Holly Ledyard, Ramesh Grandhi, and Sarah Menacho | 
ASPIRE (Anticoagulation in ICH Survivors for Stroke Prevention and Recovery) | PI: Safdar Ansari | 
CHARM (Phase 3 Study to Evaluate the Efficacy and Safety of Intravenous Glibenclamide for Severe Cerebral Edema Following Large Hemispheric Infarction) | PI: Lee Chung | 
SATURN (Statins in Intracerebral Hemorrhage) | PI: Ramesh Grandhi | 
Arkis CerebroFlo (EVD Catheter for Cerebrospinal Fluid Drainage to Prevent Infections/Occlusions) | PI: Sarah Menacho |
Completed clinical trials: 
CLEAR-3 (Clot Lysis: Evaluating Accelerated Resolution of Intraventricular Hemorrhage) | PI: Safdar Ansari | 
MISTIE-3 (Minimally Invasive Surgery Plus Rt-PA for ICH Evacuation) | PI: Safdar Ansari | 
Recent Publications from the NCCU: 
Utah is home to the Wasatch mountains in the Mountain West of the United States. Salt Lake City boasts a population of 200,000 people with more than 2 million people living across the Wasatch Front. Salt Lake City holds some of the most livable environments with extremely affordable housing, family-friendly communities, and an active job market and industrial sector. The city is actively expanding with new businesses and new construction at an exponential rate.  
Salt Lake City boasts easy access to six world-class ski resorts, with many more within a short drive. It is a skiing destination revered across the world amongst elite and recreational skiers alike. The mountains are host to one of the most complex mountain biking trail systems in the world, so you are guaranteed a new trail to ride or hike for the duration of your fellowship! Salt Lake City provides tons of amazing weekend destinations with renowned parks such as Yellowstone, Moab, Zion, Bryce Canyon, and Jackson Hole within a few hours' drive.
If you are interested in applying to our fellowship program, please contact the fellowship coordinator and submit an application to SF Match by the application deadline.
 
Fellowship Coordinator: Madilynn Froelich