The Vinberg lab works to understand mechanisms in the retina that enable vision over a wide range of light intensities and colors, and how these mechanisms are affected in major blinding diseases including age-related macular degeneration (AMD) and diabetic retinopathy.
Frans Vinberg, PhD, has previously focused on mechanisms that regulate calcium (Ca2+) in the eye's photoreceptor cells (Vinberg et al. 2017, eLife; Vinberg et al. 2015, Human Molecular Genetics) and how dynamic modulation of Ca2+ in these cells contributes to the light adaptation and temporal resolution of vision (see e.g. Vinberg et al. 2015, JGP). In addition to basic science, Dr. Vinberg's work has provided mechanistic insight into a night blindness disease caused by mutation in Slc24a1 gene encoding for a Ca2+ exchanger expressed in the rod photoreceptor cells (Vinberg et al. 2015).
The Vinberg lab uses state-of-the-art electrophysiology (single cell and ex vivo/in vivo ERG) and Ca2+ imaging techniques together with basic pharmacology and molecular/cell biology tools to study fundamental molecular/cellular and disease mechanisms, mainly in the photoreceptor and retinal pigment epithelium cells from mice, primates and donor human eyes. The lab is currently hiring postdocs and/or graduate students for the following projects:
National Institutes of Health-funded project developing and using novel methods to assess the function of retinal neurons and glia from mouse to human in health and disease. See project description in Grantome.
The role of calcium extrusion mechanisms in the calcium homeostasis and physiology of retinal pigment epithelium cells.
Dark and light adaptation in macular and peripheral photoreceptors in healthy and AMD-affected eyes.
Homeostatic plasticity in the mammalian retina: a virtue or a villain? This project aims to understand the mechanisms of homeostatic plasticity in the retina when sensory input is reduced due to slowly degenerating photoreceptors, and how this affects visually guided behavior.
Contact Dr. Vinberg, Frans.Vinberg@hsc.utah.edu, for more information about these projects, his laboratory or the available positions.
About Dr. Vinberg
Frans Vinberg, PhD, obtained his MSc degree in Engineering Physics and PhD degree in Biomedical Engineering from Aalto University, Finland. In Finland, he studied ionic mechanisms in mammalian photoreceptors by using electrophysiology and pharmacology tools. Dr. Vinberg obtained his postdoctoral training under Vladimir Kefalov, PhD, at Washington University in St. Louis between 2012 and 2017. There, his main focus was to study the role of Ca2+ homeostasis in the photoreceptor function and long-term survival by using a wide range of electrophysiology, genetics, pharmacology and molecular biology tools.
During his time at WashU, Dr. Vinberg developed a device that allows researchers to use human donor retinas to assess the function of retinal cells and the effects of drugs on them. The Ex Vivo ERG is commercially available and spreading around the world, facilitating our understanding about retinal signaling and blinding diseases.
Dr. Vinberg joined the University of Utah Department of Ophthalmology and Visual Sciences as assistant professor in August, 2017. He also a member of the University's Neuroscience program.Dr. Vinberg is passionate about science, Formula 1, ice hockey and enjoys skiing as well as other outdoor sports.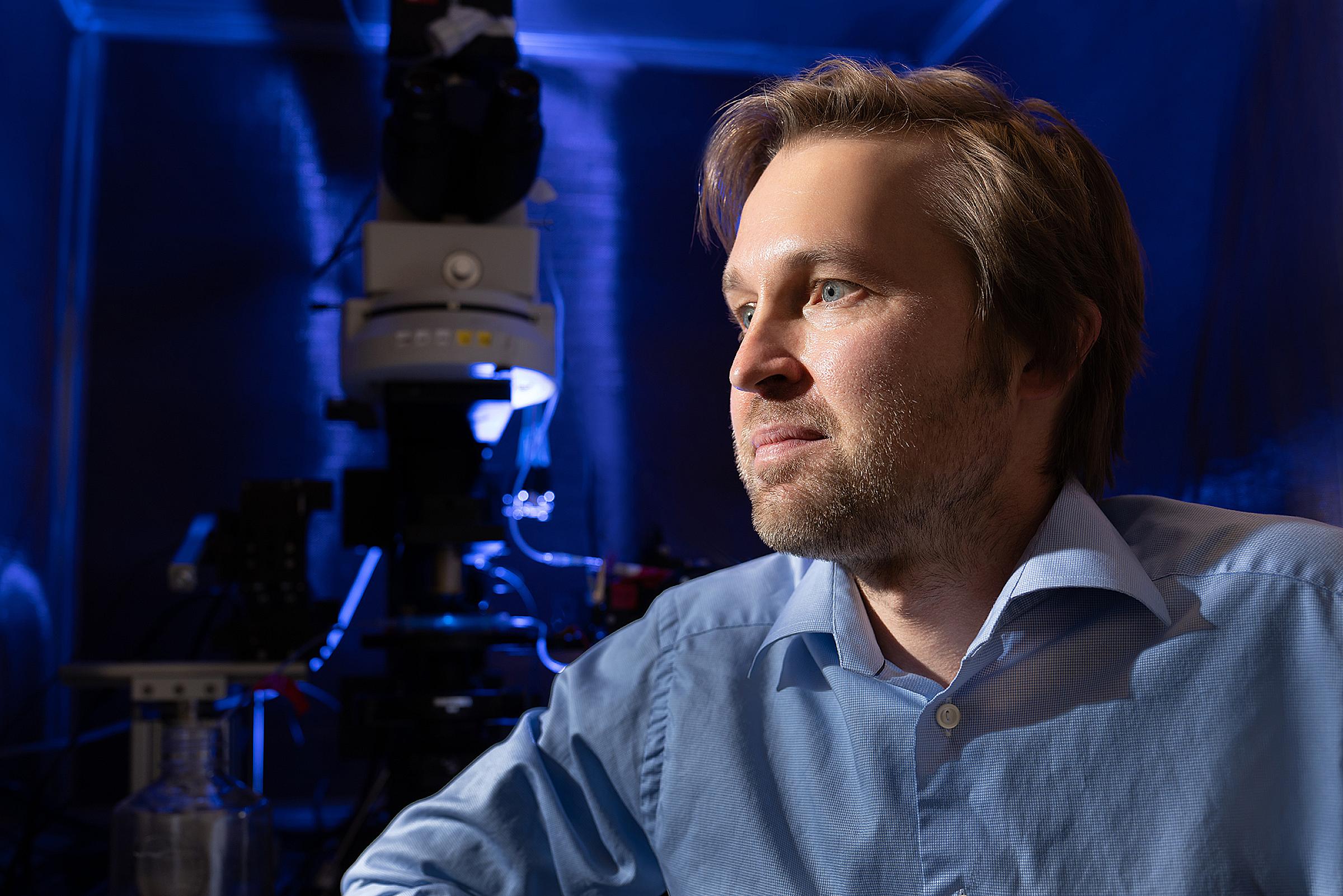 Contact Us
Email Dr. Vinberg at Frans.Vinberg@hsc.utah.edu for more information about these projects, his laboratory, or available positions.