Program Overview
Our residency is a three-year program (not including transitional/preliminary year) and is approved by the Accreditation Council of Graduate Medical Education (ACGME). We appoint four residents each year through the San Francisco Match program to begin residency July 1 after the required transitional year with University of Utah Health's Internal Medicine Program. We accept applications beginning in early August.
Residency Interview Dates:
Wednesday, November 9, 2022
Friday, November 11, 2022
Monday, November 14, 2022
Wednesday, November 16, 2022
Providing an Exceptional Education
The Moran Eye Center provides vision care for the Mountain West region including Utah, Idaho, Wyoming, Montana, as well as eastern Nevada and western Colorado.
The center's ophthalmology residents receive a tremendous amount of hands-on training and will perform more than 300 cataract extractions and about 400 other major surgical operations during their time in Utah. These numbers do not include assisting during surgery or performing parts of a surgical case with a faculty member. It is important to note that all surgeries are supervised by an attending faculty member.
During the third year, residents have two months of elective time to devote to extended studies in a sub-specialty of their choice, extra work where needed, and the opportunity to travel out of the country for humanitarian outreach, training, and education. A weekly continuity clinic is held for all levels of residency including the internship year while in ophthalmology.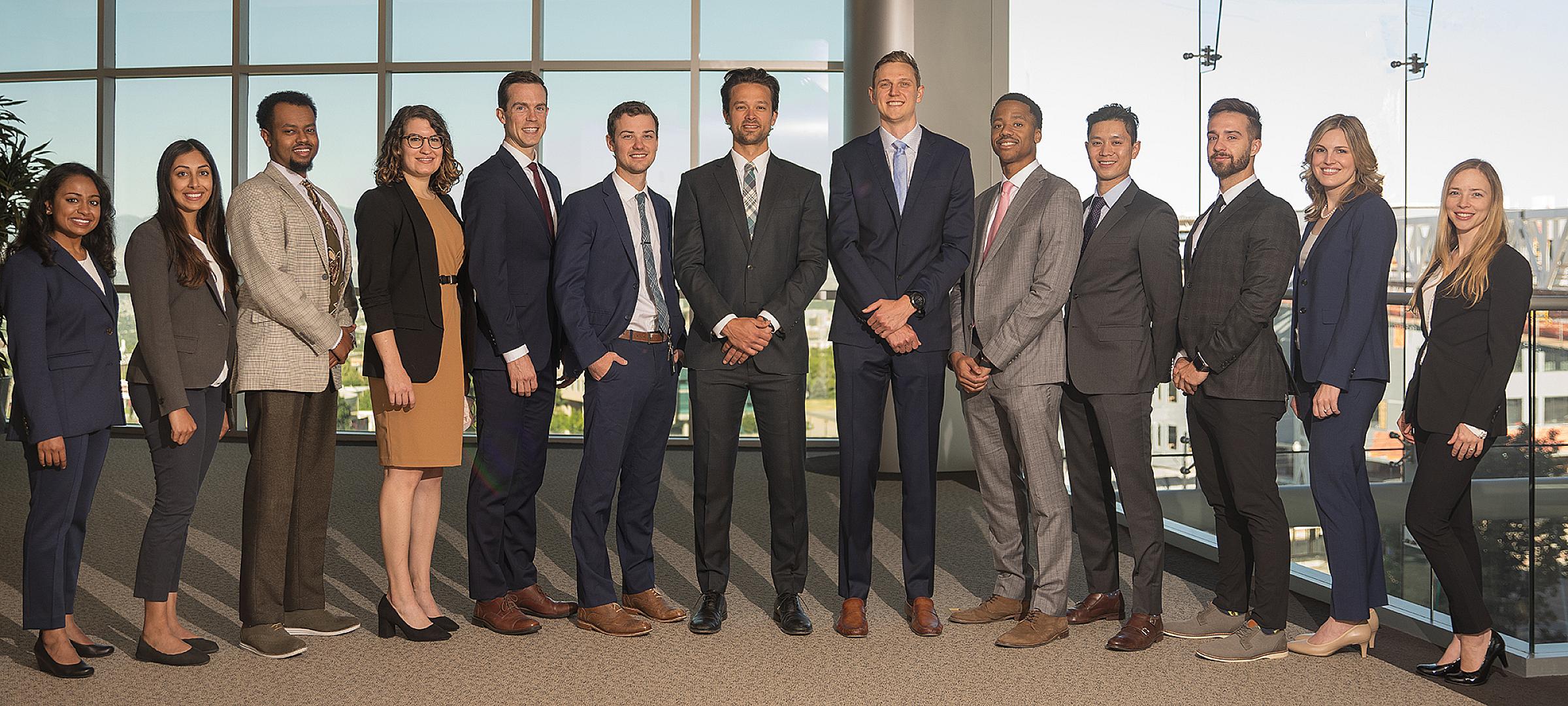 Scholarship Opportunities
Research scholarships are available to one or two residents through the ARCS Foundation. Additional research funding is available to all residents in the program. Please contact Chandler Thompson for more information: chandler.thompson@hsc.utah.edu.
OPHTHALMOLOGY FELLOWSHIP TO INCREASE OPPORTUNITIES FOR UNDERREPRESENTED MINORITIES IN MEDICINE
The Moran Eye Center is committed to increasing opportunities for underrepresented minorities within the field of ophthalmology. To support and offset costs associated with travel and accommodations, the Moran Eye Center is offering $1,000 scholarships (up to 2) for a summer clinical and research rotation to rising MS2 students who demonstrate a commitment to increasing opportunities for those underrepresented in medicine. The American Academy of Ophthalmology defines underrepresented in medicine groups as Black or African American, Hispanic or Latino, and/or Native American (American Indian/Alaska Native/Native Hawaiian).
The goal of the fellowship program is to provide motivated rising MS2s who demonstrate a commitment to increasing diversity in medicine with support and opportunities, with the ultimate goal of increasing diversity within ophthalmology.
During this four-week experience, students will work with full-time faculty preceptors and research mentors. Direct patient care opportunities will be provided in clinic and surgery, covering a broad range of comprehensive and/or subspecialty ophthalmology.
The experience is only offered from June through July.
All applications will be reviewed by Vice-Chair for Equity, Diversity, and Inclusion Dr. Liliana Werner, and resident Abigail Jebaraj, MD. Selected applicants will be notified by Chandler Thompson.
Application Required Information
Curriculum vitae (CV)
Letter of recommendation from a medical school instructor
Board scores from USMLE part 1 and part 2 if available
Short personal statement (no more than one page double spaced) regarding why you want to come to Moran for this rotation and a statement indicating your commitment to increasing opportunities for those who are underrepresented in medicine.
Application Deadlines 2023
Submit applications to:
Liliana Werner, MD, PhD: Liliana.Werner@hsc.utah.edu
Abigail Jebaraj, MD: Abigail.Jebaraj@hsc.utah.edu
Nnana Amakiri, MD: Nnana.Amakiri@hsc.utah.edu
Scholarships are generously made possible by former residents Brad Jacobsen, MD, and Chris Bair, MD.
Considering a Moran Residency?
Take a look for more information about our program and living in Utah.
In Utah you can truly have it all. Salt Lake City and the surrounding areas offer new comers diverse neighborhoods, great schools, arts and entertainment, and endless possibilities for sports and recreation. A strong economy and low cost of living make Utah a perfect choice to call home.
Education FOCUS Annual Reports
View Past Education Focus Reports
University of Utah School of Medicine
Department of Ophthalmology & Visual Sciences
John A. Moran Eye Center
Academic Office
65 Mario Capecchi Drive
Salt Lake City, UT 84132
Phone: 801-585-3719
Fax: 801-581-5806
Jeff Pettey, MD, MBA, Vice Chair of Education
Phone: 801-581-2352
Rachel G. Simpson, MD, Associate Program Director
Phone: 801-581-2352
rachel.simpson@hsc.utah.edu
Elaine Peterson, C-TAGME, Academic Programs Manager
Phone: 801-585-6701
elaine.peterson@hsc.utah.edu
Meghan Johnson, Program Manager, Academics
Phone: 801-213-4044
meghan.johnson@hsc.utah.edu
Chandler Thompson, Executive Assistant
Phone: 801-581-3023
chandler.thompson@hsc.utah.edu
Barbara Korous, Director, Operations
801-585-6143
barbara.korous@hsc.utah.edu