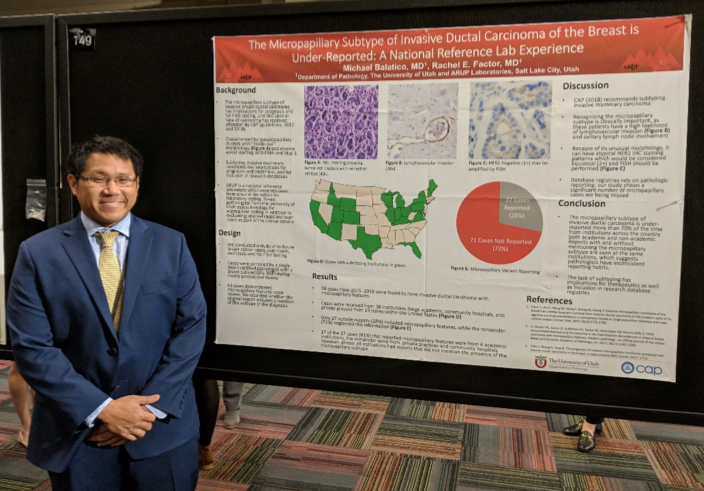 Many research opportunities are available to our residents covering a wide range of areas from basic science to clinical and translational research. Though not required, all residents are encouraged to pursue research projects as part of their training. Trainees with an interest in research will find enthusiastic support from the faculty, including help in identifying research mentors, and residents may apply for internal grant funding to assist with the costs of their research.  The residency program also provides funding for research-related travel for residents presenting research at national scientific meetings.  Residents also have the opportunity to present their research projects at the department's annual Resident Research Grand Rounds.  
Most residents collaborate with pathologists and other clinicians on small research projects and case reports as an adjunct to their clinical rotations. Residents may also choose to do research elective rotations, allowing them to have a more extensive research experience. Current CP-only and AP-only and Physician-Scientist Research Pathway residents may incorporate intensive research training during extended elective rotations within their clinical curriculum. 
Residents specifically interested in an academic career in pathology will find many opportunities for career development at the University of Utah. Abundant opportunities for pathology research exists in all anatomic, clinical, and experimental areas of the Department of Pathology. One of the many benefits of residency at the University of Utah is its unique relationship with ARUP Laboratories. ARUP Laboratories is a recognized leader in translational pathology research and is one of the main training sites for residents.  ARUP Laboratories and the ARUP Institute for Clinical and Experimental Pathology® have developed and validated over 1500 new diagnostic tests and an even larger number of commercially available tests.  Because ARUP is an enterprise of the University and Utah and its Department of Pathology, ARUP has a strong academic mission.  The ARUP Institute's researchers and Medical Directors publish an average of more than 120 peer-reviewed publications per year and average more than 180 annual presentations at national scientific meetings.  This offers unparalleled opportunities for our residents to participate in pathology research. 
Residents are welcome to develop collaborations with faculty in any clinical or basic science department at the University of Utah. Pathology residents have recently collaborated with researchers in departments as diverse as bioinformatics, molecular biology and genetics, internal medicine, cardiology, pulmonary critical care, hematology-oncology, anesthesiology, pediatric neurology, pediatric infectious disease, and dermatology.
Physician-Scientist Research Pathway
The Physician-Scientist Research Pathway is intended for MD, PhD applicants aspiring to a physician-scientist career.  The track is recognized by the American Board of Pathology, offers flexible training in any of our residency tracks, and includes one dedicated funded year of research in addition to the clinical training, with additional research years if grant funding is obtained. The pathway offers flexibility and is tailored to meet the individual physician-scientist's career goals.  The department has an active Pathology Research Interest Mentoring Program (PRIMP) that holds monthly meetings attended by faculty members from the clinical and experimental divisions, residents, post-doctoral fellows, student researchers, and others.  Topics discussed include career pathways, research-in progress, and grant applications.
Click here for more information from the American Board of Pathology regarding the Physician-Scientist Research Pathway.
ARUP Labs & Pathology
ARUP Laboratories is an established national reference laboratory that is an enterprise of the University of Utah and its Department of Pathology.  ARUP is unique as a leader in translational pathology research. In addition to substantial departmental external grant funding, ARUP Laboratories and the ARUP Institute for Clinical and Experimental Pathology® spend over eight million dollars annually on translational pathology research and development. This is an unparalleled resource for residents who wish to develop academic careers. 
Over 1500 novel diagnostic tests have been developed and validated at ARUP, including many tests utilizing new technologies such as next generation sequencing.  As part of ARUP's academic mission, researchers and medical directors publish an average of more than 120 peer-reviewed publications a year in the medical literature.  ARUP actively collaborates with national and international companies and clinical trials partners to advance medical knowledge and practice.  In addition, faculty at ARUP Laboratories have developed cutting edge technologies, such as the LightCycler® Systems for real-time PCR, and have been involved in identifying genes and developing assays for BRCA1, Friedreich ataxia, Chediak-Higashi syndrome, hereditary hemorrhagic telangiectasia, and other genetic traits. ARUP is involved in the development and maintenance of multiple genetic mutation databases to benefit patients across the globe.  It is not unusual for resident research projects to spur implementation of new tests at ARUP, which can have an immediate clinical impact nationwide.