We have concluded the interview season for the 2024-2025 fellowship year. We will be accepting applications starting November 1, 2023 for 4 spots in 2025-2026 through the NRMP fellowship match.
Beginning in 2024-2025, the University of Utah Department of Radiology will be offering four funded musculoskeletal imaging fellowship positions per year through the NRMP match.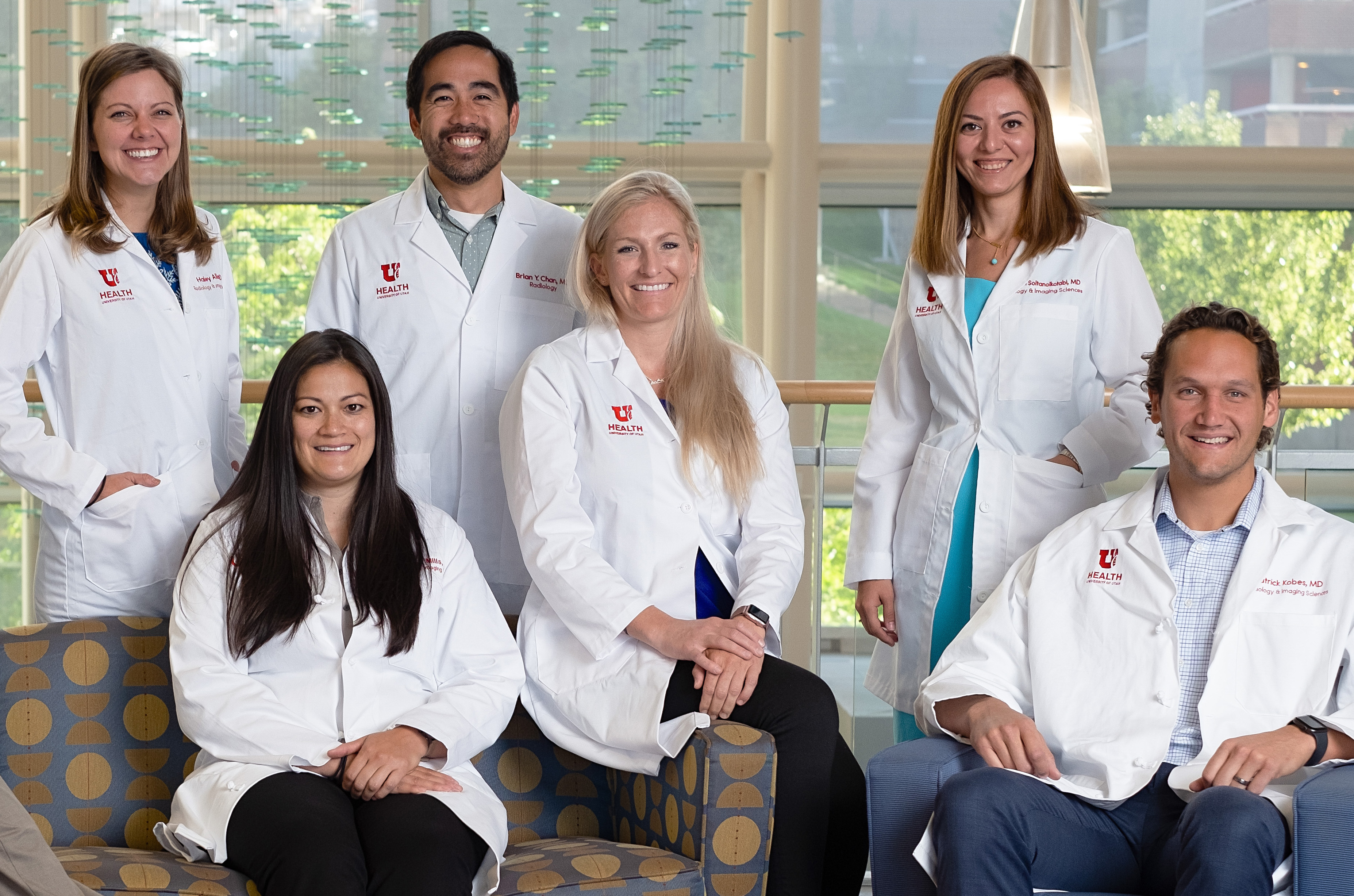 Program Overview and Scope of Training
The one-year Musculoskeletal Imaging Fellowship offers training in all aspects of MSK imaging, including sports medicine, trauma, bone and soft tissue tumors, spine, and rheumatology. Fellow clinical time is split between the University of Utah Hospital and the University of Utah Orthopaedic Center, a standalone specialty hospital offering the full range of orthopedic services with the radiology reading room embedded in the orthopedic clinic.
Sports Imaging
We are the official sports medicine and orthopedic provider for the Utah Jazz NBA team, Salt Lake City Stars (NBA G-league), Real Salt Lake MLS team, the U.S. Olympic and Paralympic athlete training center, and the University of Utah athletic teams.
Bone and Soft Tissue Tumors
The Huntsman Cancer Institute, located on the shared University of Utah campus, is an NCI-designated cancer hospital with a high-volume sarcoma service. In addition to interpreting imaging studies as part of the initial work-up and follow-up care of sarcoma patients, MSK fellows plan and perform bone and soft tissue biopsies and present at the weekly multi-disciplinary sarcoma treatment planning conference.
Imaging Modalities
While the main emphasis of the fellowship is on MR imaging, expertise in radiography, CT and MSK ultrasound is also developed. Fellows also gain experience in therapeutic joint injections, arthrography, joint aspirations, and bone and soft tissue biopsies. Diagnostic ultrasound and ultrasound-guided interventions are incorporated into the fellowship training.
Academic Pursuits
Academic time is provided to facilitate preparation for multi-disciplinary conferences, resident conferences, and inter-departmental teaching conferences. Fellows are encouraged but not required to prepare and submit a project to a national meeting.
Elective Time
Fellows are encouraged to pursue electives with other sections within the department. Time available is dependent on the availability of the accepting service. Rotations taken by former fellows include diagnostic neuroradiology, interventional spine, and breast radiology.
Appointment/Benefits
Fellows are appointed as Visiting Faculty/Clinical Instructors, and receive benefits including 15 days of vacation, 2 personal days, health/dental/vision insurance, and access to tax-advantaged retirement accounts and employer-sponsored disability insurance. The current PGY-6 salary can be found here.
MSK fellows are welcome to pursue internal moonlighting opportunities in Acute Care Imaging outside normal work hours.
Why Utah?
The Musculoskeletal Imaging section is composed of a friendly, close-knit, energetic group of fellowship-trained faculty who are enthusiastic about clinical excellence and advancing the field of radiology through innovation in education and research.
Feel free to check out the Musculoskeletal Imaging section on Instagram.
Candidates for this program are selected based on their preparedness, ability, academic credentials, communication skills and personal qualities, such as motivation and integrity.
To be a fellow, an applicant must either be:
 A graduate of a US or Canadian medical school accredited by the Liaison Committee on Medical Education (LCME) -OR-
A graduate of a college of osteopathic medicine in the United States accredited by the American Osteopathic Association (AOA) -OR-
A graduate of a medical school outside of the United States who meets one or more of the qualifications listed under the application section below
In order to qualify for the fellowship, you must also qualify for a State of Utah Medical License, which requires 2 years of ACGME training in the United States. All selected candidates will be required to comply with the University of Utah Health Sciences Center drug testing policy and criminal background check.
Applying for the Fellowship
See the Society of Skeletal Radiology Fellowship Match details and use the Common Application Form. Along with your application form include a copy of your CV, three letters of recommendation (one of which must be from your current program director), a one-page personal statement, a photograph of yourself, and USMLE scores for steps 1, 2 and 3. Send your completed application to our program coordinator, Taylor Gant.
International Medical Graduates

At this time, due to regulations regarding non-accredited ACGME fellowship programs, we are not able to accommodate J-1 visa applicants.

If alternate University visa sponsorship is required for employment, please provide sufficient information to allow consideration of any visa sponsorship request.