The Gold Foundation infuses the human connection into healthcare. We engage schools, health systems, companies, and individual clinicians in the meaning and joy of humanistic healthcare, so that health professionals and staff have the strength and knowledge to champion and deliver humanistic healthcare and services and so that patients and their families can be partners in collaborative, compassionate, and scientifically excellent care.
Keeping Healthcare Human requires persistent and determined efforts dedicated to maintaining the human connection in modern medicine. Our Community of Caring is made up of like-minded individuals who support humanism in medicine, and who want a place to connect, share, and advocate for the cause.
Humanistic medical care is not simply compassion. It is the best of medicine. When skilled physicians build caring, trusting and collaborative relationships with patients, studies reveal more appropriate medical decisions, better patient adherence with treatment plans, and less costly healthcare outcomes.
-excerpt taken from the GHHS website
Here at the UUSOM, we induct up to 15% of the senior class into the national Gold Humanism Honor Society. Toward the end of their 3rd year, students are nominated by their peers and go through an interview process to determine who should be inducted into GHHS.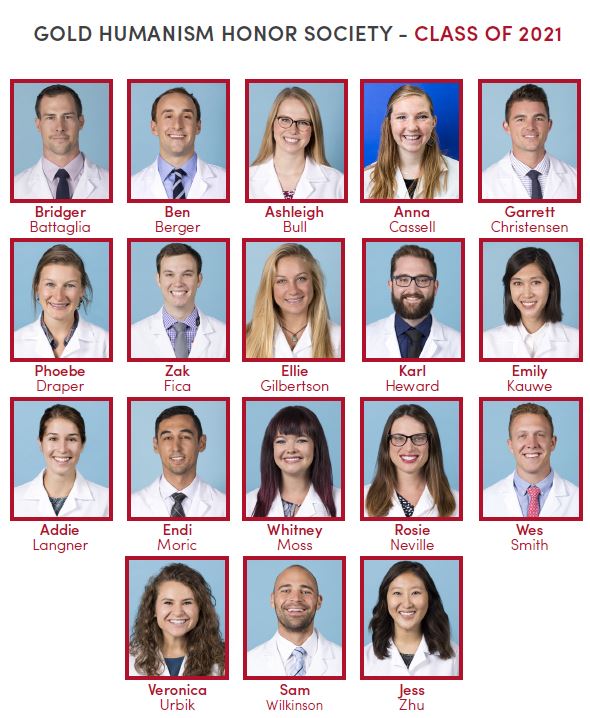 Each new member of the University of Utah School of Medicine is gifted a GHHS pin to wear on their White Coat throughout their time in school. We hope this helps inspire our students and sends them a reminder of compassionate care in medicine.
Our GHHS chapter here at the UUSOM is very active during Solidarity Week, including our home-grown project entitled "Hearts of Gold", Thank a Resident Day, and the Tell Me More project. 
 

View this post on Instagram
For more information on the University of Utah School of Medicine's involvement in the Gold Humanism Honor Society, please reach out to sierra.canela@hsc.utah.edu