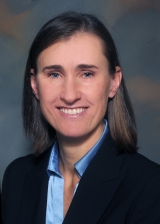 The Department of Family and Preventive Medicine is pleased to announce the appointment of Bernadette Kiraly, MD to the position of Division Chief for the Division of Family Medicine. Dr. Kiraly will take on the role of Chief on July of 2023, following the retirement of Jennifer Leiser, MD, who has served as Chief of the Division since its formation in 2008.
Dr. Kiraly has been a physician in the University of Utah since 1996, joining the program as a resident. She currently serves as an associate professor in the clinical track and as the Associate Division Chief for clinical within the Division. She is an active leader in University and local clinical administration, contributing to such important committees as the Quality and Value Steering Committee, the COVID-19 Patient Vaccine Task Force, and the U Health Primary Care Integration Group, and she is a board member of the Utah Academy of Family Physicians. In addition to these committee assignments, Dr. Kiraly serves as the Medical Director of Primary Care for the Sugar House Health Center and co-medical director for the Transgender Health Program, and she has previously served as the Medical Director for the Madsen Family Health Center.
Dr. Kiraly's research work is far-ranging and examines such disparate subjects as hospital discharge follow-up procedures and home blood pressure monitoring. She is currently the Principal Investigator for a Pilot Project grant award which examines long-term symptoms of COVID-19 and the impact of these symptoms on patients in primary care. Her research has been published in top-level journals in her field, including the American Family Physician and Family Medicine journals.
Dr. Kiraly provides excellent mentorship and training for the Division's Residency Program, contributing to the development of resident training curricula and serving as instructor, facilitator, and preceptor for residents in the University training program. Dr. Kiraly has served as a direct mentor for dozens of residents and medical students over the years, sharing her medical expertise and knowledge of the University's administrative systems.
"It is an honor and privilege to serve my family medicine colleagues, U Health community, and University of Utah partners in this position," says Dr. Kiraly of her appointment to Division Chief. "I look forward to deepening the connections between the family medicine division and my department within this great organization."
"Dr Kiraly is an inspirational, visionary, and people-centered leader who has served our department and health system enviably well in various roles over the years," adds Kolawole Okuyemi. MD, MPH, Department Chair of the Department. "I am confident she will lead the Family Medicine division to exceptional accomplishments while strengthening engagements with the broader organization."