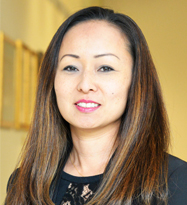 Research is a prime mission of the university: in large part, the most visible output of academic work is the steady publication and dissemination of new ideas and methods. The Distinguished Research Award at the University of Utah is a faculty award which recognizes excellence in this research and the unique impact one researcher can have on a field of study. The award, which comes with a $10,000 grant earmarked for research, is given out based on the impact and significance of a faculty member's scholarly work.
In 2021, public health professor Mia Hashibe, PhD, was named in the University's commencement exercises as a recipient of the prestigious award. However, because of the COVID-19 pandemic, the presentation of the award was postponed. The Distinguished Research Award was finally able to be presented in person to Professor Hashibe in the DFPM Faculty Meeting which happened in February.
"This is a big deal," said Michael Good, MD, CEO of University of Utah Health as he presented the award. "Because the commencement was so derailed by the COVID-19 pandemic, I wanted to present this award in person to Dr. Hashibe for her continued, sustained excellence in research."
In addition to the award, Hashibe was highlighted as an exemplary faculty member of the department during the meeting. Of Professor Hashibe's impact on the department, Kola Okuyemi, MD, MPH said, "We are truly grateful to the contributions Professor Hashibe has made to our mission and the strength and distinction she brings to our department."