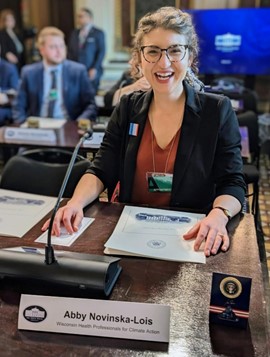 The impact of global climate change touches every aspect of modern living, and healthcare is no exception. Amidst the many health challenges created by a changing climate, there is a growing need for those interested in community health to work towards using their expertise and passion to advocate for societal solutions for climate change.
As part of her capstone course, Master of Public Policy/Public Health student Abby Novinska-Lois is at the forefront of keeping climate change a focus for the health sector. Working with public health organizations in the Wisconsin Health Professionals for Climate Action's network, she managed to get over 45 organizational signatures on a letter of advocacy encouraging the nation's Office of Climate Change and Health Equity (OCCHE) to reopen the "Health Sector Commitments to Emissions Reduction and Resilience" pledge. This important pledge, which had previously been closed, allows health systems and clinics to officially commit to vital goals in helping mitigate the effects of climate change, including reducing emissions by 50%, designating executive-level leadership for emissions reduction, and developing and releasing climate resiliency plans for their institutions.
Thanks to advocates such as Novinksa-Lois, the pledge once again has full governmental support and the increased ability to make a powerful difference in the healthcare system's contribution to man-made climate change. Further, this renewed push toward responsible emissions oversight will have a direct local impact, as University of Utah Health system was one of the original signers of the climate pledge.
The commitment of community health leaders under government oversight is expected by many to create an environment that encourages climate-sensitive innovation in healthcare. "The organizations that signed the Pledge are demonstrating to the health sector that climate smart investments are not only possible, but are becoming standard for the industry," said Secretary of Health and Human Services Xavier Becerra in a press release issued at the opening of the pledge.
For Novinksa-Lois, serving as such a pivotal part of the reopening of the pledge is just a small portion of her advocacy efforts. Later this month, she will moderate national conference session on how health professionals and states can utilize the Inflation Reduction Act and recent federal policies to maximize health equity and climate justice, during which time she will also meet with EPA administrators to discuss particulate matter health standards.
"Only about 10-20% of our overall health is based on medical care. That means that the well-being of our loved ones and neighborhoods primarily depends on environmental, social, and political factors," says Novinska-Lois. "Policies that center justice and align with science save lives and reduce suffering. Advocacy is essential to public health, but the best public health solutions are built from diverse perspectives and backgrounds. So, if there is a problem that matters to you, speak up and find others. When I started working on climate, I was discouraged by the enormity of the problem and my limited time and influence, but I learned that human connection is a powerful tool. Our power systems are designed to make you feel overwhelmed and alone, but dare to tell your story, and soon your voice might be part of a chorus."