The Department of Family and Preventive Medicine (DFPM) held its annual Education, Research, and Community Engagement Summit on April 11, 2023. This is the fifth year the department organized the forum for sharing student, faculty, and staff scholarship.
"The research poster summit provides a valuable opportunity for learners in DFPM to showcase their work to students and faculty in other areas of the department, with whom they might not otherwise interact," said Joseph Stanford, MD, MSPH, Vice Chair of Research for the department. "It contributes to student development and collaborative efforts across the entire department."
At the event, which took place in the Alumni House on academic campus, DFPM learners presented their work in the form of research posters, giving fellow researchers and other attendees the chance to view their work and ask questions. Posters were also presented by recipients of Health Studies Fund awards, DFPM's pilot grant mechanism. The event has been steadily gaining in popularity among DFPM scholars and researchers, and this year saw a record of 40 poster submissions, in addition to three faculty posters. The high number of participants underscores not only the breadth of research work being done at the department, but also the usefulness of helping train learners to share and present research results in preparation for other conferences and symposia.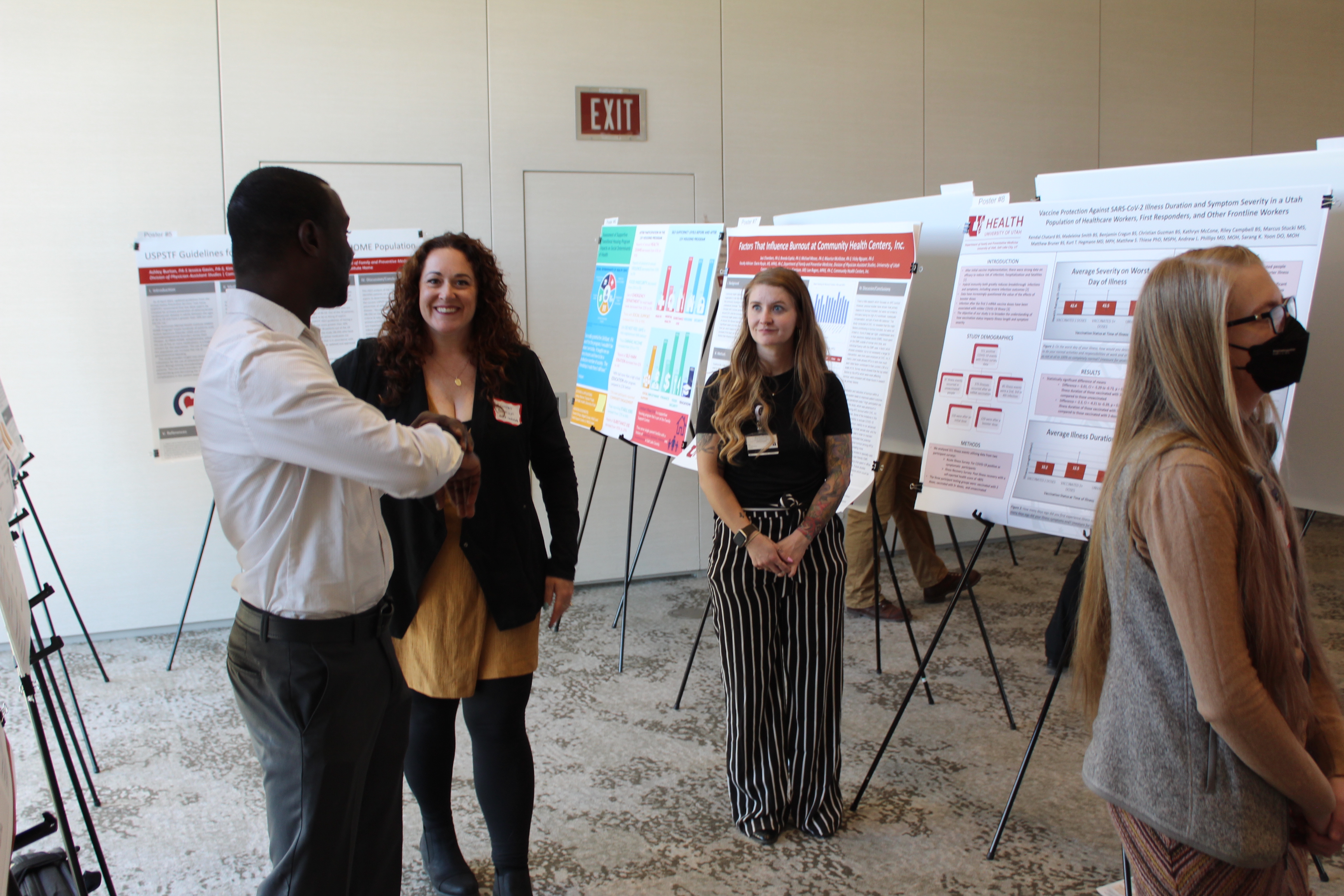 Poster submissions were not limited to students or faculty. Several DFPM staff members presented research work, either as part of their work duties or as part of their own studies in other departments. Mayumi Kasai, a Physician Assistant (PA) Studies employee who is pursuing an Education Doctoral degree (EdD), presented research on how to support Black, Indigenous, and People of Color in the PA programs. She credits the success of her research to the supportive nature of PA division leadership. "The PA division always encourages students, faculty, and staff to engage in research," she said. "I hope to contribute to improving the PA program based on my research."
The program was capped by keynote speaker Gbenga Ogedegbe, MD, MPH, who spoke on the challenges of health inequity and shared anecdotes about his experiences turning the results of research into powerful moments of change in individuals and health systems. "Find passion in what you do, it is so important," he advised the researchers attending the summit. "Be open-minded and flexible in your scientific journeys. Be brave and don't be afraid to explore other opportunities."
During the poster session, participants were encouraged to rank the posters, followed by a period of voting where competing posters were made available online for those who weren't able to attend the summit in-person. Three posters were voted best in their respective categories: "An Indoor Air Quality Pilot Project: Comparing Pre and Post Renovation Levels of PM 2.5 and Radon in Salt Lake City Homes," submitted by Chandler Cottam of the Occupational and Environmental Health Division, won best Master's candidate-level poster. "Process Evaluation of a Hypertension Disparities Dashboard," submitted by Emmanuel Adediran of the Public Health Division, won best PhD-candidate level poster. And Olanrewaju Onigbogi, MD, MPH, submitter of the poster "Association Between Psychosocial Factors and Co-morbid Heavy Cigarette Smoking and Alcohol Use in a Homeless Population," won the award for best MD/Post-doc level poster.