What motivated you to pursue a PhD in Public Health at the University of Utah?
I returned home (The Gambia) after completing my Master of Public Health degree from another university here in the U.S. I kept in touch with the then program director (who was and still is a great mentor to me), who later accepted a faculty position here at the School of Medicine. His new position brought the University of Utah to my radar. But what really motivated me to pursue a PhD in Public Health here at the U, in addition to the U being an excellent academic institution and the comprehensive PhD curriculum, was the opportunity to simultaneously earn numerous graduate certifications that aligned perfectly with my future career plans
Could you share some insights into the specific research area you focused on during your program?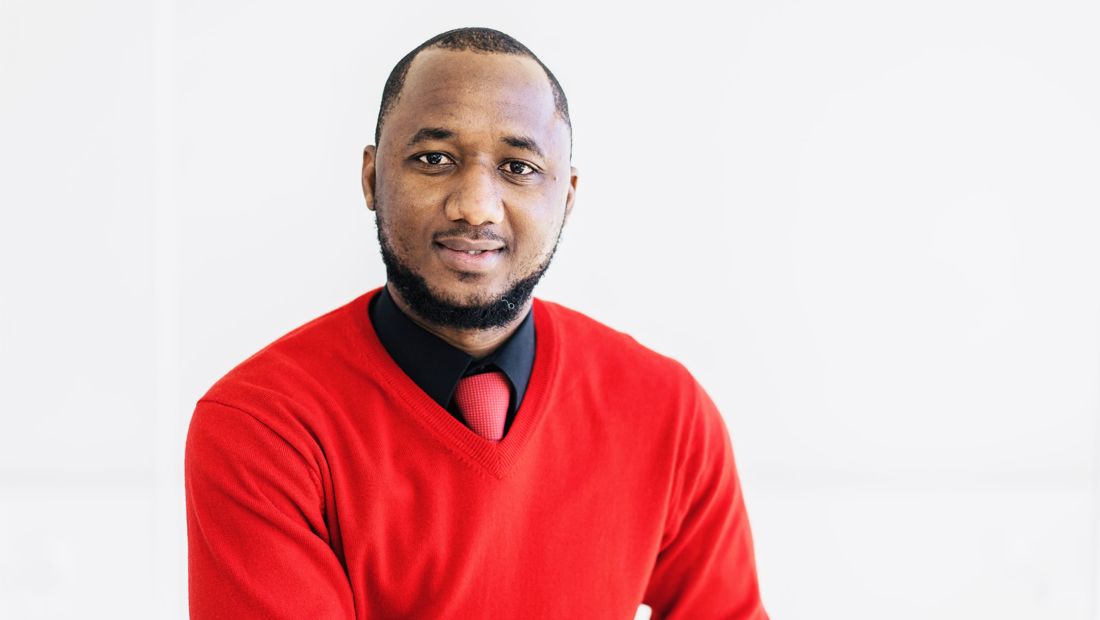 My research was focused on reproductive health throughout life. I specifically explored exposures to lifestyle and psychosocial factors plus their association with adverse birth outcomes such as preterm birth and small for gestational age, using the Centers for Disease Control's (CDC) National Pregnancy Risk Assessment Monitoring System data, 2016 to 2021. I took it a little further by assessing if race and ethnicity (White vs. non-White), geographic location (rural vs. urban), and events such as the recent COVID-19 pandemic will modify such association.
How has your experience at the University of Utah shaped your understanding of public health issues and research methodologies?
I believe my experience here at the U is unique partly due to the COVID-19 pandemic, the coursework, as well as the teaching and research opportunities throughout my PhD program. The curriculum for the PhD program addresses contemporary public health issues and novel research methodologies (both quantitative and qualitative), delivered in a very comprehensive approach, effective for learning and service delivery. Additionally, the two graduate certificates I completed in Global Health and Emergency Health further shaped my understanding of public health issues beyond the confines of the United States and tailoring public health interventions to different health emergencies.
The COVID-19 pandemic was a great opportunity for me to experience the application of the principles of public health practice and gain a deeper practical understanding of the use of public health systems thinking in addressing public health issues.
Furthermore, writing and publishing several manuscripts enhanced my understanding of public health issues, not only in my research interest area but in other areas where I collaborated with other researchers in my department.
Were there any unique opportunities or collaborations you had while studying at the University of Utah that significantly impacted your academic and professional growth?
Yes, several of them over the past five years. However, I believe these two would be considered the most impactful.
I had the opportunity to serve as Training Coordinator (June 2020 to March 2022) for the COVID-19 Surge Capacity Project, a collaboration between the University of Utah Division of Public Health and the Utah Department of Health and Human Services (DHHS). During this time, more than 400 contact tracers were hired, trained, and deployed to DHHS work as COVID-19 case investigators.
This project gave me the opportunity to get hands-on experience in developing and implementing relevant public health training programs, disease surveillance, and emergency health practices. Such opportunities do not come often in public health (because pandemics do not occur every day). Actively participating in this project significantly impacted my academic and professional growth. Additionally, I am humbled to say that I was awarded a Community Engagement Scholarship by the University of Utah's International Student and Scholar Services for the work I did with this project.
Starting in April 2022, I worked as a Research Assistant for a Health Resources and Services Administration-funded project on Reducing Vaccine Hesitancy Using Community Health Outreach Workers and Technology Applications. This project was a collaboration between the University of Utah and the Medi Community Resource Center, a non-profit organization that helps social service organizations develop a culture of collaboration through education and the use of technology. This grant allowed us to mobilize community health workers, social support specialists, and other resources to increase vaccine awareness and access, particularly in underserved communities in seven states (Florida, North Carolina, South Carolina, Tennessee, Texas, Utah, West Virginia) and the District of Columbia. As part of the National Evaluation Team, I mapped the targeted communities across the seven states and DC to focus our efforts on developing COVID-19 health literacy materials and data preparation and analysis for the entirety of the grant cycle.
Consequently, two out of three abstracts of our work from this project have been accepted for an oral presentation and a poster presentation during the upcoming American Public Health Association Annual Meeting and Expo in Atlanta. I will be there in November with the National Evaluation Team Lead, to present the outcome of our work from this project (1) Assessment of COVID-19 Literacy: Results of a 'COVID-19 IQ test' given to community members attending community events (I am the first author in this!) and (2) "Evaluating community-based outreach efforts to increase COVID-19 vaccine uptake: A cost-benefit analysis." Apart from the use (and enhancement) of my health education and data analytic skills, the upcoming presentations at the largest gathering of public health professionals across the nation will greatly impact my academic and professional growth.
Can you describe the faculty's support and mentorship within the Public Health program at the University of Utah?
The Public Health program is lucky to have amazing faculty and mentors who go out of their way to provide the needed support. In addition to the outstanding support and mentorship from my academic advisor, I continue to receive support and mentorship from other faculty whom I have built strong academic and professional relationships with over the years. This support and mentorship include honing the skills I already have and helping me discover and develop new skills and competencies in public health. The projects I had the opportunity to work on outside of my PhD research area came because of the Public Health faculty including me in projects that aligned with my academic and professional goals. I received support and mentorship that was not just technical, but psychosocial as well; a fundamental need whilst going through a doctoral program. Finally, I was never seen as just a student or a mentee but as a collaborator who contributed significantly to projects and the overall academic excellence of the Public Health program.
Were there any particular challenges you faced during your PhD journey, and how did you overcome them?
Getting a PhD degree comes with some financial constraints, especially as an international student with limited financial resources. However, I was able to explore several scholarship opportunities (in addition to the Teaching Assistant tuition benefit) to cover some of those school-related bills. Overcoming this issue has not always been easy but talking to faculty about it helped point me in the right direction for additional scholarships.
The COVID-19 pandemic greatly affected my PhD timeline and research plans for my dissertation. But having a great working relationship with my mentor helped me overcome it. As much as mentors and academic advisors help guide students, it is recommended that students have ideas to bring to the table to make it easier for both parties. Additionally, it is helpful to always have a contingency plan for unforeseen events like this.
How has your time at the University of Utah prepared you for your future career in public health research or academia?
My time at the University of Utah has prepared me in so many ways for my future career in public health research and academia. As a Teaching Assistant for several graduate-level courses over the past five years, I have been exposed to the ability to develop subject-specific coursework, objectively assess/evaluate the performance and work of others, and effective methods of delivering learning materials to students.
Taking advanced public health courses, writing manuscripts, getting involved in research projects, serving on committees, and being a reviewer for a journal has helped prepare me for my future career in public health. Some of the essential skills and competencies acquired during my time include analytic skills, effective communication, the ability to work in teams and independently, deliver tasks as needed, research, networking and collaborating with others, and establishing balance.
What advice would you give to prospective students considering the Public Health program at the University of Utah?
What are you waiting for? I encourage you to actively seek information about Public Health here at the University of Utah.
If you are looking for a program that offers several tracks at the MPH level and a variety of research options at the PhD level, the Public Health program at the University of Utah is for you! In addition to my PhD in Public Health, I had the opportunity to complete two graduate certificates: Global Health and Emergency Health. I chose these certificates because they perfectly align with my future career plans. There are several other graduate certificates to choose from.
With that said, it is important to:
Find time to talk to an academic advisor, former or current students, and faculty where applicable.
Visit the Division of Public Health's website for a breakdown of the degrees and certificates offered, and understand the myriad of research areas our faculty are interested in. This is important because it will help narrow down your list of who to talk to about your research interests.
The Public Health program offers great opportunities for research and teaching (RAs and TAs) so be sure to explore those opportunities.