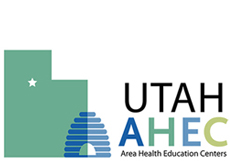 The AHEC (Area Health Education Centers) program was developed by the U.S. Congress in 1972 to recruit, train and retain a health professions workforce committed to underserved populations.
The Utah AHEC Program was established in 1996 with the goal to facilitate primary care access for Utah's entire population. The Utah AHEC Program Office, hosted at the University of Utah Division of Public Health, oversees statewide efforts to:
Drive innovative primary care workforce research
Generate evidence to support health policy decision making
Deliver inter-professional curriculum on critical competencies to current and future health professionals
Enhance community-based clinical training capacity
Model best-practice health workforce pipeline programs for grades 7-16
Compile health career exploration resources for grades 7-16
Link program impact to state data on workforce diversity, distribution, and practice transformation
For more information, please visit the Utah AHEC Program website at www.utahahec.org.