The Division of Headache and Neuro-Ophthalmology a full service, multidisciplinary clinic offering diagnosis and treatment of many headache types including migraine, cluster, and chronic daily headaches. 
We offer treatments including
behavioral therapy,
medication,
injections, and
infusions. 
Our providers are skilled clinicians in the field of headache medicine. Several of them are certified in headache treatment by the UCNS (United Council for Neurologic Specialties). We are one of just 23 certified headache centers in the country with fellowships in headache medicine and the only one in the Mountain West region.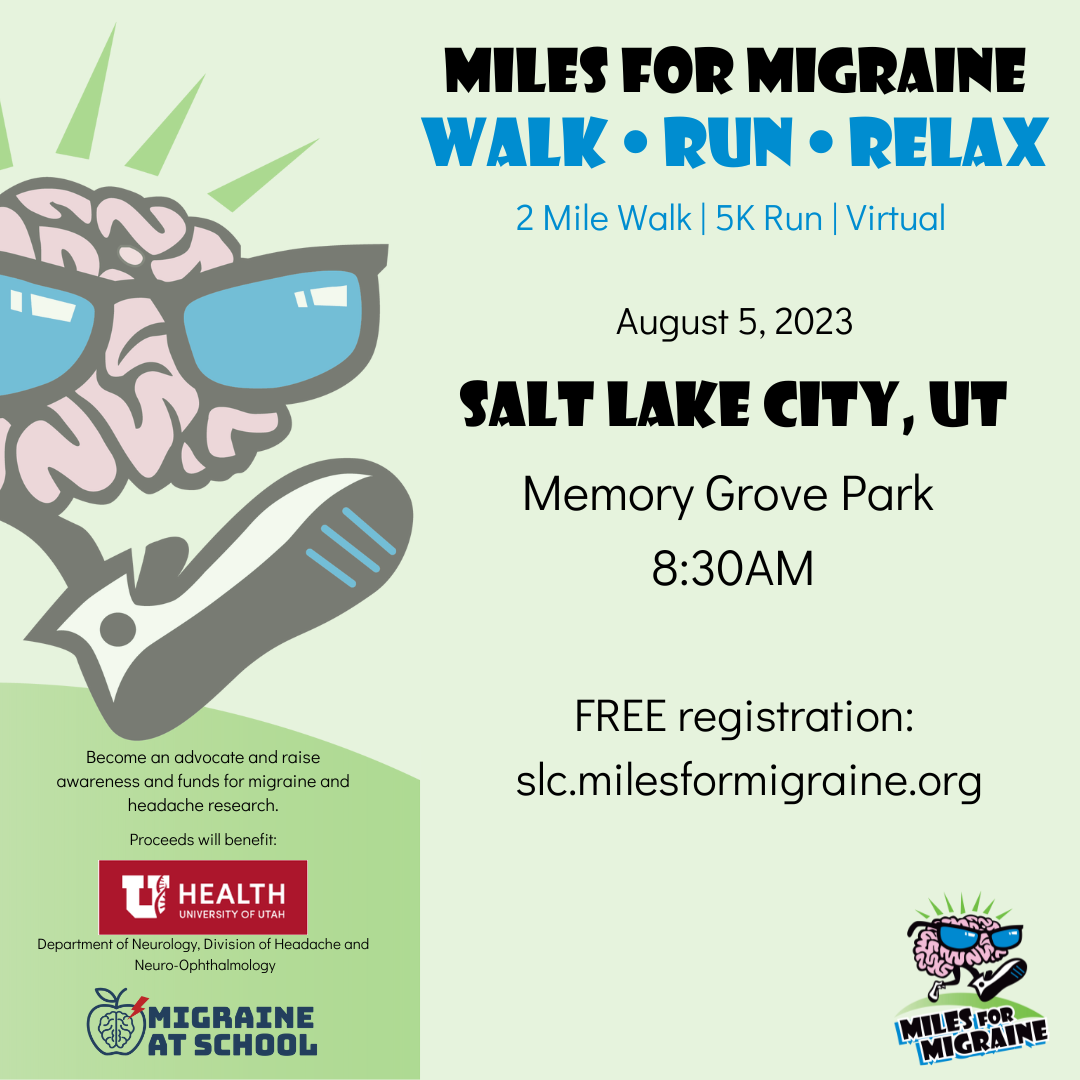 Join the Miles for Migraine 2023 Event
This event is a fundraiser for migraine and headache awareness, treatment, and research. All funds raised will benefit the University of Utah Headache Center to support migraine research and fellowship training programs. Registration is now open for the event.
Rather Not Walk or Run? You Can Still Participate!
You can come color, paint, meditate, practice yoga, work on a puzzle, cheer for the finishers, etc. Intentional relaxation practices still include a shirt and a medal! Come to the event and visit our sponsors for giveaways!
Participate Virtually
Select an activity that makes you happy and represents intentional movement or relaxation. Some examples include walking, biking, hiking, yoga, tai chi, skating, swimming, rollerblading, or spinning. Be creative and be sure to take a selfie to show us what you choose to do! You can choose to have your swag bag mailed to you for an additional charge or pick it up at the event. It will have your participant shirt, an event bib, a finisher medal and a few other goodies included too!
WATCH LIVE
2nd & 4th Tuesdays
6:30-7:30p.m. MT
The lecture will be recorded. For your privacy, please keep your camera off and microphone muted until the Q&A section.
Watch Live
Department of Neurology
Division of Headache & Neuro-Ophthalmology
Phone: 801-585-6387
175 North Medical Drive E
Salt Lake City, UT 84132
Help Progress, Give Today
You can help the Department of Neurology continue to progress with even a small contribution.