The University of Utah Shoulder and Elbow Surgery fellowship offers comprehensive and in-depth clinical, surgical, and research training. Upon graduation, the surgeon-in-training will be able to develop a subspecialty focus in shoulder and elbow surgery. The program includes twelve months with Dr. Robert Tashjian and Dr. Peter Chalmers, whose practices encompass all aspects of traumatic, degenerative, and athletic shoulder and elbow pathology. By fall of 2022 the program will likely include another surgeon.
Clinical Experience
In addition to experiencing a high volume of common pathologies and procedures, the University of Utah serves as the tertiary referral center for 10% of the continental United States, and thus the fellow will have the opportunity to see uncommon and unusual conditions and treatments. Upon graduation from the fellowship, the fellow will be skilled in open and arthroscopic approaches to repair and reconstruction using the newest techniques and implants. The shoulder and elbow service at the University of Utah performs a high volume of advanced reconstructive procedures for post-traumatic conditions and failed arthroplasties and the fellow will graduate skilled in these procedures. The shoulder and elbow service at the University of Utah cares for professional, semiprofessional, collegiate, and high school overhead athletes and the fellow will graduate feeling comfortable caring for these athletes on and off the field. The fellow also has the opportunity to take trauma call for the University of Utah, a level I trauma center, and at the Veteran's Affairs Medical Center, to further supplement their orthopaedic trauma education. At the Veteran's Affairs Medical Center the fellow will be an attending orthopaedic surgeon and will thus be able to more independently manage shoulder and elbow pathology, with supervision and guidance as needed and coverage from the residents.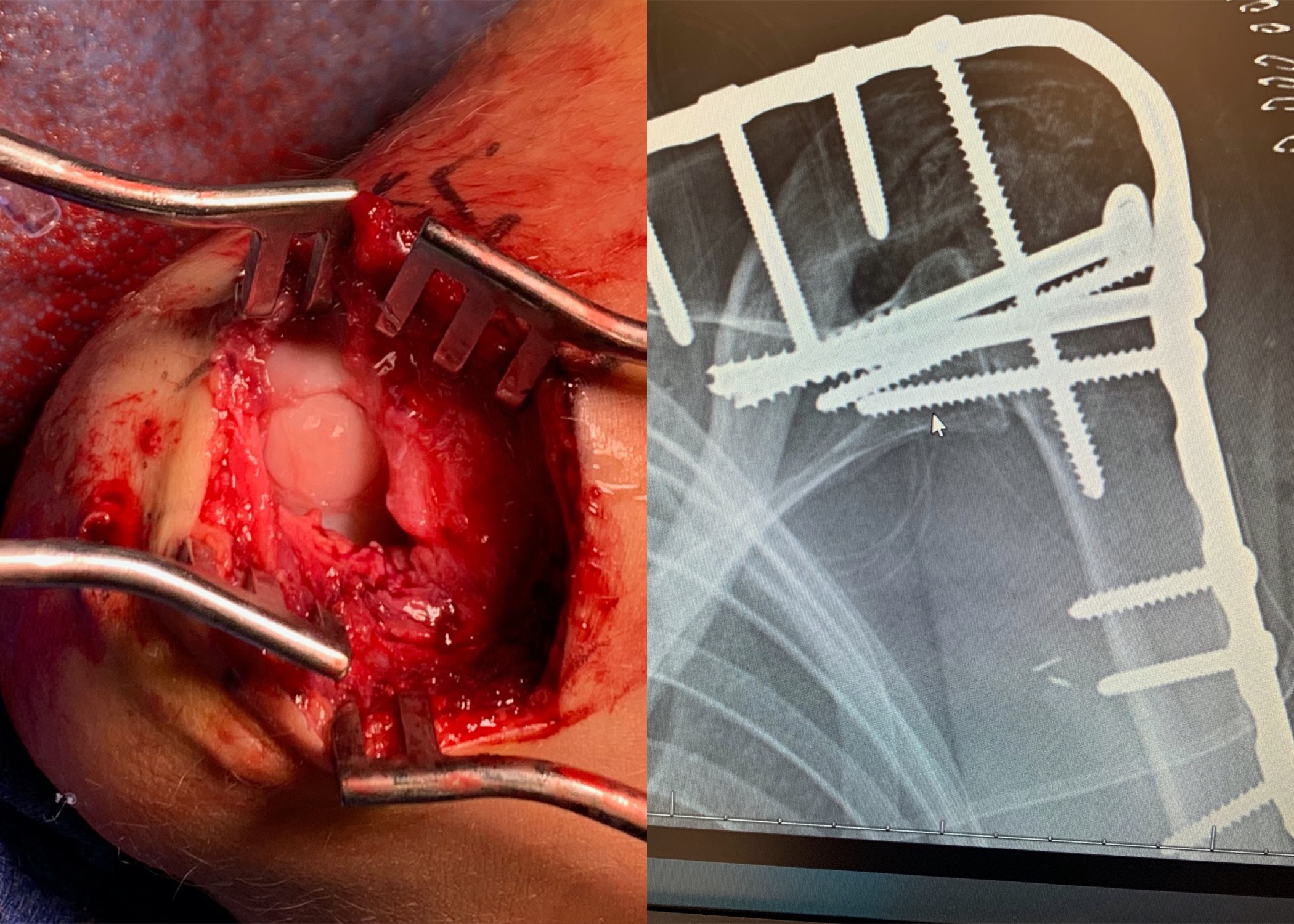 Locations
University of Utah Hospital
University of Utah Orthopaedic Center
Salt Lake City Veteran's Affairs Medical Center
Primary Children's Hospital
Case Load
The fellow is expected to graduate having performed >250 arthroplasties, >100 rotator cuff repairs, >50 instability repairs, >100 elbow surgeries, for a total of >500 surgeries. Here are examples of procedures the fellow can expect to encounter:
Arthroplasty: anatomic total shoulder arthroplasty, reverse total shoulder arthroplasty, hemiarthroplasty, revision arthroplasty with glenoid and humeral bone grafting
Rotator Cuff: primary and revision arthroscopic rotator cuff repair, patch augmentation, superior capsular reconstruction, anterior and posterior tendon transfers including arthroscopic-assisted lower trapezius transfer
Shoulder Instability: arthroscopic labral repair, open labral repair and capsular shift, latarjet, remplissage, open and arthroscopic approaches to repair of humeral ligamentous tears, humeral and glenoid osteochondral allografting
Trauma: open reduction and internal fixation for acute fractures and nonunions, arthroplasty for the acute fractures and for fracture sequelae
Elbow: Biceps and triceps repair and reconstruction, lateral and medial collateral ligament repair and reconstruction, open and arthroscopic approaches to arthritis and chondral pathology, primary and revision arthroplasty, humeral osteochondral allografting.

Didactic Learning
Our program offers a wealth of organized didactic conferences. The fellow will participate in weekly indications conferences to discuss upcoming and recently completed difficult and challenging procedures to best understand the involved decision making. The fellow will participate in biweekly clinical research conferences and biweekly laboratory research conferences to best understand the research process. In addition, we have an existing program of biweekly conferences with structured didactics so that the fellow will graduate with knowledge of the latest literature and a strong foundation. Our fellowship also serves as the home for an international biannual meeting, the Advanced Shoulder ArthroPlasty (ASAP) Meeting at Snowbird, Utah, and Dr. Tashjian is one of the co-chairmen. The meeting provides the fellow an opportunity to network with world-renowned surgeons in the specialty as well as learning the latest evidence and techniques in arthroplasty.
In addition to these conferences, the fellow will have access to the Surgical Knowledge Integration (SKI) lab. This world-class facility has full-time dedicated staff, twelve surgical stations, and a wide range of surgical tools. Using the SKI lab, the fellow can practice open and arthroscopic procedures learned in the operating room to accelerate their education.
Research
The shoulder and elbow service at the University of Utah is performing a large volume of research including retrospective and prospective single and multicenter clinical research; biomechanical research with our NIH-supported robotic shoulder simulator; and basic science animal research using our unique rotator cuff tear murine models and the fellow will have the opportunity to meaningfully participate and contribute to this research. This program provides the fellow with a strong background in a variety of the latest research techniques to allow them to succeed academically.

Fellowship Application Materials
This program is an ASES-recognized Shoulder & Elbow Fellowship Program and part of the SFMatch Fellowship selection process and Match program. Applicants are encouraged to apply through the SFMatch and all Match-related regulations will be followed. Please refer to the ASES website for an electronic, universal shoulder application.  In addition, your most current CV, personal statement (not to exceed one page), three letters of recommendation from surgeons who are familiar with your work, and a photo should be uploaded through SFMatch.

Links
Publication List:
https://pubmed.ncbi.nlm.nih.gov/?term=%28chalmers+pn%5BAuthor%5D%29+OR+%28tashjian+rz%5BAuthor%5D%29&sort=date
Laboratory Research:
https://medicine.utah.edu/orthopaedics/research/labs/harold-dunn/dunn-research-groups/henninger-lab/
ASAP Meeting
SF Match
https://sfmatch.org/SpecialtyInsideAll.aspx?id=32&typ=1&name=Shoulder%20%26%20Elbow&mainSpecialty=Orthopaedics%20&subspec=26
ASES-Accredited Fellowship:
https://www.ases-assn.org/fellowships/university-of-utah/
Why Utah?
https://uofuhealth.utah.edu/living_in_utah/
Website for Dr. Peter Chalmers
Website for Dr. Robert Tashjian
https://www.roberttashjianmd.com
SKI Lab
https://medicine.utah.edu/orthopaedics/innovation/labs/ski_lab/
General Information
Program Director: Robert Z. Tashjian, MD
Faculty: Robert Z. Tashjian, MD, Peter N. Chalmers, MD
Fellowship Manager: Elise Collins
Address: University of Utah Orthopedic Center, 590 Wakara Way, Salt Lake City, Utah, 84108
Phone: 801-587-5448
E-mail: Elise.Collins@hsc.utah.edu
Duration: 1 year (August 1 to July 31)
Number of Fellows: 1
Stipend: $72,000
Location: University of Utah, Salt Lake City, Utah
Last Updated 8/25/2021
Kevin B. Jones, MD
Phone: 801-585-0300
Email: kevin.jones@hci.utah.edu
Huntsman Cancer Institute
Clinic 3A, Sarcoma
1950 Circle of Hope Drive
SLC, UT 84112
Primary Children's Hospital
Suite 4550, Pediatric Orthopaedics
100 N Mario Capechi Dr
SLC, UT 84113