Robert W. Metcalf, MD, Memorial Meeting 2015
The 2015 Metcalf/AANA meeting was held January 2015 under blue skies at Snowbird, Utah. An attendance of 300 representing 46 states and 11 different countries were treated to an outstanding educational experience covering all aspects of shoulder problems, knee, and cartilage pathology with a patella emphasis, as well as a detailed hip session covering all aspects of hip arthroscopy.
Panel discussions were extensive and lively and covered cases relevant to topics presented and offered a variety of thoughts and approaches. The faculty did a superb job of being available and interactive with all attendees and enhanced the collegiality felt by all who attended.
Thirty different companies were represented as well and offered a widely diverse array of options for helping accomplish needs from education to instruments and implants. A separate non-CME industry session allowed registrants an up-close look at many different options on enhancing their abilities to accomplish complex surgical procedures.
The entire meeting was felt to be a unique learning experience by all who attended and set up next year to be even better. So don't miss Metcalf/AANA 2016 at Sun Valley, Idaho, February 4–7 for a world class meeting and unmatched skiing!
Sincerely,
Robert T. Burks, MD
Course Chairman
Sherman S. Coleman Graduation Seminar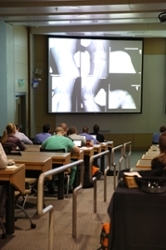 History Of Sherman S. Coleman Graduation Seminar
The Sherman S. Coleman Graduation Seminar is an annual scientific meeting held by the University of Utah Department of Orthopaedics and the office of CME. The seminar honors the teaching and research legacy of Dr. Coleman and invites orthopaedic surgeons and caregivers from the Intermountain region. The graduating chief residents from the University of Utah orthopaedic program present and defend their scientific research theses and local and visiting surgeons have the opportunity to review critique and discuss their results. Distinguished visiting professors give keynote addresses and a case-based teaching session.
The seminar serves as a focal point for gathering, education and discussion for regional surgeons and University of Utah Orthopaedic Alumni. A collegial and informative meeting commemorates the spirit of Dr. Sherm Coleman.
Visiting Professor Lecture Series
The Department of Orthopaedics is committed to providing leadership and training to the next generation of orthopaedic physicians. Our Visiting Professor Lecture Series brings distinguished national and international speakers to the orthopaedic community as part of our ongoing contribution to excellence in education.
Dunbar Sports Medicine Lecture Series
The William Dunbar, MD, Sports Medicine Lectureship was established in memory of William Dunbar, who was a resident of the University of Utah Department of Orthopedics from 1974–1979. Bill was an outstanding resident who was well respected and well liked by the entire faculty and his fellow residents. He finished his residency and entered private practice, specializing in sports in Santa Barbara, California, at a time when arthroscopy was developing. He became very involved in the world of arthroscopy and was an active contributor until his untimely death at age 42. Bill's family and friends endowed a lectureship in his memory.
Visiting professors who have participated in the lectureship include distinguished orthopedists/arthroscopists Russell Warren, MD; Frank Noyes, MD; Peter Fowler, MD; Dale Daniel, MD; Donald Shelbourne, MD; William Clancy, MD; Evan Flatow, MD; Stephen Burkhart, MD; Stephen Howell, MD; Ken Yamaguchi, MD; and Freddie Fu, MD.