Using machine learning frameworks, computers can learn the characteristics and organization of cells and the architecture of healthy and diseased tissues. In collaboration with the Institute of Scientific Computing and Imaging (SCI), we are taking advantage of the power of computing for pathology image analysis.
Together, we are developing algorithms to predict disease outcomes and response to treatments for diverse diseases, such as cancer and inflammatory diseases. We integrate image analysis and genomics data to quantify cell differentiation and genomic instability. The ultimate goal is to built fast and accurate prediction models from histopathology images that can assist with point-of-care decision making and to plan for a patient's individualized treatment.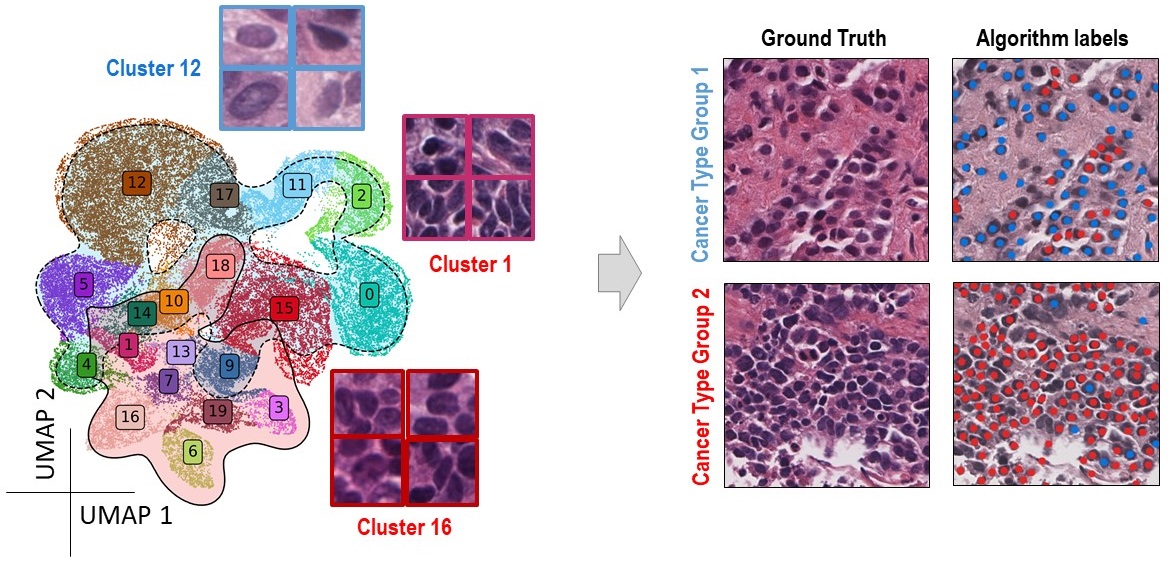 Algorithmic analysis of cancer nuclei and separation into morphologically distinct clusters. The algorithmic output separates adeocarcinoma and small cell carcinoma nuclei.
Spatial Cellular Phenotyping
Using a tissue staining approach, we highlight specific cell populations directly in their native tissue environments. Similar to flow cytometry, our methodology uses antibodies in a =multiplex format of up to 8 antibodies per slide and an imaging and data analytics system to reveal the location of each cell. We profile tissues with functional probe panels to obtain single cell resolution data on pathway activation related to cell differentiation, lineage specification, DNA damage repair, cell plasticity, stemness, and many more cell states. While our research focuses on prostate and renal cancers, the methods in the lab can be applied to many other diseases with the goal to translate basic discoveries from the research lab to the clinic by displaying cellular phenotypes and activation in patient tissues.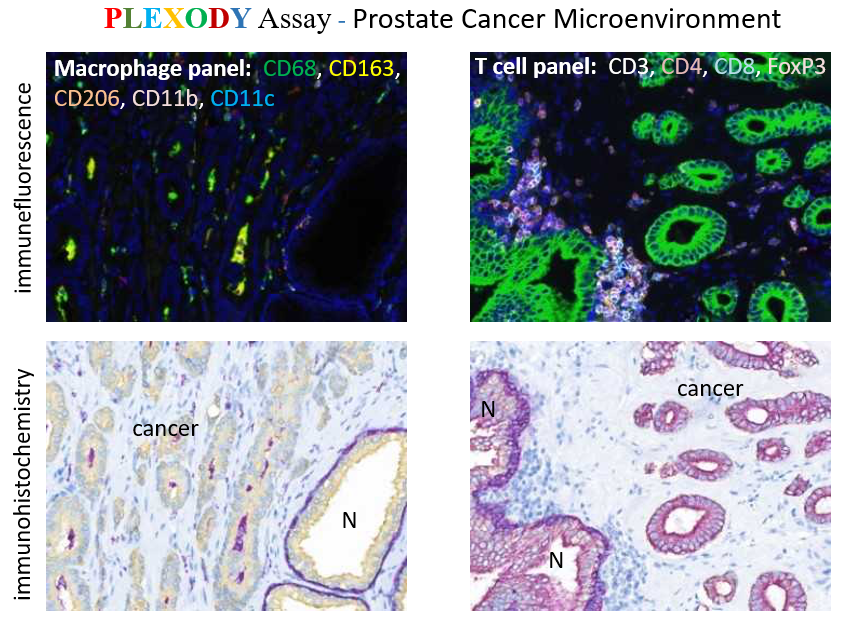 The PLEXODY assay uses a combination of fluorescent (IF) and chromogenic (IHC, visual light) probes (antibodies or in-situ hybridization probes) on the same tissue piece.