Welcome to the Tantin Laboratory!
Our research emphasis is stem cells and the activities that endow cells with stem-like properties such as long life, homing to specific niches, self-renewal, and the ability to rapidly induce cohorts of silent but poised genes in response to external cues. In lymphocytes, these properties are important for the formation of immunological memory, to generate cells with strong anti-tumor activity, and to generate highly pathogenic cells in situations of autoimmunity. We study how these processes are controlled by sequence-specific DNA-binding transcription factors, as well as their upstream regulators and downstream effectors. Transcription factors are by far the most dominant controllers of cell fate. They do this through their ability to bind to specific DNA sequences within chromatin and in conjunction with other DNA-bound factors. For this reason, transcription factors play central roles in development, cell fate decisions and cellular reprogramming. Aberrations in transcription factor function result in immune dysfunction, developmental defects, and cancer. Our research merges molecular biological and in vivo experiments to determine the function and physiological impact of transcription factor activity. One guiding principle is that, as enabling technologies allow for future drug development to focus on transcription factors and their cofactors, direct pharmaceutical targeting of gene expression will become increasingly prevalent.
Interplay between transcription factors Oct1 and Oct4 in pluripotent cells and their differentiated progeny.
Spatiospecific Oct4 cofactors.
Oct4 redox regulation in reprogramming and peri-implantation development.
Topological interactions between linked T cell effector gene loci in naïve, activated, resting and restimulated T cells.
Roles of the transcriptional cofactor OCA-B/Pou2af1/Bob.1 in T cell memory, autoimmunity and anti-tumor immunity.
Exploiting OCA-B as a possible drug target.
Testing Oct1's ability to improve human blood cell differentiation.
Huntsman Cancer Institute
2000 Circle of Hope, Research South
Room 3707 (LL376 for courier service)
Salt Lake City, UT 84112-5550
Lab Phone: 801-587-3802
Office Phone: 801-587-3035
Email: dean.tantin@path.utah.edu
-Molecular basis of the malignant, stem cell and memory lymphocyte phenotypes
-Mechanisms of gene regulation by Oct transcription factors
The major long-term goal of our research is to understand the transcriptional underpinnings of immune responses, stem cell function and the malignant state. Sequence-specific DNA binding transcription factors sculpt gene expression patterns by interacting with particular DNA sequences in our genomes. We use biochemical, genetic and genomic approaches to determine mechanisms and functions of these factors.
Control of developmentally inducible gene expression in differentiating embryonic stem cells
The embryonic stem cell master transcription regulator Oct4 is a potent controller of pluripotency. One category of Oct4 target genes encodes developmental-specific regulators that are silent but held in a configuration that allows them to be readily activated, or stably repressed, later in development. We have found that the Oct4 paralog Oct1 takes over for Oct4's gene poising functions as stem cells differentiate and Oct4 is lost. The two proteins have similar in vitro DNA binding specificity as Oct4 and recognize many of the same target genes. Pluripotent cells with inducible Oct1 knockout behave normally until differentiation, at which point they fail to induce developmentally appropriate genes, and aberrantly express developmentally inappropriate genes. These results support a "handoff mode", whereby activities related to Oct4 take over gene poising and gene silencing duties from Oct4 as cells differentiate and Oct4 is lost. We are identifying the cofactors used in this process, testing the hypothesis that correctly timed ectopic Oct1 expression can be used to improve developmental outcomes in blood cell development, and determining whether the same mechanisms act in human stem cells.
Spatioselective Oct4 cofactor recruitment
Both Oct1 and Oct4 can bind to DNA in different configurations. In theory, these different molecular surfaces should be able to selectively recruit different cofactors. We have successfully shown this to be the case using affinity purification of Oct4 bound to DNA in different configurations, identifying components of histone acetyltransferase complexes that are selectively recruited to Oct4 bound to some sites but not others. We are identifying the structural basis of this recruitment, and the biological consequences.
Gene regulatory basis of CD4 T cell memory
Oct1 controls target gene expression through related mechanisms that enforce either a repressed transcription state, or a silent but "poised" state. Poised gene expression states are indicative not only of stem cells, but also of memory lymphocytes. Interestingly, Oct1 controls CD4 T memory lymphocyte formation and activity. Oct1 is widely expressed but one of its cofactors, OCA-B, is lymphocyte-restricted and induced in CD4 T cells upon activation. We found that T cell-specific OCA-B loss also impairs memory while have little effect on primary immune responses. Moreover, we have found that ectopic expression of OCA-B in responding CD4 T cells is sufficient to boost entry into the memory compartment. Gene expression measurements at T cells at peak response identifies changes in responding cells indicative of later memory formation. For this project, we have also generated an OCA-B reporter mouse allele and shown that is robustly marks memory cells, and can be used to prospectively identifying cells with preferential capacity to form central memory T cells. We are also studying OCA-B-interacting proteins, the role of these activities in CD8 T cells, and the ability of Oct1 and OCA-B to coordinately regulate gene expression by localizing distant target genes together.
Oct1 and OCA-B role in autoimmunity
We have shown that in T cells, Oct1 and OCA-B's effect are selectively observed under conditions of antigen re-encounter. This no only pinpoints potential roles in memory, but also in autoimmunity. We have shown that Oct1 loss is protective in mouse models of multiple sclerosis driven to autoantigen reactivity, while simultaneously having only minimal roles in neuroinflammation driven by a CNS-tropic mouse coronavirus. We have also shown that OCA-B loss in T cells is protective in models of another autoimmune disease, type-1 diabetes. We are testing the roles of OCA-B expression in T cells in models of multiple sclerosis, and using reporter mice testing whether cells expressing OCA-B are preferentially encephalitogenic. We are also identifying potential inhibitors of OCA-B in hopes that targeting this pathway will be efficacious in treating autoimmune disorders.
OCA-B role in anti-tumor immunity and adverse immune-related events
The autoimmune protection observed with T cell-specific OCA-B knockout raises the question of whether there is similar protection from adverse autoimmune events stemming from checkpoint blockade in a cancer setting, and whether loss of OCA-B affects anti-tumor immunity. We are studying this using both loss-of-function and ectopic expression models.
Select Peer-Reviewed Publications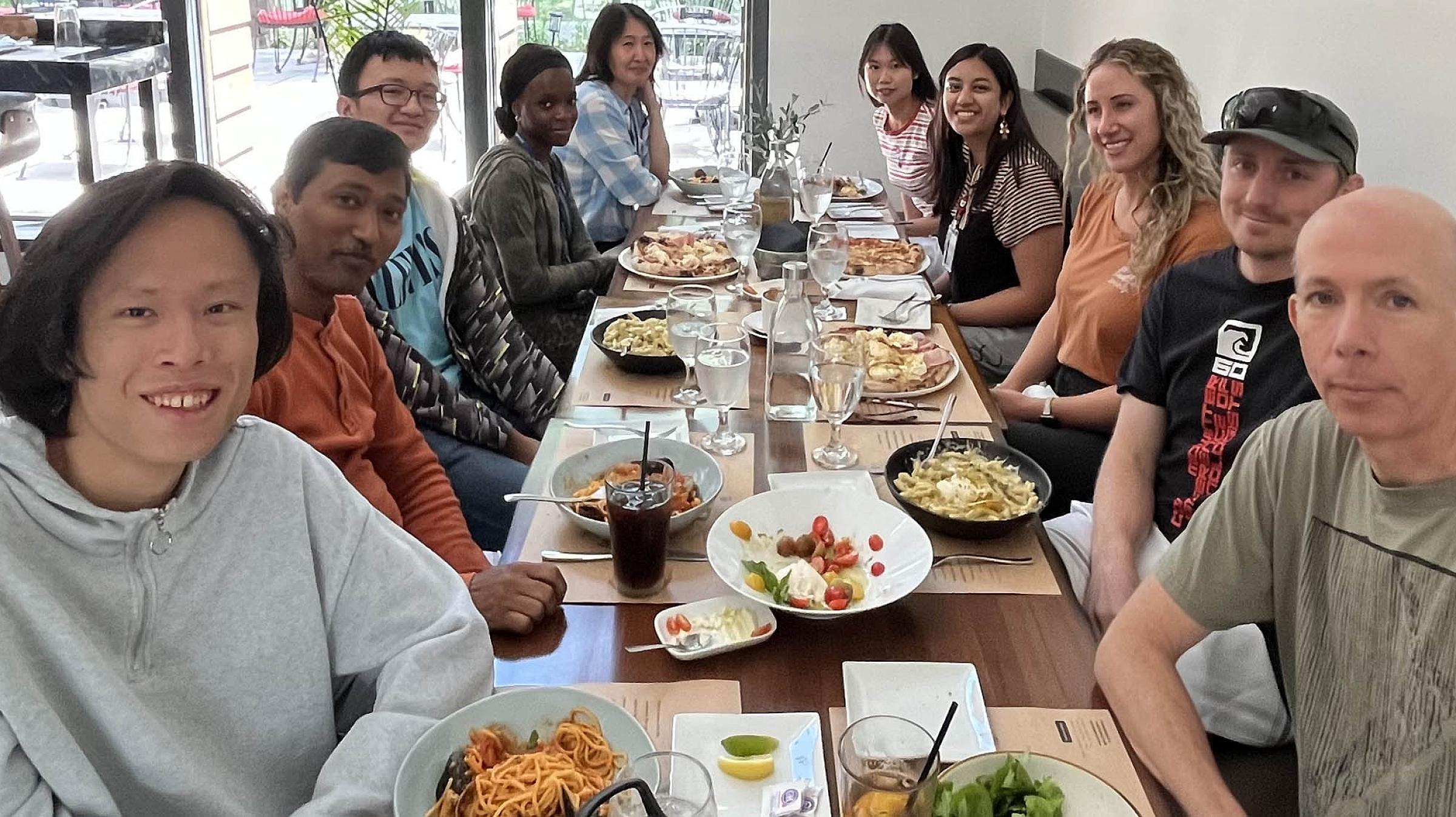 Scientist II, Computational Biology
Recursion Pharmaceuticals
Research Scientist
Sumitomo Biosciences
Assistant Professor
Medicine-Hospital Medicine
University of Colorado Anschutz Medical Campus
Aurora, CO 80045
MD/PhD Candidate
MSTP program
Duke University
Durham, NC
Pathology Technician
Intermountain Healthcare Central Laboratory
Associate Director, Intellectual Property
CytomX Therapeutics, Inc.
151 Oyster Point Blvd. #400
South San Francisco, CA 94080
Principal Research Scientist
Discovery Research I
C&C Research Laboratories
Postdoctoral Fellow
Johnson & Johnson Research and Development
San Diego, CA
Pediatrics Specialist
Saint Alphonsus Hospital
Boise, ID
Senior Scientist, Pharmacology
Cellgene, Inc
San Diego, CA
Fellow, Surgery – Trauma Care and Acute Care
University of Colorado Health Surgical Clinic
Memorial Hospital Central
Karina Vázquez-Arreguín, PhD
Postdoctoral Fellow
Balveen Kaur laboratory
Department of Neurosurgery
UTHealth
Houston, TX
Medical Student
University of Minnesota Medical School
Minneapolis, MN 55455
Basic information/useful reagents
OCAB intracellular T cell staining (.pdf)
TCA precipitation (.pdf)
5' end phosphorylation (.pdf)
Chromatin immunoprecipitation (ChIP) (.pdf)
CsCl preps (.pdf)
Deriving mouse macrophages from fetal liver (.doc)
Immunohistochemistry (paraffin sections) (.pdf)
Immunostaining (.pdf)
Minipreps - old school (.pdf)
Producing retroviruses (.pdf)
Stripping and reprobing Western and Southern blots (.pdf)
Run-off transcription (.pdf)
UV crosslinking (.pdf)
Biomedical Research Tools and Links:
Basic Immunology Lectures Fall 2019
2020:
Where are you from?
TANTIN: California's own beautiful San Fernando Valley
Why did you decide to focus on research?
TANTIN: https://www.the-scientist.com/news-opinion/opinion-star-trek-medicine-36460
What is your approach to embarking on new research projects?
TANTIN: This is a complex calculation. It has to do with interest in the subject, capacity to carry out experiments in a reasonable time, where we are relative to the rest of the biomedical community, monetary resources and future grant funding. Because of competition built in to the NIH grant funding system, our ability to conduct research is contingent on 4-5 year renewal cycles. So we have to keep these incremental timeframes in mind when embarking on something new and long-term.
What is your approach to mentoring?
TANTIN: I set up regular weekly meetings with trainees and go to find them when I'm curious about something. For people coming to me, I have an open-door policy. If I'm here anyone can drop by at any time. This is especially important with newer trainees who should feel they can talk to me any time.
2018:
Talk about Salt Lake City and Utah. What do you and lab members do for fun?
TANTIN: Salt Lake is a big reason I came here. If you like the outdoors as I do, it's a real paradise. I visited a couple National Parks a year since arriving. Some of Utah's State Parks and BLM land would certainly qualify as National Parks if they were located elsewhere. It's just our abundance of riches. In addition, destinations in Wyoming, Idaho, Nevada, Colorado, Montana and California are within a day's drive. Skiing, hiking and other outdoor sports are everywhere. There is also a robust cultural scene.
How does your lab fit within the greater University?
TANTIN: It's an outstanding place to do science. In particular with our lab, we have our fingers in a lot of different pots. We participate in efforts with the Department of Pathology and Division of Microbiology&Immunology, the Huntsman Cancer Institute as well as the Immunology, Inflammation & Infectious Disease Initiative here, among others. We are physically situated within the cancer center. We collaborate with people spanning the entire Health Sciences Center, which comprises hundreds of labs with every conceivable type of expertise. It's also a world-class center of clinical expertise, allowing us to conduct translational studies. It's a scientist's playground.
Can you summarize what your lab does in three words or less?
TANTIN: "Applied gene regulation"
2014:
What does your lab study?
TANTIN: The unifying theme is gene regulation by sequence-specific DNA binding transcription factors. We seek to understand how transcription factors receive signals, how they regulate their downstream targets, and the biological consequences. Because some of the transcription factors we are studying are multifaceted, we wind up studying an array of different biological systems and disease states, for example lymphocyte development and function, early embryonic development, stem cells, and cancer - both solid and hematological tumors.
Would you classify your lab research as basic or translational?
TANTIN: I would classify it as basic research. Even if an activity we are studying controls a disease state, for example the transcription factor Oct1 and the maintenance of a leukemia phenotype, our goal is to understand the basic molecular mechanisms that underlie control of that phenotype. As our research progresses and these projects reach a threshold of understanding, we start thinking about application and clinical translation. For example, we now know that Oct1 is overexpressed at the protein level (but not message level) in several forms of "cancer stem cells". That information raises the question of whether or not Oct1 could be used as a prognostic marker in certain forms of malignancy.
Why is basic research still important and why do you conduct basic research?
TANTIN: This is an important question. As I said above, we only start thinking about translation when our basic projects have reached a certain advanced stage of maturity. Not doing so would result in a train wreck. Translation is inefficient enough. Conducting it without basic understanding makes the odds of return on that investment unfavorable. You can think of it like a pyramid with basic research as the base. You would never invest most of the resources in building the top of the pyramid without supporting the base. Doing so would result in an "upside-down pyramid" and any 4 year-old can tell you what happens to a structure like that. Now as far as your second question goes, I just enjoy the discovery component, by which I mean finding out how things work at a basic molecular level.
When did you first start your present line of experimentation?
TANTIN: That is a hard one to pin down. I began work on the family of transcription factors we still study in 1998, as a postdoc in Phil Sharp's lab at MIT. Since then I have studied different members, but the focus on that transcription factor family is still there. In 2004 I discovered that loss of one the factors I mentioned before, Oct1, did not have the effects we were expecting. Cells grew normally, they looked normal in a light microscope, but they were sensitive to different forms of stress like ionizing radiation for example. I like to highlight that date as a point of departure, as well as 2009, when my lab showed that Oct1 did not really activate target genes very well, but instead was very good at insulating them from repression. Subsequently in 2011 we identified the mechanism. A lot of our current efforts are devoted to understanding the biological implications and whether other members of this family use similar mechanisms.