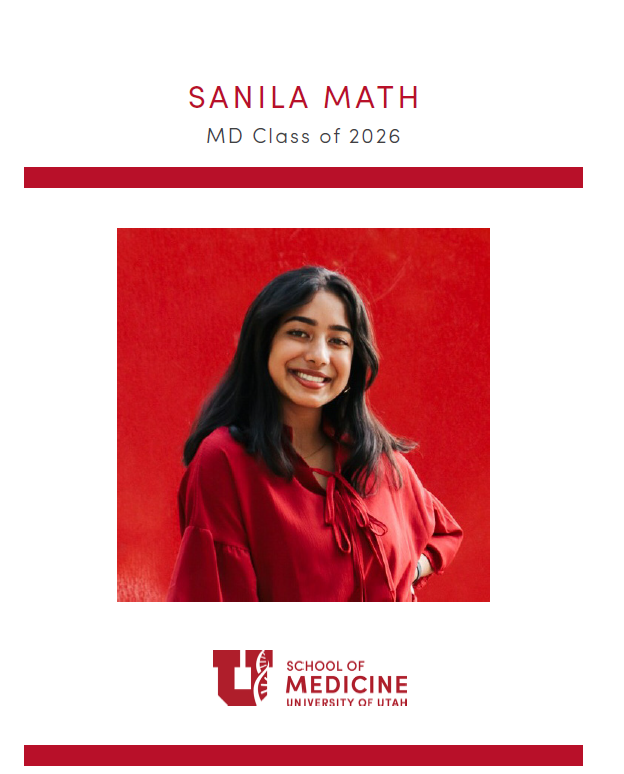 Sanila Math
Hometown: Bangalore, India
Undergraduate Institution: University of Utah
Bio: My name is Sanila and I was born in Bangalore, India. My family moved to Kentucky when I was one, and we spent a year there before moving to San Jose, California. I spent a good chunk of my childhood on the west coast before relocating to Utah in 2010. Even though I've now lived in Utah longer than I lived in California, I still like to tell people I'm from the west coast. :) Currently, my family resides in South Jordan. I graduated from the University of Utah with my Bachelors of Science in anthropology and ethnic studies, with a minor in integrative human biology. Initially, I was interested in the population health scholars program because it seemed to be a good resource during my medical education in terms of teaching me how physicians can highlight community wellness as a tool for individual wellness. Additionally, to me, population health means understanding the communities you are serving by examining not only social determinants of healthcare, but also how these determinants are impacted by intersectional identities. Specifically, I'd like to focus on South Asian intersectional identities, as there is a reduced visibility of some of the groups that make up the Asian diaspora. I believe all of these skills will help me work with patients in a way that allows them to participate in their individual healing and build healthy support networks. I've always struggled with the question of where I see myself in the future because it sometimes feels futile to plan so far ahead when opportunities are constantly changing and there is so much in medicine I have yet to explore. On that note, however, I see myself taking advantage of the opportunities that are present and serving communities in the ways that originally motivated me to pursue medicine -- service that includes understanding intersectionality as it relates to medicine, working with patients in a way that highlights mutual teaching and learning, and encouraging individuals to build support networks and foster community wellness. That being said, my escapist fantasy is to live in a cabin in the woods surrounded by lots of wildlife, where I get to study herbs and practice medicine for local communities and live off the land. Regardless, I just want to use the education I receive for its intended use in social advocacy movements.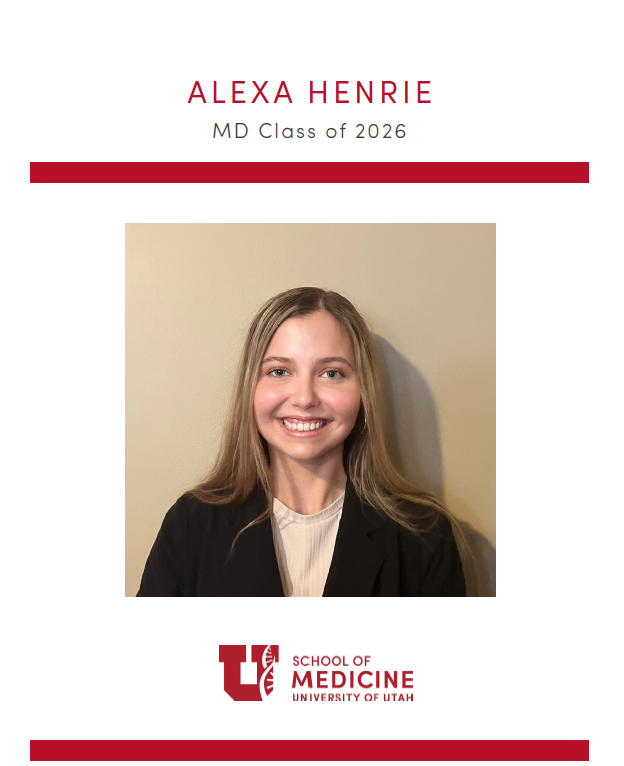 Alexa Henrie
Hometown: Ogden, Utah
Undergraduate Institution: University of California, Los Angeles
Bio: My name is Alexa Henrie and I am from Ogden, Utah. I am a first-generation student and someone who loves being outdoors; I especially love to ski! I am very much looking forward to being apart of the population health scholars program, as I became passionate about the intersection between science and society, the social determinants of health, and access to care in general during my time as an undergrad at UCLA. In the future, I envision a career of addressing health inequities by providing holistic care. Although I know that plans may change as I continue my education, right now I would like to do this by treating infectious diseases that inflict marginalized communities. I believe that a population health framework will allow me to do so, as it will help me better understand how the social determinants of health influence our physical and mental well-being, as well as by teaching me cost-effective, practical measures that will improve the health outcomes at the community level.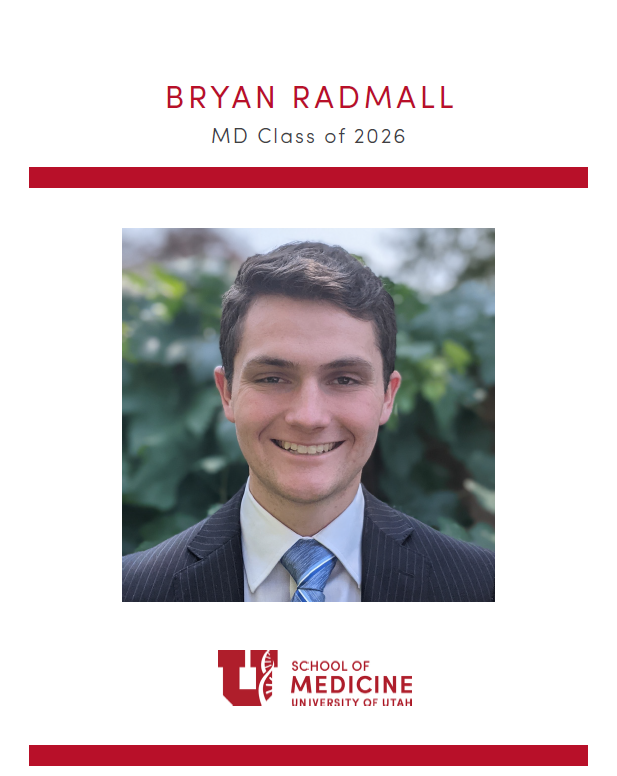 Bryan Radmall
Hometown: Orem, Utah
Undergraduate Institution: Brigham Young University
Bio: I was born and raised in Orem, Utah. Aside from a couple of years spent in West Africa, Utah has always been my home. Through volunteer and work opportunities and as a public health student I have come to see that a physician's impact can stretch far beyond the walls of a clinic. In the Population Health Scholars Program I hope to develop skills and connections that allow me to participate in improving the health of entire communities and populations. More specifically, I hope that this program will prepare me to work with underserved populations in the state of Utah. In the future I see myself working as a primary care physician (currently leaning towards pediatrics), perhaps in a more rural part of Utah. I intend to be working closely with organizations in my community that seek to reduce health disparities and improve access to quality care. I would also love to volunteer with global health organizations, especially those with a presence in West Africa. 
Candace Winterton
Hometown: Salt Lake City, Utah
Undergraduate Institution: Brigham Young University
Bio: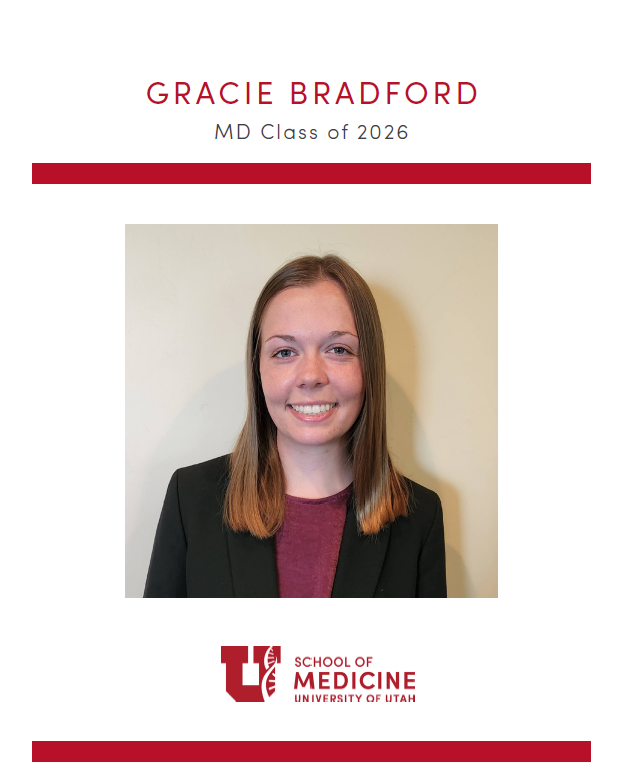 Gracie Bradford
Hometown: Salt Lake City, Utah
Undergraduate Institution: Brigham Young University
Bio: I lived in Birmingham, Alabama for most of my childhood and moved to Park City, Utah before high school. Having studied public health during my undergrad, most of my understanding of population health has come from classroom learning. I hope to take advantage of opportunities to be out in the community (research, volunteering, clinical experiences, etc.) and learn more about the health barriers that Utahns are facing. I hope to have opportunities to plan/implement health interventions and learn from people who do that professionally. Although I do not yet know what specialty I am most interested in, I know I am interested in working in settings that provide care to populations with limited access to healthcare. I loved my time volunteering at the Fourth Street Clinic and imagine myself one day working in community health centers or other similar settings. I love the relationships that the providers are able to build with their patients in these settings and that is something I really value, but I am also very interested in hospital-based care. Utah has been an amazing place to live and I do imagine myself practicing medicine here, but I am also excited to spend time in other places and get to know other communities.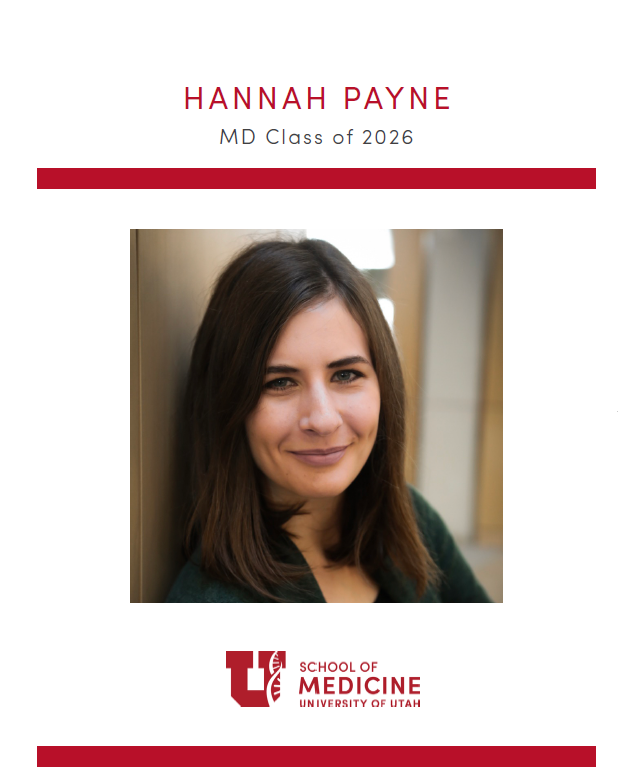 Hannah Payne
Hometown: Placerville, California
Undergraduate Institution: Brigham Young University
Bio: I grew up in Placerville, a small town in the foothills of Northern California. I went to college in Utah, moved away for work, and then moved back to Salt Lake a few years ago. I completed a graduate degree in public health and worked in the field for a few years in several capacities (state health department, public health research, healthcare technology, clinical quality, etc.) before deciding to switch careers and become a physician. I hope that under the population health scholars program, I can learn more about the unique tools and opportunities physicians have in the field of population health, collaborate with others who are implementing innovative initiatives in this space, and learn how to apply my skillset in public and population health into my practice as a physician. In the future, I see myself working in a population health specialty in a rural area similar to the one in which I grew up. I am excited to apply my future training in population health to a rural medicine setting. I also see myself involved in healthcare policy and continuing my research in community health and cultural wellbeing.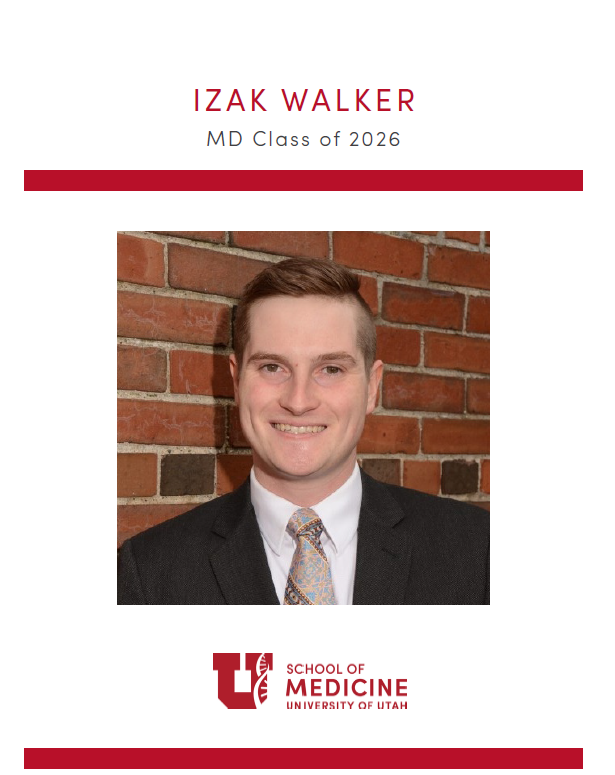 Izak Walker
Hometown: Garden City, Montana
Undergraduate Institution: University of Wisconsin
Bio: I grew up in Wisconsin but have lived in Bozeman, Montana for the past three years working in healthcare and EMS. I hope to gain the skills to advocate for and implement population health-based strategies to help my community overcome its health challenges. This program will help me become a rural physician who is focused on improving not only my patient's health but the community as a whole and as someone who will bring local leaders together to find solutions. I can see myself as a family or internal medicine (Maybe rural EM) doctor in either Utah, Montana or Idaho. One fun fact about myself is that I'm a fly fisherman although not a great one. Secondly, for the past three years I have been a volunteer for a rural fire department, and I plan to be a volunteer firefighter in the future.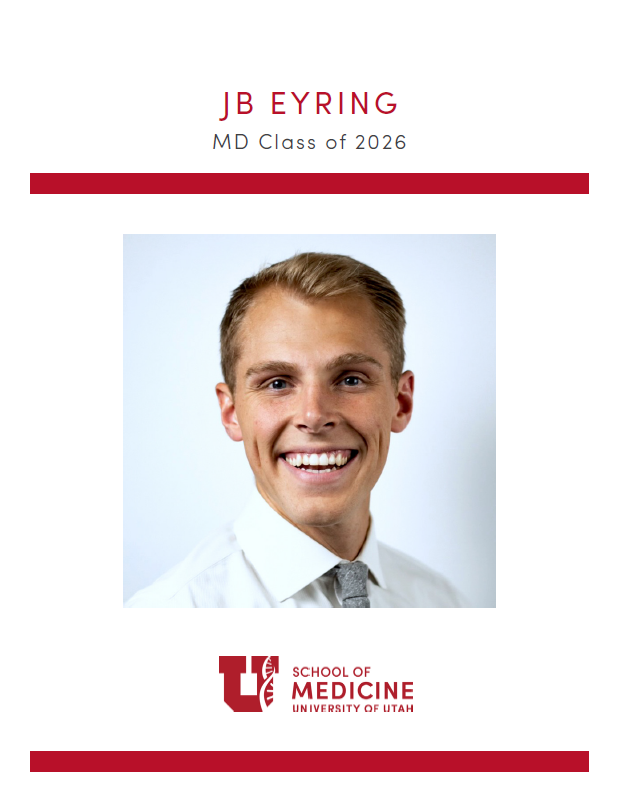 JB Eyring
Hometown: Boston, Massachusetts
Undergraduate Institution: Brigham Young University
Bio: I was born in Boston, MA and attended middle/high school in Bountiful, UT. I hope to use the program as a framework to gain the mentorship, knowledge, and experience to meaningfully contribute to improving healthcare at the population level. I hope to build a strong network of medical professionals who are equally committed to this goal. I have a particular interest in Patient Reported Outcomes (PROs) and believe that these are an essential part of improving patient care; I hope to study how Castell is (or can be) used to analyze and optimize for PROs. I'm also deeply interested in how payment systems affect patient access, outcomes, and experiences, so I am excited to learn more about research projects in the domain of Select Health. I have a background in public health research and would like to continue conducting data-driven population-level studies through the Community Health Initiatives, in addition to Select Health and Castell. After completing a dual MD/MBA and residency (likely Ob/Gyn), I plan to return to (or stay in) Utah to practice. I have a high affinity for free clinic work and healthcare policy, so I also intend to work/volunteer in both of these spaces. My ultimate dream is to assist in the development and clinical management of an interdisciplinary free women's health clinic that serves to address a wide range of needs (i.e., Ob/Gyn, REI, complex family planning, mental health and trauma processing, nutrition, etc.), built out of the community outreach arm of a major healthcare system, like Intermountain.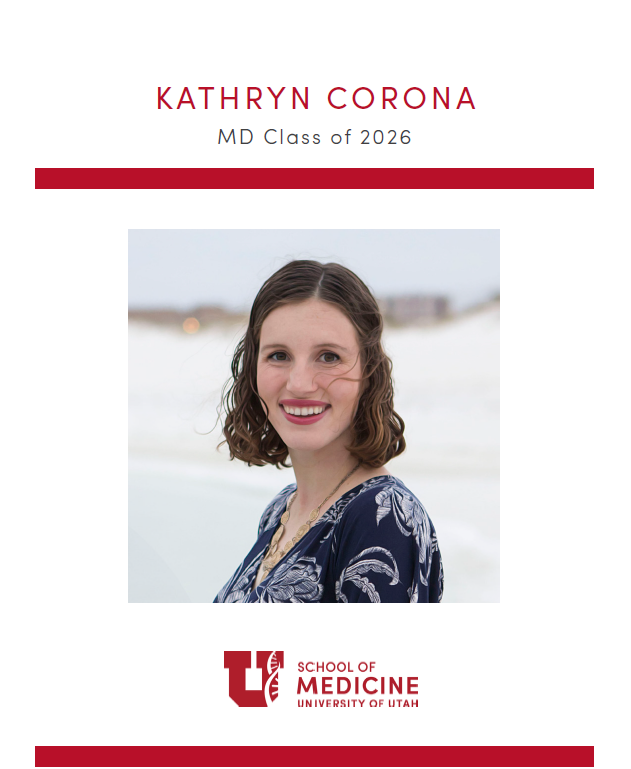 Kathryn Corona
Hometown: Durham, North Carolina
Undergraduate Institution: Brigham Young University
Bio: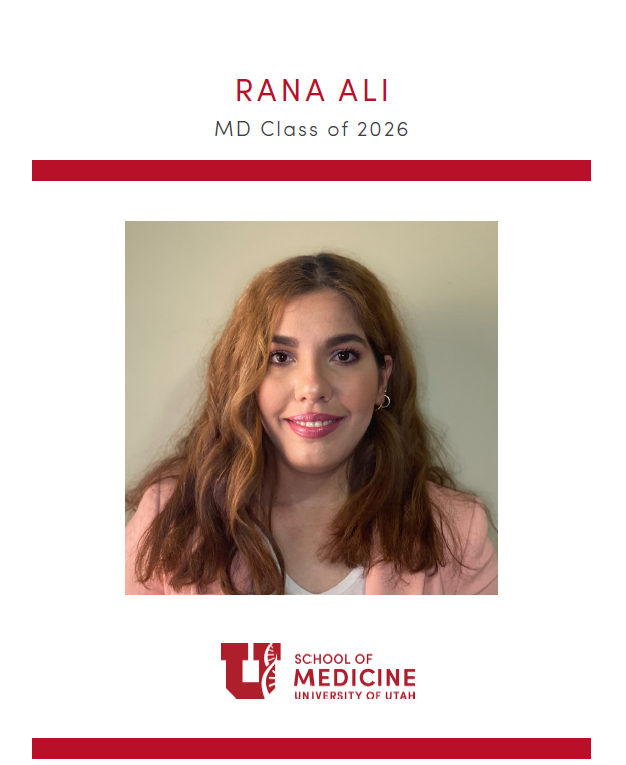 Rana Ali
Hometown: Baghdad, Iraq
Undergraduate Institution: University of Utah
Bio: I'm originally from the Middle East. I grew up in Baghdad, Iraq, and have been living in Utah for twelve years now. I'm excited to be part of the population health scholars program. I am interested in learning new skills and expertise to advocate for medically underserved populations and support them to adapt healthier lifestyles.