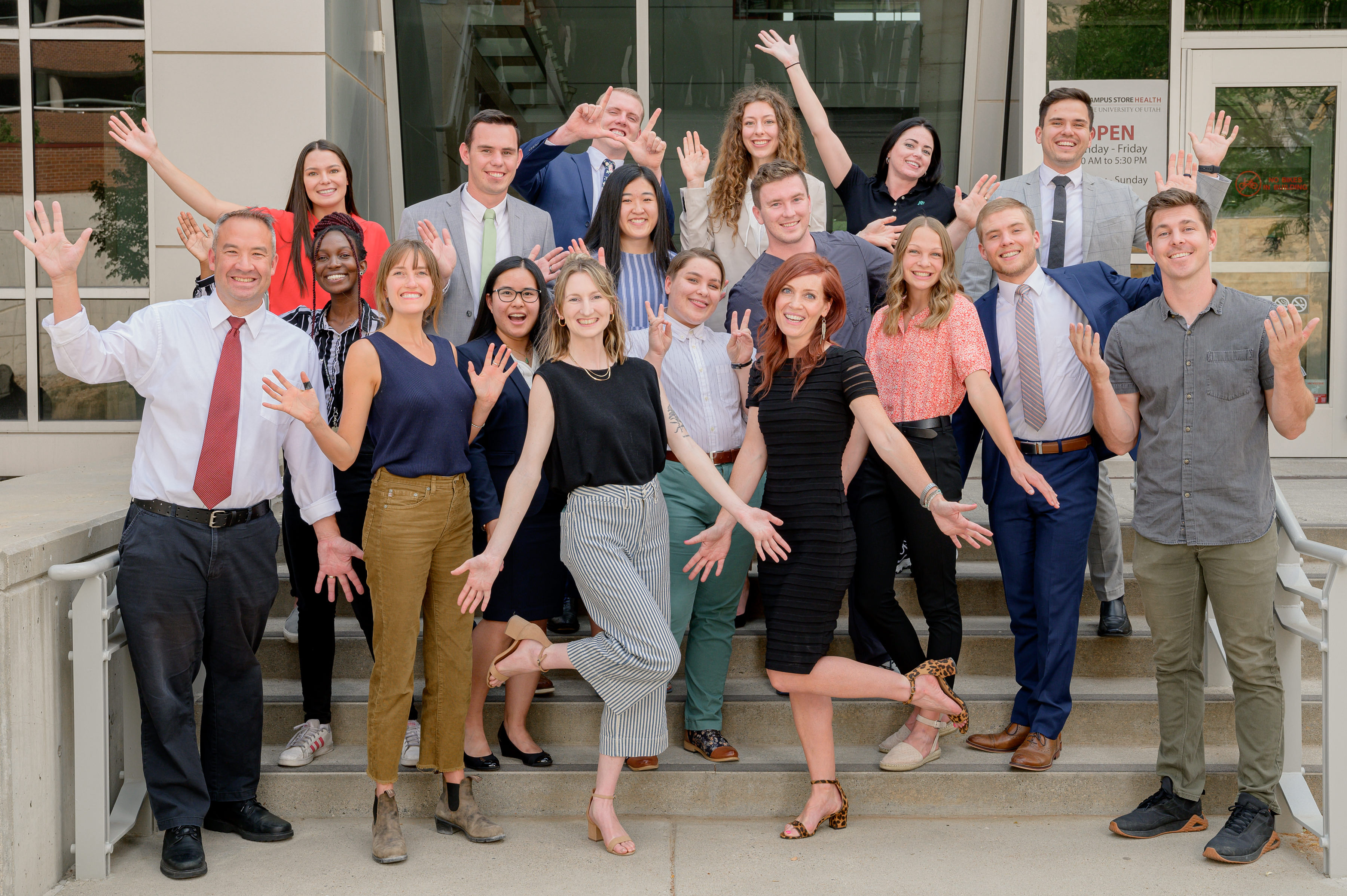 The Rural & Underserved Utah Training Experience (RUUTE) program has worked to develop a 10-week research experience for undergraduate students set to begin in the Summer of 2023.
The emphasis of this program is to provide research opportunities for students from rural and underserved areas throughout Utah and Idaho, and provide opportunities for students to work on projects emphasizing rural and underserved health. This research experience will be available for undergraduate students from institutions throughout the state of Utah and Idaho. 
In order to apply to the program, applicants must meet the following criteria:
Be a matriculated, degree-seeking undergraduate student in the Spring of the 2023 Semester. Those graduating in Spring 2023 may be considered.
Must have at least 36 college credits. Concurrent enrollment credits achieved while still in High School don't count towards this requirement.
Applicants do not need to be attending the University of Utah. Students attending higher education institutions throughout the state of Utah, Idaho, Montana, and Wyoming are welcome and encouraged to apply!
Able to commit approximately 40 hours per week of work on a research project with your mentor.
Preferred: Students who have a passion for rural or underserved medicine or are from rural or underserved communities, and who plan on pursuing a career in healthcare.
Students selected into the program will receive a stipend over the course of the program. This stipend will be used for student expenses and living accommodations, and will not be a tuition scholarship. Students will also be able to highlight this on their Resume or CV.
Participants relocating to Salt Lake City for this program may be eligible to receive a travel reimbursement for travel-related expenses.
Time commitment: This is a full-time program. Selected applicants are expected to work approximately 40 hours a week on research and program related activities for the entirety of the program. Specific details regarding project work with be negotiated with the student and faculty member.
Mentor Meetings: Students will set up reoccurring meetings with their faculty mentor to ensure project activities and work are met.
Final Presentations: Students are required to develop and present their work in a poster format to the RUUTE program. This may also include participation in a Summer Research Symposium with other summer research programs.
Final Report: Students are required to fill out all RUUTE surveys regarding their experience. Further reporting may also be developed to capture student experiences.
What you will need to apply:
Contact information
Academic information, including college transcript
Your current resume or CV
Your academic transcript
Personal statement of why you would like to participate in this program and why you would be a good fit.
1 Letter of Recommendation (preferably, these will be written by faculty members who can attest to your suitability for research, motivation, professionalism, and classroom performance). There will be a link housed within the application that you will need to send to your letter writers to upload their letter of recommendation.
To review the list of eligible projects you could potentially work on. The list of projects can be found in both the application and from the link below.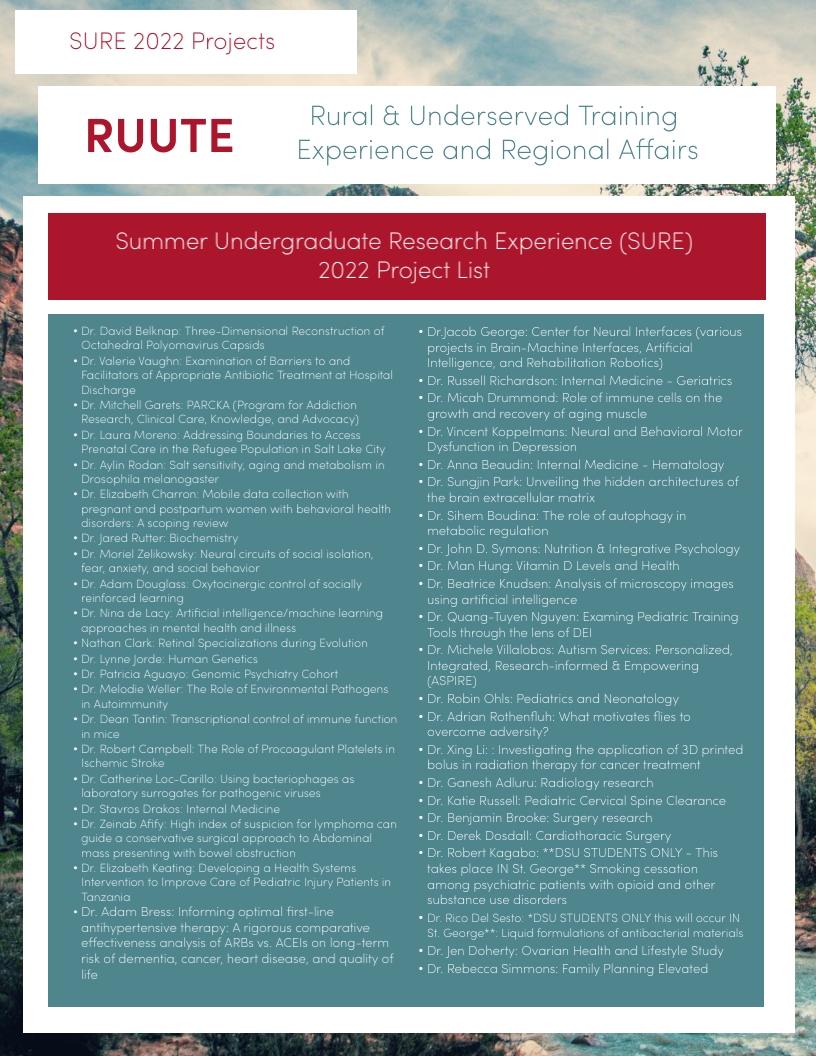 Elena M. Yee
Effects of Macrophage Imunotherapy Treatment to Improve Muscle Recovery Following Disuse Atrophy in Aged Mice View Elena's Project
Derek Anderson
Surfact Morphology of Zinc-doped Fluorapatite and its Effect on Biofilm Formation View Derek's Project
Shandra Payne
The Impact of Pharmacists on the Antimicrobial Prescribig of Hospitals View Shandra's Project
Kenyon Mitchel
lPoint Mutations in Human ACE2: Their Effect On Binding Affinity With SARS-CoV-2 Spike Protein View Kenyon's Project
Tina Ngo
Characterizing a Salt Resistant Mutant in Drosophil Melanogaster View Tina's Project
Rosemary Mwithigia
Cannabidiol Administration After Spinal Cord Injury Reduces Allodynia in Both Males and Females View Rosemary's Project
Madison Zollinger
Indentifying Novel Genes Causitive of Human Incrocephaly Through a Drosophilia Model View Madison's Project
Ryan Gage
Effects of Pre- and Postnatal Growth Restriction on Expression of a Novel Splice Variant of PARRy in Rat Lung View Ryan's Project
Adam GaudinInvestigating Social Behavior and Memory in Denionella Translucida View Adam's Project
Shaelee Nielson
Rural Disparities in Cardiovascular Health Among Utah Prostate Cancer Survivors View Shaelee's Project
Jordyn Gagon
Inhibition of Prefrontal Cortex Pyramidal Neurons Alters Social Behavior in Mice View Jordyn's Project
Kody Hafen
Motivations for Recovery from OUD of Gestational Women View Kody's Project
If you have any questions about the program, or any difficulty with applying, please reach out to Megan Mckay (Megan.Mckay@hsc.utah.edu).
CONTACT US
Please contact the RUUTE Team with any questions, concerns, or suggestions.
Email: RUUTE@umail.utah.edu