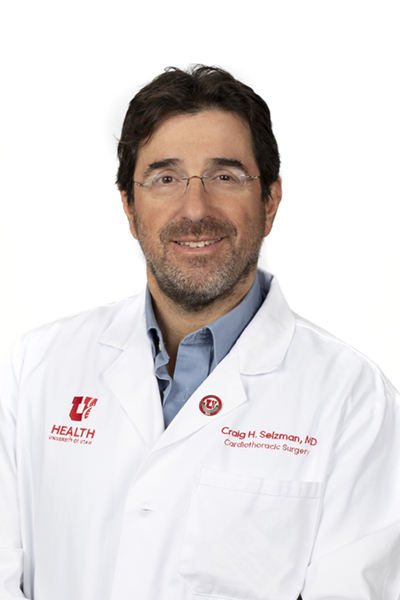 On behalf of our entire team, It is a great honor and pleasure to welcome you and invite you to learn more about the Division of Cardiothoracic Surgery here at the University of Utah. Within these pages, we hope to share our vision to create a world-class clinical program, develop and educate the next generation of surgeons, and promote innovative basic and clinical science research.
Clinically, we offer and perform the entire spectrum of heart, aortic, and thoracic surgery including complex congenital heart disease and the management and treatment of end-stage heart and lung failure. We have a tight and collaborative environment with our medical colleagues such that personalized care plans can provide state-of-the-art therapy for our patients. We provide services at the University of Utah Hospital, Huntsman Cancer Institute, Salt Lake Veterans Affairs Center, and Primary Children Hospital.
Our faculty are nationally and internationally recognized and are committed to quality outcomes, developing innovative approaches to surgical disease, and the education of our students and residents. As the only academic tertiary University medical center in the Mountain West, many of our patients referred to our Division are thought to be inoperable, very complicated, or extremely high-risk. We care for patients that live in 19 different states in the country, but in particular, serve as a tertiary resource for our patients and our medical and surgical colleagues across Utah, Idaho, Wyoming, Montana, Nevada, New Mexico, and Arizona.
In addition, our Division is helping to shape the future of heart and lung surgery. Our faculty receive numerous research and grant awards from the National Institute of Health (NIH), industry sponsors, and various research foundations. Through our research programs, we are actively pursuing the next generation of therapies including clinical research efforts in mechanical circulatory support and stem cell therapy, basic science research looking at mechanisms of heart recovery as well as novel scaffolding and cell regeneration, as well as population science initiatives linking quality and health care transformation.
Finally, we take our responsibility of educating the next generation of Thoracic Surgeons seriously. The University of Utah Affiliated Hospitals Thoracic Surgery Residency Program provides integrated training in all areas of cardiac and thoracic surgery through an intensive two-year clinical and didactic program. This program is ACGME accredited and dedicated to the education and training of individuals who will become qualified, competent, and knowledgeable cardiothoracic surgeons. In addition, we offer a non-AGME fellowship in advanced heart failure, mechanical circulatory support, and transplantation.
Taken together, we hope that these pages will provide you an opportunity to get a peek at what we are currently doing and what we are trying to accomplish here at the University of Utah. Enjoy and please contact us directly if you have any questions.
Best regards,
Craig H. Selzman, MD, FACS
Professor of Surgery
Chief, Division of Cardiothoracic Surgery
craig.selzman@hsc.utah.edu
GIVING
You can help the Division of Cardiothoracic Surgery continue to progress with even a small contribution.
Give Today!