GENITOURINARY INJURY AND RECONSTRUCTIVE UROLOGY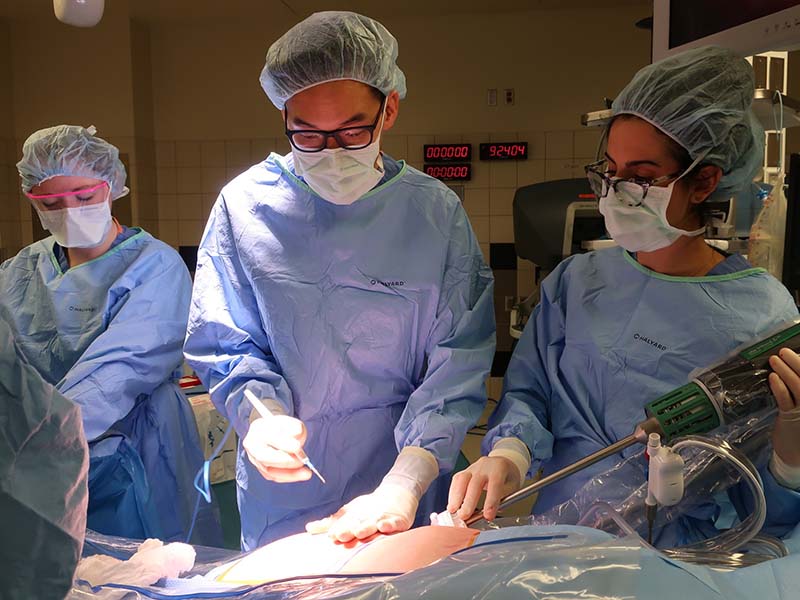 Our fellowship is organized around genitourinary injury and reconstructive urologic surgery. It is run through the adult division of urology at University of Utah. The Fellowship is directed by Jeremy Myers, MD and other clinical faculty include Benjamin McCormick, MD. Research mentors include James Hotaling, MD, MS and research faculty Joshua Horns, PhD and Joemy Ramsay, PhD.
To train leaders in reconstructive and academic urology through a fellowship program that is oriented to the diverse and different interests of reconstructive urology fellows.
To create one of the leading fellowships in the country based upon operative experience, teaching excellence, and academic development opportunities.  
The reconstructive urology fellowship is 2 years in duration. The fellowship transitioned from a 1-year clinical fellowship to a 2-year fellowship in 2021.  The transition to a 2-year curriculum allows fellows to select a scholarship track and design an educational plan for non-clinical time.
Starting date: Variable, most fellows elect to start August 1st.   
The year 1 salary for the reconstructive urology fellow is based upon the current salary for a post-graduate year 6 or 7 resident at the University of Utah (depending upon whether fellows have completed a 5 or 6-year residency). Unlike residency, the fellowship includes retirement benefits (14.2 % of salary), which is contributed into retirement accounts separate from any 403 or 457 retirement that the fellow contributes pre-tax. The fellow may take 5 weeks of vacation, which would include any time off for interviews. Attendance at academic meetings would not be counted as vacation.
Family leave follows a well-established policy in the department of surgery.   
The fellow is expected to attend 1-3 meetings during the course of the year. These meetings may include: the AUA, Sexual Medicine Society of North America, SUFU, American Association for the Surgery of Trauma, GURS Academic Congress, and the American College of Surgeons. AUA attendance is expected, attending other meetings will depend upon the fellow's research interests and academic productivity. Other meetings will be considered at the discretion of the fellowship director and the fellow's mentors.  
Interested fellows can participate in an international reconstructive urology surgical experience, in conjunction with the International Volunteers in Urology (IVUMed.org) or the Society for Genitourinary Reconstructive Urology (GURS.org). Participation depends upon the fellow's interest and opportunities in any given year. 
Fellows, also depending upon their interests, may attend the fellows' course on prosthetics sponsored at different times by industry partners
Year 1: In this year, the fellow will have an academic emphasis (detailed below). The fellow will also support faculty working in reconstructive urology. The fellow will likely be active clinically 50% or 2.5 days per week. One of these days will be clinic based, in reconstructive urology and one will be in the operating room. The operating room day will vary between the two faculty active in reconstructive urology.
Year 2: The fellow will transition to a clinical based year, with either 3 or 4 clinical days a week.  These days would consist of one reconstructive urology clinic day and 2 or 3 operating room days. Emphasis in this year will be with Dr. Jeremy Myers, learning urinary diversion, abdominal reconstruction, and the treatment of urethral strictures.
*There is one fellow per year that will matriculate in the program, so there will be a 1st and 2nd year fellow every year.
The fellow will be expected to obtain a Utah medical license prior to matriculation and will be employed as a visiting instructor. Hospital privileges at the University of Utah and the Salt Lake Veterans Medical Center will be obtained prior to starting the fellowship. The fellow will cover attending call at the University of Utah and the Veterans Medical Center 1 in every 6 weeks (8 weeks total per year). The fellow will act to triage appropriate cases to services within urology, such as oncology and endourology and will supervise the care of trauma / acute care patients and general urology patients. This care will include operative care. There is NO general urology clinic routinely staffed by fellows. The fellow may need to see urology patients in clinic periodically in the course of their duties.  Fellows have a reconstructive follow up clinic, which occurs once a week and alternates staffing weeks between the first- and second-year fellow. Fellows may staff some surgical days with general urology patients, as well as other reconstructive urology clinics if their clinical mentor is gone for vacation or academic travel. Generally, we try to split this type of time between clinical responsibilities and opportunities for increased research or administrative time.
The first year of fellowship will involve structured academic development. The fellow will work 2.5 days clinically and 2.5 days in academic development. During this year, the fellow will develop a research plan, begin to implement this plan in developing impactful projects, take seminal course work (e.g. biostatistics, health care leadership, scientific/grant writing, education) and may elect to take course work for a master's degree.
In the second year of the fellowship academic time will consist of 1 or 2 days per week, depending upon the fellow's goals. If academics is of prime interest and the fellow is developing grants or finishing master's training then 2 days per week will be designated. If the fellow has interest in being more clinical during this year, then they would continue their academic work 1 day per week.  
Fellows have the opportunity of pursuing research in cooperation with the Surgical Population Analysis Research Core (SPARC).  This research group is focused upon leveraging health services research through the Utah Population Database and multiple other administrative databases. The group currently has 10 years of MarketScan data, which is also a powerful insurance database to look at meaningful population-based outcomes. This scholar track will teach critical research skills for a career in academic medicine. Coursework in biostatistics and grant writing will be offered and some candidates will elect to complete a Master of Science and Clinical Investigation (MSCI) during their time (see advance degrees). 
Fellows with an interest in eventual roles in healthcare leadership will devote a significant time to leadership training and may obtain an Executive Master of Business Administration (MBA). Research efforts could be focused upon systems management, economic impact of reconstructive urology, or some other aspect of leadership in reconstructive urology.  Obtaining and MBA may be associated with additional expense to the fellow as MBA training.
Education in academic medicine is a field that is experiencing a revolution. Mastery of surgery has progressed from an apprentice model to one of focused education and skill development. Those fellows that envision education as a role in their academic career, such as becoming a program director could design research in simulation or measuring the impact of educational initiatives in reconstructive urology. A Master of Education (MEd) in health care is possible if this would move forward a fellow's goals.  Dr. Brigitte Smith (Vice Chair, Office of Surgical Education) would serve as an additional mentor within this scholar track.
There is a need for reconstructive urology throughout the world and particularly in developing nations where few urologists have advanced training. Within this scholar track, fellows would develop programs and research projects focused upon assessment of need and education in resource poor settings. The close link between University of Utah Urology and IVUMed would be leveraged in creating a curriculum for this scholar track. Additionally, the Center for Global Surgery at University of Utah would serve in an advisory capacity under the leadership of Dr. Jayaraman.
The fellowship is structured upon three main pillars: Operative experience, teaching, and research.
Fellows will gain experience in reconstructive urology, genitourinary injury, urinary diversion, prosthetics, gender affirmation surgery, some female urology, and robotics.
Reconstructive urology

Urethroplasty
Buried penis / split thickness skin grafting genitalia
Ureteral repair

Genitourinary injury

Acute trauma management: University of Utah is one of two level-1 trauma centers in a huge geographic area and treats close to 2,500 trauma cases per year.
Radiation injury: managing the full spectrum of injury from conservative to urinary diversion for complications associated with prostate, colorectal, and gynecologic radiation.
Surgical: ureteral, bladder injuries associated with recent surgery
Spinal cord injury / disease: University of Utah has a strong collaboration with rehabilitation medicine, which serves as a large tertiary rehabilitation center for SCI patients throughout the intermountain west. Augmentation and surgical revision of neurogenic bladder patients are common

Urinary diversion

Orthotopic neobladder: In bladder cancer patients treated with radical cystectomy
Continent catheterizable pouch in patients after cystectomy for bladder cancer and for complications of benign disease
Conduit urinary diversion: for benign disease
Revision surgery for common long-term issues, such as ureteral stenosis, hernia, problems with catheterization

Prosthetics

Male urethral sling
Artificial urinary sphincter volumes make University of Utah the leading implant site for the Intermountain west.

Female urology (with Dr. Sara Lenherr)

Pubovaginal sling
Vesico-vaginal fistula
Complex mesh excision/revision

 Robotics

Ureteral repair
Treatment of ureteropelvic junction obstruction
Pelvic reconstruction for bladder neck contracture
Revision of vaginoplasty

Gender affirming surgery

Vaginoplasty / vulvoplasty
Phalloplasty, including radial forearm flap and metoidoplasty
Complications of gender affirming surgery
A major part of fellowship training is learning how to teach surgery effectively. Fellows will have graduated responsibility in the operating room and a major component of this is learning how teach residents. Additional expectations are routine lectures to residents in areas of reconstructive urology. These didactic sessions are focused upon improving the residents' urologic knowledge base, in order to prepare them for the yearly inservice exam, clinical experiences, and ultimately the urology board exam.
TESTIMONIAL | Kevin Hebert, MD – UroRecon fellow 2021-2023
I am excited to spend the first year of my GU reconstruction fellowship pursuing my research interests related to quality of life outcomes following radiotherapy for GU malignancy. Specifically, I plan to leverage the Utah Population Database to study the incidence of high-grade complications after radiotherapy for prostate cancer. Utilizing MarketScan, a large insurance database available at University of Utah, I will also be assessing the financial and healthcare associated impact of radiation induced GU complications. Taking advantage of the University of Utah's rich history in genomic research, we also hope to evaluate markers for genetic predisposition for radiation induced complications. Lastly, I am incredibly grateful for the unique opportunity to complete a masters degree in clinical investigation during my fellowship which has been invaluable in helping prepare me for a focused career in academia.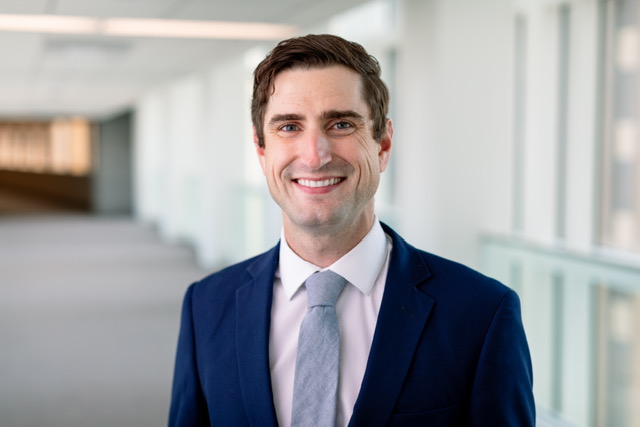 TESTIMONIAL | Liem Snyder, MD (they/them), UroRecon fellow 2022-20224
Based on my prior experiences as an LGBTQ+ rights advocate and an educator, I found myself drawn to health services and outcomes research and to DEI in surgical education. During fellowship, I have had the opportunity to work with qualitative research mentors and take coursework to learn qualitative methods. I started one project that uses semi-structured interviews to evaluate the experiences of transgender and nonbinary learners in surgical education environments. I also used my grant writing course to prepare a grant for a community engagement project investigating barriers to care for transgender patients in Utah. This grant was prepared in conjunction with a local community organization and with support from the Transgender Health Program. Additionally, I have been able to leverage the Utah Population Database and MarketScan for projects on vaginoplasty and VTE risk, mental health outcomes after gender affirming surgery, and urethral stricture risk. Our team prepared a grant to use big data in Utah to evaluate family and environmental factors contributing to urethral stricture disease. The research opportunities and support in the fellowship program are endless, and I feel well prepared to move forward with my academic goals.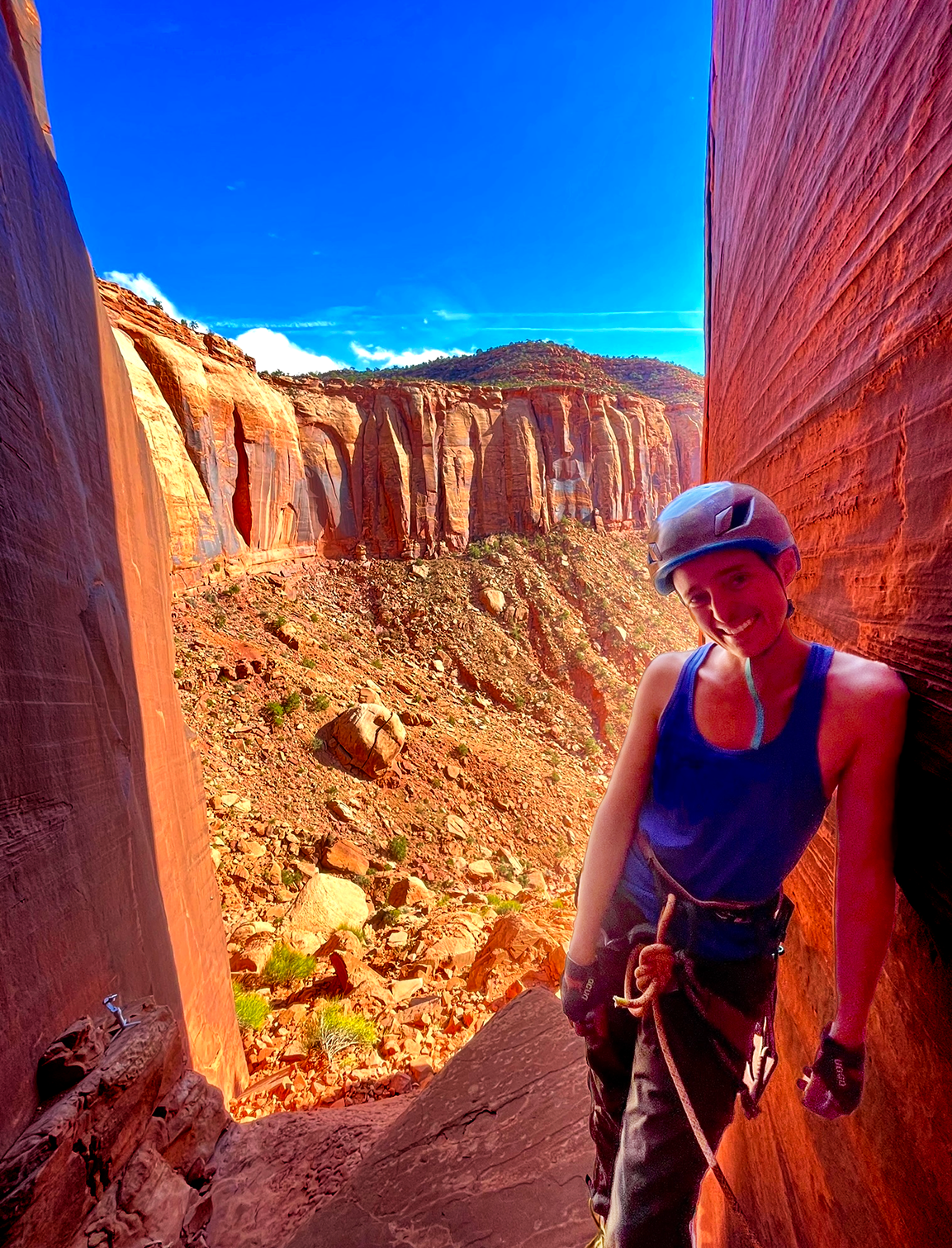 There are many areas of research that the fellow may choose to work within, depending which projects are current, and the fellow's interest. Some of the current projects underway or are the following:
ADVANCED DEGREE TRAINING DURING FELLOWSHIP
Motivated fellows may receive or work towards a master's degree during fellowship. Advanced degrees could include a master's degree in clinical investigation (MSCI), business (MBA), or education (MEd). These advanced degrees can help catapult a career in academic or other practice settings. (Pictured: University of Utah Residency Program Director Sara Lenherr, MD and Fellowship Director Jeremy Myers, MD with Ross Anderson, MD (2020))
Society of Genitourinary Reconstructive Surgeons (GURS) Verification: The fellowship at University of Utah is verified by GURS.
Fellowship Surgical Volumes
In general, reconstructive urology staff perform about 80-100 urethroplasties a year, greater than 50 abdominal reconstructive cases including urinary diversion and ureteral repair, and greater than 50 gender affirmation surgeries.  Female reconstruction and make sexual health are not required categories for GURS verification and are not emphasized in the fellowship as reflected by the case volumes. 
VIEW THE RECONSTRUCTIVE SURGICAL CASE LOG