Shobha Phansalkar is the New Chair of the Utah DBMI Alumni Committee (UDAC)!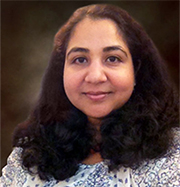 Chairperson:
Shobha Phansalkar
Class of 2007
Shobha Phansalkar is the Director of Clinical Informatics and Innovation in the Clinical Effectiveness Division of Wolters Kluwer Health. Dr. Phansalkar received a PhD in Biomedical Informatics from the University of Utah in 2007 and completed her pharmacy education from the University of Pune, India. Prior to Wolters Kluwer, Shobha worked at Partners Healthcare in the Clinical Informatics Research and Development (CIRD) Division. In addition to her operational roles, Shobha has always been active in the academic informatics community. She has been a member at AMIA for 17 years, served on the Scientific Program Committee, and serves as a Reviewer for JAMIA, ACI, among other informatics journals. She is on the Editorial Board of BMC Medical Informatics and Decision Making. Her research interests lie in the development, implementation and evaluation of clinical information systems, mainly focusing on the evaluation of medication decision support. She is an expert in the area of "alert fatigue" and has been quoted in the public press, including the Washington Post.  She is an Assistant Professor at the Division of General Medicine and Primary Care, Brigham and Women's Hospital and Harvard Medical School. Living in Salt Lake City helped her become an outdoors enthusiast and even though she has called Boston home for more than a decade, she still misses the mountains in Utah!  
We will be sending out information about events and opportunities soon!  

You can help the Department of Biomedical Informatics continue to progress with even a small contribution.