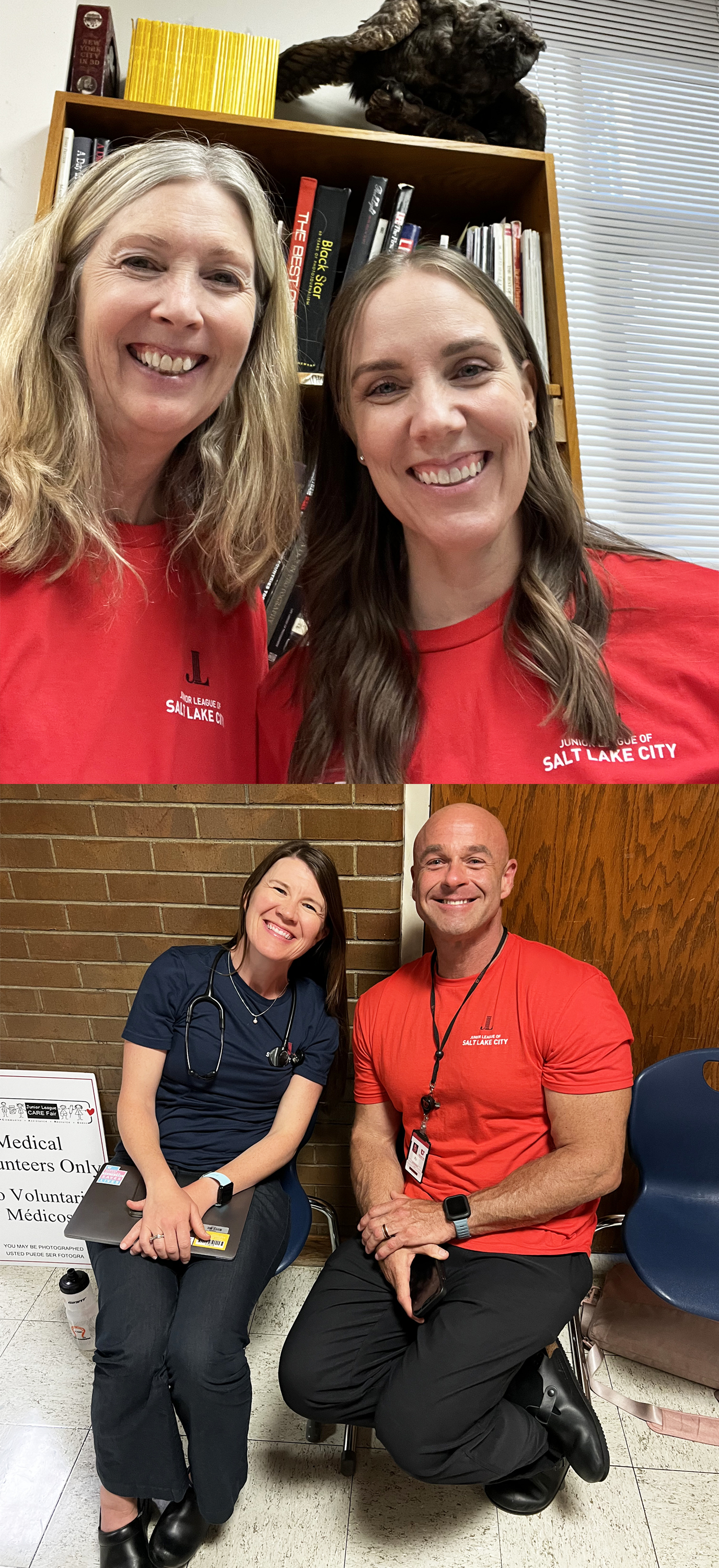 The Community Assistance and Resource Event (CARE) Fair is an annual event held by the Junior League of Salt Lake City. In the event, families from the Salt Lake and surrounding areas can receive basic health and human services that they might otherwise be unable to access because of a lack of insurance, time, transportation, or financial resources. At the CARE Fair, families are given access to a wide variety of checkups and health consultations including screening physical exams, vision and hearing tests, immunizations, dental exams, and breast and cervical cancer screenings. In addition, bike helmets and car seats are made available for babies and children. The Fair reflects a commitment to community service and holistic public health, with translators working to provide communication services to the diverse speakers of the valley.
DFPM faculty, Richard Backman, MD as the CARE Fair medical director, with the staff, Doris Dalton, along with PA student leaders have provided leadership, organization, and coordination among the University of Utah community for CARE Fair for years, providing the CARE Fair with essential support and resources. Last month, DFPM representatives from Physician Assistant Program and Family Medicine once again volunteered their time and expertise to provide health support for those most in need in our communities, under the leadership of Backman and Dalton and this year's student leaders: UPAP second-year students Claudia De La Cruz, Teresa Duarte, Sonora George, Claudia Gomes, Yafi Zayyat; and first-year students Alan Bartlome, Jamison Creekmore, Danny Reusch, and Melissa Spencer.
"The Family Medicine component of the Fair was well attended by DFPM faculty and students," says Jennifer Coombs, PhD, PA-C, MPAS, who attended this year's Fair, which was held at West High School in Salt Lake City. "There were a lot of families who were seen."
Without the support of volunteers and clinical and health workers, the CARE Fair would not be able to help support these important services, making DFPM's contribution to the event an essential part of the good work being done by the Fair. On the other hand, services provided by the CARE Fair help DFPM representatives fulfil the department mission of expanding the possibilities of health to those who might not otherwise have the opportunity to receive clinical care and health consultation. It is a powerful collaboration between a community non-profit, Junior League of Salt Lake, and the University of Utah that creates untold good and promotes wellness in our communities.
The CARE Fair takes place each year in late July. More information on the Fair can be found on the Junior League of Salt Lake City website.