On August 4, 2023, family, friends, and supporters of students of the Utah Physician Assistant Program (UPAP) gathered for Class 52's graduation ceremony. The event was held at the Kingsbury Hall on the University of Utah's campus and gathered hundreds of audience members to commemorate this important rite of passage.
Physician Assistant (PA) students have a monumental task in acquiring all the necessary knowledge they will need to provide quality care to their patients in two short years. The high number of PA students graduating from the Utah Physician Assistance Program (UPAP) as capable and proficient clinicians is a testament to the tenacity of the students attracted to the program and the excellence of UPAP's instructors and support staff. Graduating from the program is an extraordinary achievement, and the exceptional quality of graduating PAs from the program is one reason for UPAP's consistent high rankings among physician assistant training programs in the country.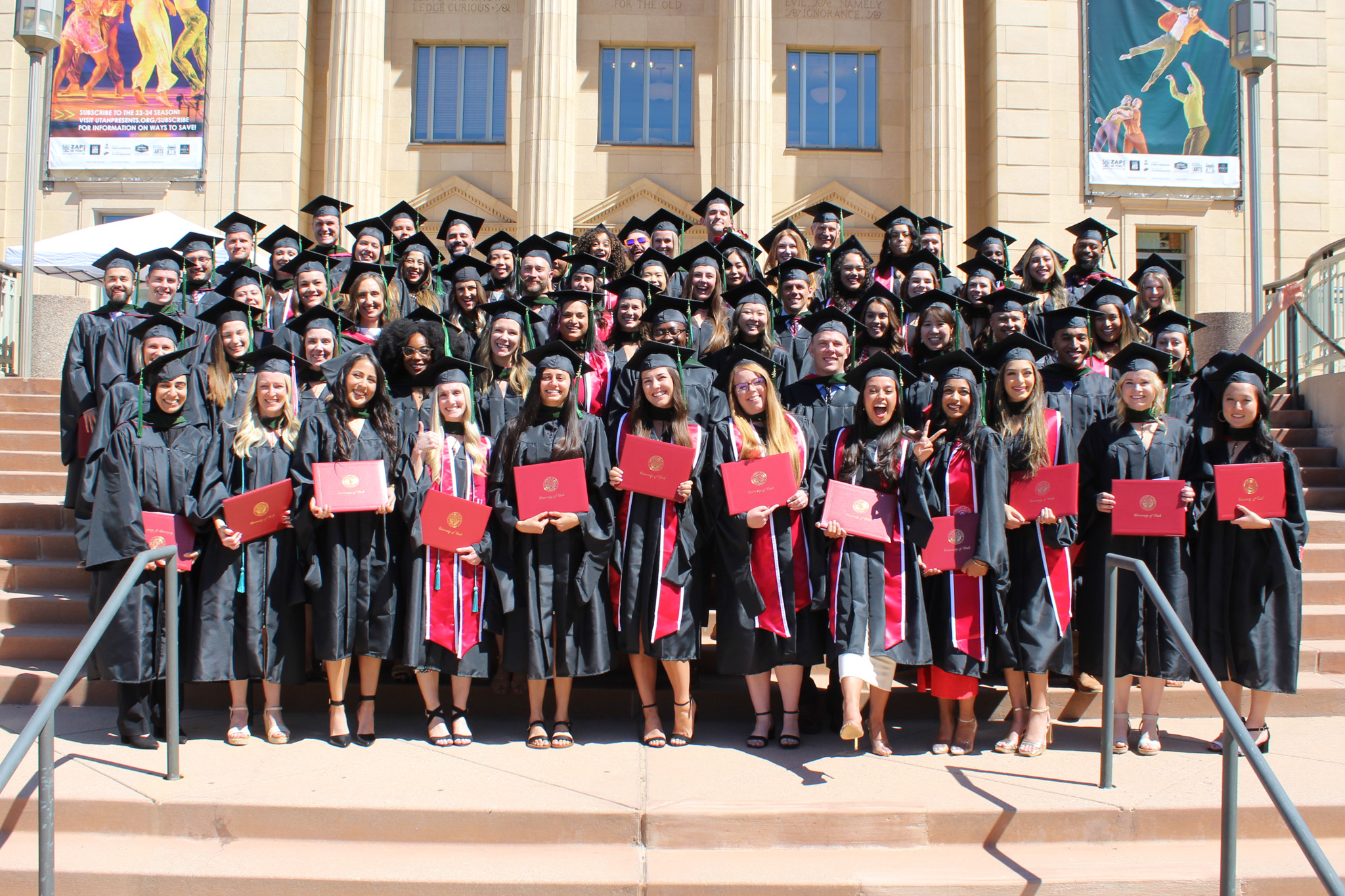 PAs in the 2023 graduating ceremonies were celebrated by their faculty and department and University leadership. Speakers included Jared Spackman, PA-C, MPAS, UPAP Program Director; Leigh Elrod, DPAS, PA-C, MPAS, Division Chief of the Division of Physician Assistant Studies; DFPM Department Chair Kola Okuyemi, MD, MPH; and Michael Good, MD, CEO of University of Utah Health and the Dean of the University of Utah School of Medicine. The keynote speaker was Maggie Snyder, RN, PA-C, an alumna of the program whose work with patients with HIV/AIDS during the height of the AIDS crisis and beyond has set a local standard of courageous and compassionate care. Snyder shared anecdotes from her long career and urged graduating students to continuously learn professional and human lessons from their patients.
Exceptional students and distinguished faculty were also recognized as part of the graduating ceremonies, with awards being given to those who had demonstrated excellence over the two-year program. Students and faculty who received awards in the ceremony are listed below.
Students
Community Service Award: Temitope Adeyemi
Jackie Erbin Leadership Award: Cambria Felt
Activism and Social Service Award: Nkem Asianua, Tania Awalegaonkar
Steven Halmstead Political Action Award: Kyoko Price
Robert M. Alston Commitment to Excellence Award: Samantha Snell Baumann, Kirsten Bradley
Preceptors and Faculty
Patron of the Profession Award: Maggie Snyder, RN, MS.Ed; DFAAPA
Director's Award: Ryan Ward, MPH
Primary Care PA of the Year: Trevor Apple, PA-C
Specialty Care PA of the Year: Marissa Weeks, PA-C
MD Preceptor of the Year: Michael Draper, MD
Friday Clinic Preceptor of the Year: Alex Childs, PA-C
As is tradition, the graduation ceremony concluded with the Physician Assistant Professional Oath, a statement of a PA's purpose and dedication. In it, the graduating PAs committed to maintain the patient-centered learning and compassion they have learned in their time at UPAP.