Pediatric Otolaryngology was just defining itself as a subspecialty in the 80's as Dr. Harlan Muntz finished his residency. Areas such as pediatric sinus surgery, cleft palate speech, and surgical intervention in the airway were of great interest in many countries. After a European Otolaryngology meeting he was invited to be a lecturer in Chile. He returned there frequently to teach on all aspects of pediatric ENT. An airway course was also taken from Chicago/ St. Louis to Santiago. Surgeries were done in Chile to help train local doctors rather than send the children to the US for surgery.
To help continue the development of understanding of pediatric sinus disease and surgery, Dr. Muntz became a lecturer and teacher in cadaver labs for sinus surgery in South America and Mexico.
An amazing opportunity became available shortly after Dr. Muntz came to Utah. Connections through a Salt Lake church with a hospital in Kolkata, India afforded the ability to develop a cleft team at a downtown hospital. Dr. Muntz insisted that the hospital have "buy in" and find someone who would be trained in cleft care. A junior plastic surgeon was interested. Dr. Muntz would travel twice a year to Kolkata and together they would perform cleft lip and palate surgery. Money for these surgeries had been donated by churches from the US and Canada. Dr. Muntz worked to train the plastic surgeon and an oromaxillofacial surgeon. Complete documentation eventually allowed the hospital to be the first Smile Train certified and affiliate hospital in Eastern India. With that funding the hospital was able to perform over 500 cleft cases per year.
Operation Restore Hope, a small cleft outreach mission working in the Philippines, engaged Dr. Muntz for their work in Cebu. Multiple University of Utah residents and Pediatric Otolaryngology Fellows have been able to serve with this group.
Ghana 2023
Julie Highland, MD, chief resident at the University of Utah traveled with the non-profit organization One Less Drop, in collaboration with the Department of Otolaryngology – Head and Neck Surgery at the University of Utah on a medical mission to Cape Coast, Ghana. Our team was led by Associate Professor Dr. Jeremy Meier, who has a long-term, established relationship with Dr. Peter Appiah-Thompson, a Ghanaian otolaryngologist and department head at the Cape Coast Teaching Hospital for the School of Medical Sciences in the University of Cape Coast, which has a catchment area of 5 million citizens. We were also joined by otolaryngologists Dr. Joe Jacob from St. George (former University of Utah otolaryngology resident), Utah, Dr. Nate Page and Dr. Dave Crockett (former University of Utah otolaryngology resident) from Phoenix, Arizona, anesthesiologists Dr. Jonathan Curtis from Primary Children's Hospital, Dr. Ryan Meier (Jeremy's brother!) from Salt Lake City, Utah, and pre-medical student Joseph Watts from Provo, Utah.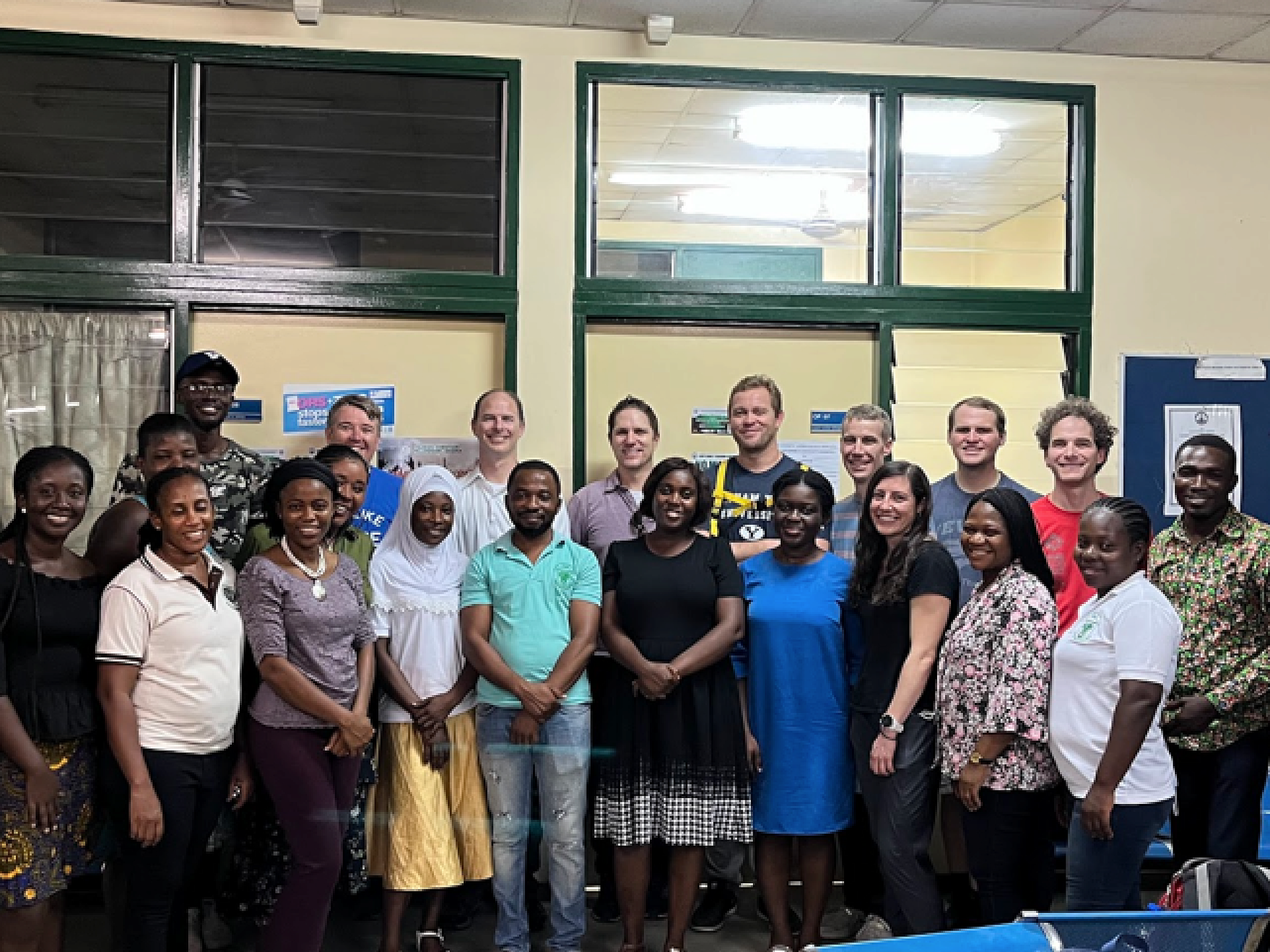 Before the trip, Dr. Appiah-Thompson and his partners screened Ghanaian patients that needed advanced surgical expertise above what he and his group could offer. They saw over 40 patients in an afternoon clinic and enrolled 26 of them for surgery. They saw patients from a variety of age groups and geographic locations in the area (some traveling as far as 14 hours to see us!), as well as diverse presentations of head and neck conditions including advanced sinus, otologic and airway disease.
Dr. Jeremy Meier goes to Ghana every year, and has done so for the past 12 years. In addition to the support he brings to the otolaryngology staff, he also brings suitcases full of surgical and medical equipment to the team each year, which has enable them to take care of patients in a way that they otherwise wouldn't be able to.