Welcome High School Students and Parents!
Medical Laboratory Science Division's Summer Immersion Program
High School students attend a week-long summer immersion program in June focusing on many aspects of medical laboratory science. The program is open to students ages 16 and over with an interest in science and healthcare.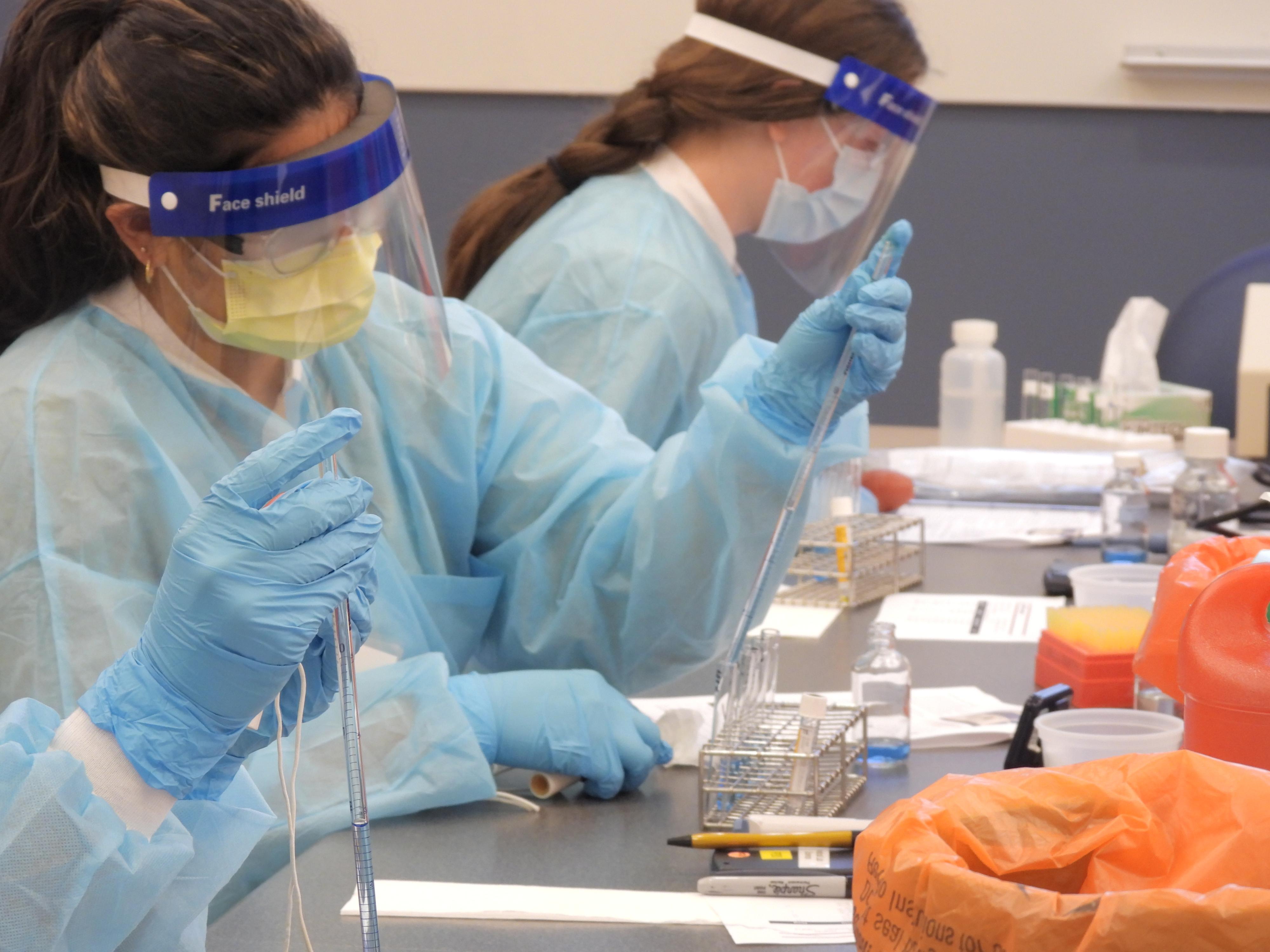 What is a medical laboratory scientist? 
- Medical laboratory scientists (MLS) test a variety of complex biological specimens such as blood, urine, and stool. For each of these specimens, an MLS can quantify and characterize cellular elements like white blood cells and red blood cells, identify microorganisms like E. coli, and quantify a variety of molecules like glucose or protein. 
What happens to the blood that gets drawn at the doctors? 
- When blood is drawn from a patient at their doctor's office, it gets sent to a medical laboratory where an MLS performs the tests requested by the doctor. These tests can provide a lot of information about the overall health of the patient. 
What do doctors do with the laboratory results? 
- Once the laboratory tests are completed by an MLS, the results are sent back to the doctor to aid in the patient's diagnosis and treatment. It is estimated that 70% of all medical decisions regarding a patient's diagnosis and treatment are based on the results of the tests performed by medical laboratory scientists. 
What is the MLS Summer Immersion Program?
- The MLS Summer Immersion Program is a one-week program that brings students inside a simulated medical laboratory where they will learn about hematology, microbiology, clinical chemistry, blood banking, and parasitology. Participants will get to perform a variety of laboratory tests and learn how medical laboratory tests help diagnose, treat, and monitor diseases. 
After completing the program, participants will have a better appreciation of the important role that medical laboratory scientists have on the healthcare team and how medical laboratory testing can reveal a lot of information about the health of a patient. 
Why attend the MLS Summer Immersion Program? 
Participants have the opportunity to:
Explore how medical laboratory scientists reveal hidden information found inside the human body. 
Participate in hands-on laboratory activities common to medical laboratory testing. 
Practice basic skills needed to perform complex laboratory testing.
Sample the breadth of subjects included in the Medical Laboratory Science Program at the University of Utah. 
The MLS Summer Immersion Program will run Monday to Thursday from 9:00 am to 3:00 pm and on Friday from 9:00 am to 1:15 pm. Participants must attend a mandatory safety training on Monday. Participants who cannot attend the mandatory safety training will not be able to participate in the rest of the program. Lunch and snacks will be provided each day of the program.
The program will include hands-on laboratory activities in pipetting, microscopy, urinalysis, microbiology, hematology, blood bank, clinical chemistry, and parasitology. Participants will also be able to attend a tour of ARUP Laboratories.  
This program is designed for high school students who like science, are curious about the human body, and have an interest in learning about medical laboratory science.
- Students must be at least 16 to 18 years old at the start of the program.
The application will open on January 2, 2024. Applications will close March 1, 2024.
Individuals accepted to the program will be required to complete a registration form and submit a non-refundable $25.00 fee to reserve their spot in in the program.
Timeline
January 2, 2024:

Program applications open

March 1, 2024:

Program applications close

Late March:

Applicants notified by email

Accepted applicants receive registration information

April 12, 2024:

Registration information and fee are due

June 24-28, 2024:

Summer Immersion Program is held at the University of Utah's Eccles Health Science Education Building
We recommend printing a copy of the program policies for your records. 
I loved the work in micrology and all of the one on one time with the staff. They helped me so much and answered all of my questions and curiosity.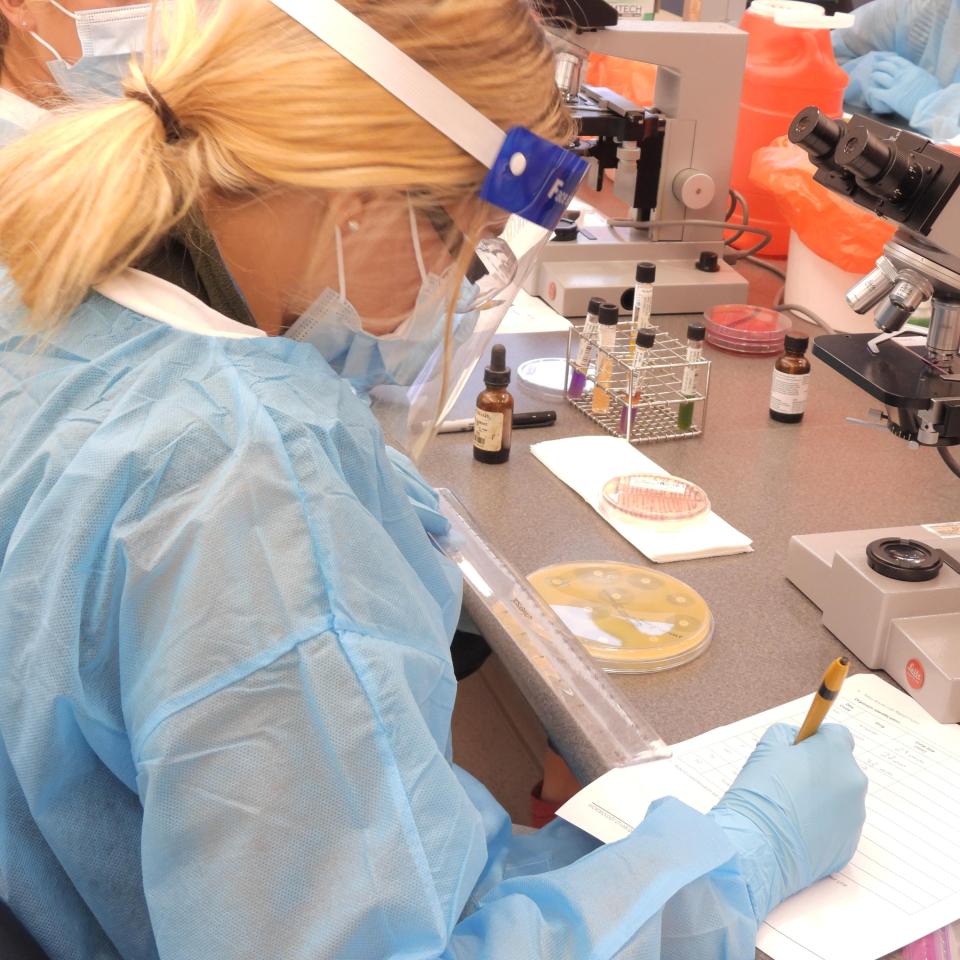 "I really enjoyed the hands-on work. It was so much fun being able to work with actual equipment and apply the techniques we learned. Touring ARUP was a cool experience and it gave you the understanding of what it is really like to work in a lab. The technology was amazing to see. It was so much fun and everyone there made it such an enjoyable experience."